Western communities find innovative water solutions
Ten cutting-edge ways to deal with drought
By Kimery Wiltshire, Carpe Diem West
Around the West, water is scarce, and getting scarcer as climate change hits home. In response, communities are innovating, with impressive results. From Santa Fe to San Antonio to Salt Lake City , Clark Fork, Mont. to Eugene, Ore. -- cities small and large have developed cutting-edge water solutions that will ensure safe, clean supplies for generations to come.
A report released in San Francisco highlights 10 of these success stories, and features real-world solutions to increasing drought, higher temperatures and pollution. New Visions, Smart Choices: Western Water Security in a Changing Climate tells the stories of 10 Western communities, and their no-regrets strategies to build resilience and durability into their water systems.
"We were inspired to do this report because, although the news is filled with gloom-and-doom stories of climate change, there are so many stories of successful, actionable and economically smart steps being taken across the American West," said Kimery Wiltshire, CEO of Carpe Diem West, a network of water managers, scientists, and conservationists releasing the report.
In the Yampa River valley of Colorado, for example, a community water trust restored water to the river during a crippling drought, saving both farms and the recreation businesses that keep the community afloat. And in Salt Lake City, efforts to preserve mountain forests have saved the city millions of dollars in treatment plant costs, while ensuring long-term supplies for the rapidly growing metropolis.
Read the rest of the story.
April 01, 2013
Colorado cleantech 2013
Here are some of the best and brightest
By Eric Peterson
RavenBrick
Denver
Dynamic window replacements
"The beauty of our technology is that it has about a four-year return on investment," touts Chris Ketchum, VP of sales for RavenBrick.
Ketchum explains that RavenBrick's patent-pending technology can manipulate the electron structure of semiconductor materials, altering their properties in real time. What this means is that windows built with RavenBrick's tools can darken themselves automatically on a hot day, reducing the amount of heat that builds up inside a home or office. The windows can also stay neutral on cold days, allowing sunlight to more easily pass to heat the space.
"The energy savings from this are potentially enormous," Ketchum says.
Founded in 2006, RavenBrick expects to finish its factory in Stapleton soon and begin commercial production of its smart-window technology in the fourth quarter, Ketchum said. The company will sell the technology to window fabricators, and RavenBrick expects sales to be strong. "The smarter, dynamic window industry is going to be worth roughly $1 billion by 2017, globally," he says.
Confluence Energy
Kremmling
Beetlekill wood pellets
Confluence Energy is clearly a story of making lemonade from lemons. The Kremmling-based company collects beetle-kill trees in Colorado and turns them into what the company terms "a usable, stable, sustainable, clean, domestic energy source."
More specifically, the 32-person operation, started in 2008, turns dead trees into wood pellets for a variety of residential and industrial applications, ranging from heating to drilling to absorbing water contaminations.
Mark Mathis, the company's CEO, says Confluence Energy recently inked an acquisition that will double the size of its manufacturing capacity, which will allow the company to both increase the output of its existing products and create new ones.
"We're developing some incremental products that are pretty cool," he says. The company is also planning a major expansion into retail, so stores like Home Depot will sell its products directly to consumers.
Mathis says Confluence Energy expects "a couple hundred percent growth rate" this year, which would top the 100 percent top-line growth rate the company scored last year when it pulled in $10 million in revenue.
Vestas
Pueblo and other locations
Wind turbines and technology
Wind turbine producer Vestas expects its market in the United States to shrink this year compared to previous years.
The Denmark-based company employs around 1,100 people across Colorado at a number of manufacturing and office locations. During 2012, the company laid off around 20 percent of its Colorado work force due to slowing demand for wind energy, driven by concerns that the U.S. government's wind energy tax credit would not be renewed in 2013.
Although Congress renewed the wind energy tax credit, it only provided a one-year extension, which Vestas spokeswoman Susan Innis says did little to rekindle the once-booming market.
Nonetheless, Innis says Vestas has adopted a flexible business model that allows the company to ramp its manufacturing up or down based on demand. "We're optimistic that we'll have orders for our Colorado factories in 2013," she says, declining to provide more specifics.
Currently, Vestas wind turbines are used in a 30-megawatt wind farm in Walsenburg, launched in 2012, and a 250-megawatt farm in Limon launched in 2011.
PLUS
Airius
Longmont
Air Pear
The Air Pear thermal destratification system saves warehouses big bucks on their heating and cooling bills.
Albeo Technologies
Boulder
LEDs
Now owned by GE, Albeo continues to manufacture commercial LED lighting in Boulder.
Ascent Solar
Thornton
Solar film
Ascent's thin-film solar technology can often go where glass panels cannot.
Boulder Electric Vehicles
Lafayette
Electric vehicles
Boulder Electric Vehicles is home to Colorado's first automotive tooling lines.
Coolerado
Denver
Green A/C
Coolerado touts its products as "the most efficient air conditioners made."
CoorsTek
Golden
Ceramic substrates
Manufacturing substrate in Grand Junction and a number of other locations, CoorsTek incorporated as Herold China and Pottery in 1910.
Geotech
Denver
Environmental monitoring equipment
Geotech has been a leader in its field since 1956 and is moving into new markets.
Infinite Power Solutions
Littleton
Thinergy batteries
IPS's thin-film, micro-energy batteries are used in smartphones and other devices.
Lightning Hybrids
Loveland
Hybrid technology and accumulators
Lightning Hybrid's hydraulic hybrid systems make fleets of buses and trucks more efficient.
Silver Bullet
Aurora
Water filters
Silver Bullet's filters use ultraviolet rays to
treat water.
Sturman Industries
Woodland Park
Digital valves
Sturman has manufactured precise,
efficient digital valves for a number of industries since 1989.
Sundolier
Boulder
Daylighting systems
Sundolier's technology tracks the sun to maximize its illuminative effect on both new construction and retrofits.
TerraLUX
Longmont
LED lighting
TerraLUX claims it has the "smartest" LED technology on the market.
About Eric Peterson
Denver-based writer Eric Peterson is the author of Frommer's Colorado, Frommer's Montana & Wyoming, Frommer's Yellowstone & Grand Teton National Parks and the Ramble series of guidebooks, featuring first-person travelogues covering everything from atomic landmarks in New Mexico to celebrity gone wrong in Hollywood. Peterson has also recently written about backpacking in Yosemite, cross-country skiing in Yellowstone and downhill skiing in Colorado for such publications as Denver's Westword and The New York Daily News.
March 31, 2013
One Texas energy industry gets massive tailwind
Companies investing $3.3 billiion over two years
By Kevin Welch, Amarillo Globe News
An international mix of companies has committed to more than doubling the Texas Panhandle region's production capacity by spending more than an estimated $3.3 billion on construction of wind farms in the next two years.
The area currently has the capability of producing about 1,500 megawatts, but that will go up by another 1,644 megawatts if projects now under contract go through.
Cross Texas Transmission and Sharyland Utilities are approaching the end of construction of transmission lines that will take locally produced electricity to places like Dallas, Austin, San Antonio and Houston. That has lit the fuse, and wind farm developers and the transmission companies have begun filing agreements with the Public Utility Commission of Texas making some of their formerly closely guarded commitments public.
Cross Texas has finished its Phase I construction from near Childress to south of Pampa and then to the White Deer area.
"Cross Texas Transmission is working with (the Electric Reliability Council of Texas) and other transmission service providers to schedule the energization of these facilities. Cross Texas' Phase II facilities are approximately 70 percent complete with construction," said Cameron Fredkin, director of project development at Cross Texas. "Completion of the Phase II facilities is expected late summer or early fall."
The company is building more than 200 miles of line at a cost of about $425 million. It has used local companies for some of the engineering, construction and supplies as well as other needs.
"Local companies and many others throughout the state of Texas and United States have played a large role in the success," Fredkin said.
Sharyland is making progress on several segments of 300 miles of line it is building in the Panhandle and South Plains, including the one running north and then east from Hereford to White Deer. Other segments include White Deer to Silverton, Silverton to Cottonwood and Silverton to Hereford. The company expects to meet the Dec. 31 deadline set by the state for putting the lines into service.
The estimated cost is about $630 million.
On Thursday, crews were working with a helicopter between Hereford and Wildorado, preparing towers averaging 125 feet high for the lines they will hold.
Read the rest of the story.
March 31, 2013
Salazar's legacy: Saving open lands
Holistic Colorado River operation another piece
By Allen Best
Reviews of Ken Salazar's tenure as secretary of Interior have focused on energy, and rightly so. By any measure, what is sometimes called the federal government's "Department of Everything Else" is a major player in oil, natural gas and coal, plus wind and other emerging renewables. It administers one-fifth of all land in the United States.
Yet if you listen to the fossil-fuel folks, Salazar won't be named Person of the Year anytime soon. You'd think he personally folded every drilling rig in the Rockies. Far from it. In that, he wore both white and black hats, the compromise that we're all part of.
But Salazar's more significant legacies may be in the dimensions of greenbelts and open space preservation — not just in the remote public lands, but in urban areas, too. A significant step in a more holistic operation of the Colorado River also occurred during his tenure.
Read the rest of the story.
About Allen Best
March 25, 2013
Hot new way to access oil shale in the Rocky Mountain West
Geothermic fuel cell technology improving process to reach reserves
By Al Forbes
By Al Forbes, Independent Energy Partners
Most people's minds go to the Niobrara and Bakken Shale plays when shale reserves are discussed. However, there is another type of shale play that lies in abundance in Utah, Colorado and Wyoming that has the potential to surpass those better-publicized plays: oil shale. It sounds the same, but the chemical make-up is quite different. Oil shale has yet to be commercially produced at any kind of scale in the United States due to both economic and environmental hurdles.
A new Colorado clean technology company is about to clear those hurdles and open an entirely new energy resource in the West. Independent Energy Partners (IEP) took a tested and proven process developed by Shell Oil and improved it. The process, which involves inserting high-temperature electrical resistance heating rods into an oil shale formation, is incredibly energy intense and requires huge amounts of coal-fired or natural gas-generated electricity to heat the rods to 900 degrees Fahrenheit.
Oil shale is an underdeveloped oil called kerogen. Given a few million years, this kerogen would eventually become oil on its own. By heating the formation at very high temperatures, these rods accelerate kerogen's natural process.
Solid oxide fuel cells, such as in clean stationary power plants, release high temperature waste heat created during operation. Independent Energy Partners' Chief Technology Officer Marshall Savage has a keen interest in fuel cell technology development and saw an opportunity to use this traditional disadvantage for "in situ," or down hole, heating for the extraction of oil shale. Savage also saw the advantages of a much cleaner energy source than coal-fired electricity.
"Thousands of barrels of shale oil were produced in Sweden during and after WWII using electrical heating rods placed in the ground called The Ljungstrom Process, " Savage says. "However, the process required 715 kilowatt/hours to produce one barrel of oil. My idea was to substitute fuel cells for the electric heating rods and let the waste heat warm up the oil shale while producing clean electricity as a byproduct."
Independent Energy Partners worked with the Pacific Northwest National Laboratory on designing IEP's proprietary Geothermic Fuel Cell™ technology, which is now being commercially perfected by Delphi Corporation and tested by the Colorado Fuel Cell Center at Colorado School of Mines.
How Geothermic Fuel Cells Work
IEP's Geothermic Fuel Cells use solid oxide fuel cells to create a fuel cell stack approximately 30 feet long. This stack is then installed and operated in situ. The fuel cell initially requires outside fuel, but subsequently becomes self-fueling by capturing product gases to use as a continuous source of fuel. The benefits are twofold. First, the high temperature waste heat from operating the fuel cell heats the ground. Second, that leaves the significant amount of energy created by the fuel cell available to power the well site and to send 80 percent of the energy generated back to a local power grid.
Significantly Improved Economics
We often hear from oil companies that it makes sense to explore new resources based on the cost per barrel of oil. Traditionally, the cost for oil shale extraction has been too high for commercial consideration. Geothermic fuel cells heat at a uniform rate along their length and therefore heat the formation uniformly from top to bottom. This leads to far greater yields and simplified production cycles, and helps IEP's technology achieve overall gross lifting costs of approximately $40/barrel. Capital and operating costs decrease to less than $30 per barrel when offset by revenues associated with the sale of surplus electricity and gases produced during the recovery process. Geothermic fuel cells yield 174-kilowatt hours of green, base load electricity for every barrel of oil recovered.

Compelling Environmental Benefits
Oil shale and oil sands extraction in other countries is known to be harmful to the environment due to surface mining and retorting-based processes to access the energy, which then leaves tailings or rock and chemical waste. In situ ground heating eliminates the need for surface mining and leaves the formation primarily intact. Geothermic fuel cells also address the key air emissions and water use environmental issues energy companies face. Since the fuel cells in the Goethermic Fuel Cell process are electrochemical devices, there is negligible production of NOx, SO2, particulate or toxic emissions which contribute to acid rain, ozone depletion, haze, and other health issues. Fuel cells produce steam as an exhaust, which is re-circulated and thereby eliminates any need for external water supply.
Independent Energy Partners already has the attention of global energy companies looking to access oil shale reserves. The Geothermic Fuel Cell systems will be field-tested at one of Independent Energy Partner's sites and used to produce oil by mid 2015.

About Al Forbes
Al Forbes, President and CEO of Independent Energy Partners, has launched and grown more than a dozen energy-related ventures during his 25-year tenure in the energy industry. His expertise spans advanced power generation systems, Internet security technologies, an energy industry portal, and monitoring and control systems. A desire to be an entrepreneur and private investor came after an impressive career including management positions with leading engineering firms including Fluor, Gibbs and Hill (acquired by Raytheon) and Kiewit. Leading came naturally as he successfully guided major projects for many top domestic and international energy organizations, including PG&E, Florida Power and Light, PacifiCorp, Xcel Energy, ARAMCO, and the governments of China and Pakistan.
March 25, 2013
Looking to the future, Xcel asks for energy projects and proposals
Solar, wind, gas-fired, storage -- it's open to anything
By Christine Cordner, SNL
Xcel Energy Inc., in looking for generation capacity to meet its future needs in Colorado, is open to alternatives to fuel switching at its coal-fired Arapahoe and Cherokee power plants as well as wind energy proposals submitted under a fast-track process.
Issued March 15 by Xcel Energy company Public Service Co. of Colorado, the all-source generation solicitation covers three requests for proposals — the 2013 Dispatchable Resources RFP, the 2013 Renewable Resources RFP, and the 2013 Semi-Dispatchable Renewable Capacity Resources RFP. The company has a resource need of approximately 250 MW of capacity in the 2012-2018 time frame in order to meet summer peak load plus a 16.3 percent planning reserve.
In its dispatchable RFP, Xcel is looking for simple and combined-cycle gas-fired generation as well as energy storage projects operational no later than May 2018, whereas its renewable RFP will consider the usual types such as wind and solar. Its semi-dispatchable renewable RFP, meanwhile, will consider resource types such as solar thermal with storage or fuel back-up as well as any other intermittent resources with storage or fuel backup. Besides power purchase agreements, the company said it is open to pursing ownership proposals for existing and proposed resources.
Xcel Energy, as part of the solicitation process, said it will be evaluating whether any proposals can serve as economic alternatives to planned fuel switching of its 112-MW Arapahoe unit 4 and 380-MW Cherokee unit 4 from coal to natural gas. Commercially operational in the 1950s, the two-unit Arapahoe plant is in Denver County, and the two-unit Cherokee plant, operational in the 1960s, is in Adams County, Colo.
Read the rest of the story.
March 25, 2013
Colorado company promotes nationwide water conservation
Challenge asks U.S. residents to pledge to conserve during Earth Month
By Kate Peabody, CH2M HILL
Colorado-based CH2M HILL WaterMatch is partnering with Wyland Foundation on the National Mayor's Challenge for Water Conservation to promote resource conservation and the importance of sustainability leading up to and throughout Earth Month in April. The National Mayor's Challenge for Water Conservation asks U.S. residents to sign an online pledge at www.mywaterpledge.com to conserve water and resources. Cities with the highest percentage of residents who make the commitment are entered to win hundreds of environmentally friendly prizes.
"CH2M HILL knows first-hand that sustainable water and resource management is critical to the future of our global community, economy and environment," says Lee McIntire, CH2M HILL Chairman and CEO. "We support the National Mayor's Water Challenge for Water Conservation because it takes action by all of us—individuals, organizations and government—to create a more sustainable world."
Founded by renowned marine artist Wyland, the Wyland Foundation brings attention to the importance of healthy oceans and waterways, aligning with the global sustainability and environmental stewardship values that guide CH2M HILL's business every day, and drove the company to create WaterMatch. A grassroots, goodwill initiative, WaterMatch is a unique social network connecting water users with water generators to promote the beneficial reuse of municipal effluent (wastewater) by industry and agriculture. Reusing municipal effluent conserves freshwater, offers a secure source of water for industry, and promotes the development of healthy communities. During the challenge, residents can earn points for their city by pledging to learn where their wastewater goes by visiting WaterMatch and searching the Matching Map. In addition, mayors can help their residents earn more prizes by making sure their local wastewater treatment facility's information is on the WaterMatch map.
New to the challenge this year is the Wyland Clean Water Mobile Learning Experience, a 1,000-square foot interactive exhibit which demonstrates the ways water shapes human lives. The traveling exhibit features interactive models - from an onboard running river to a 40-person theater with computer-controlled special effects - to explore the nation's complex relationship with its water resources. Since early March the tour has been traveling across the U.S., visiting schools and community events.
The challenge is also supported by Toyota, the U.S. Environmental Protection Agency, National League of Cities, Rain Bird Corporation, Lowe's Home Improvement stores and the U.S. Forest Service. For the first time, mayors and elected officials who participate in the National Mayor's Challenge for Water Conservation can earn additional prizes for their residents if their cities win. A second prize drawing for a $1,000 Lowe's shopping spree will be held among all participants, regardless if a city is among the six winning cities. Last year, residents who participated in the challenge pledged to reduce their water use by 4.7 billion gallons.
"There is no city that managing water resources won't touch in the future," said artist Wyland. "These personal commitments and educational efforts are one piece of an important effort to save our waterways."
To learn more about the Wyland Clean Water Mobile Learning Experience and National Mayor's Challenge, visit www.mywaterpledge.com. For tips on how to save water every day and to learn about water-efficient products for the home, visit www.epa.gov/watersense. To learn where your wastewater goes and how industry and municipalities can connect to reuse more water visit www.ch2mhill.com/watermatch.
Headquartered near Denver, Colorado, USA, employee-owned CH2M HILL is a global leader in consulting, design, design-build, operations, and program management for government, civil, industrial and energy clients. The firm's work is concentrated in the areas of water, transportation, environmental, energy, facilities and resources. With US$7 billion in revenue and 28,000 employees, CH2M HILL is an industry-leading program management, construction management and design firm, as ranked by Engineering News-Record. The firm was named Water Company of the Year at the 2012 Global Water Awards. Visit us at www.ch2mhill.com,www.ch2mhillblogs.com/water, twitter.com/ch2mhilland facebook.com/ch2mhill. Search for jobs at www.ch2mhill.jobs.
March 25, 2013
Index showcases California's green prowess
State's clean economy is booming
By Next 10
Since 2008, the California Green Innovation Index has tracked economic impacts of innovative state policies that reduce carbon emissions.Trends identified in this year's Index indicate that California's clean economy is diversifying and advancing. A leader in clean technology patents, energy productivity and efficiency, California's performance in these areas continues to grow.
Overall investments in clean industries have fallen, as their financing models are shifting. California has a long history in implementing innovative environmental and energy policies that have driven positive activity in our overall economy.
It all began in 1947 with the creation of the first Air Pollution Control Board in Los Angeles. Today California remains at the forefront, developing programs that are replicated in other states, the nation, and the world. Recent milestones include:
The California Air Resources Board conducted its first two AB 32 cap-and-trade allowance auctions, lawmakers determined a framework for spending auction revenues, and the CPUC established how utilities will distribute auction proceeds to ratepayers.
The California Public Utilities Commission (CPUC) voted to change the five percent net metering cap calculation, potentially doubling the number of homeowners and businesses that may receive financial credit for solar power that they provide to the grid.
Voters passed Proposition 39, which will provide $550 million in annual funding for energy efficiency and clean energy programs.
Historically, policies like these have helped California become among the most efficient and least carbon intensive economies in the world. Long term, we have seen GDP rise and emissions per capita fall. California's renewable energy generation continues to surpass previous year records.
Read the rest of the story.
March 20, 2013
Western drought: Bad and about to get worse
Scientists expect a warmer-than-average spring
By Doyle Rice, USA Today
The nation's worst drought in decades is expected to persist and likely intensify across much of the drought-stricken parts of the Plains, Southwest and Rockies over the next several months, federal scientists say.
The storm that dumped snow and rain across portions of the central USA recently will help, but much more would be needed to break the drought, says meteorologist David Miskus of the Climate Prediction Center.
"The 2012-2013 drought has serious implications for agriculture, navigation, recreation, and municipal water supplies, costing the nation at least $35 billion in economic losses," according to the recent National Drought Early Warning Outlook.
If the drought continues as forecast, its economic costs could surpass the previous costliest drought in U.S. history, in 1988-89, which cost $40 billion, according to the National Climatic Data Center.
For the spring months of March, April and May, warmer than average conditions are expected for almost the entire USA, Miskus reported, with only the Pacific Northwest and Alaska expected to be cooler-than-average.
Read the rest of the story.
March 20, 2013
Congressmen tackle fracking pollution
Two bills would close loopholes in the Clean Air Act for gas and oil
By Wyoming Energy News
U.S. Rep. Jared Polis (D-Colo.) and U.S. Rep. Matt Cartwright (D-Penn.) have introduced two bills to close loopholes in the Clean Air Act and Clean Water Act for fracking operations.
"Fracking causes a wide range of environmental and health problems, including air and water pollution. But, instead of the following the same rules every other major industry is supposed to follow, fracking operations have been exempt from our landmark health and environmental protections for years," said Margaret McCall, field associate with Environment Colorado. "Today, we're finally taking a step in the right direction by closing these loopholes."
Hydraulic fracturing operations, commonly known as "fracking," are exempt from key provisions of our nation's environmental laws. The two bills introduced today, titled the "Bringing Reductions to Energy's Airborne Toxic Health Effects", or BREATHE Act, and the "Focused Reduction of Effluence and Stormwater Runoff through Hydrofracking Environmental Regulation," or FRESHER Act, build on a longstanding effort to close another loophole that exists for the oil and gas drilling industry in the Safe Drinking Water Act.
Specifically, the BREATHE Act, introduced by Polis, Cartwright and at least 32 co-sponsors, would close a loophole in the Clean Air Act that currently allows the oil and gas industry to release large amounts of pollution into the air, and lists hydrogen sulfide as a hazardous air pollutant.
Read the rest of the story.
March 20, 2013
Industry interview: Farzad Haerizadeh of Life Technologies
California researcher talks about genetic engineering and algae
By Algae Industry Magazine
Synthetic Biology lead R&D specialist at Life Technologies in Carlsbad, Calif., Dr. Farzad Haerizadeh, along with his team, are developing synthetic biology parts, devices and chassis for a variety of industrially relevant organisms including algae, yeast and bacteria.
With doctorates in genetic engineering and molecular biology, Dr. Haerizadeh joined Life Technologies after a stint at Codexis Inc., where he led projects on metabolic and pathway engineering for production of biofuels and value-added chemicals.
Dr. Haerizadeh has nearly 10 years of experience in industrial microbiology and metabolic engineering, and his expertise on physiology and manipulation of variety of organisms includes algae, plants, yeasts, fungi, and bacteria.
Considering that genetic engineering is one of the most controversial and misunderstood aspects of algal biology, we were interested in getting his take on this rapidly evolving field, what his work is like at Life Technologies, and his observations on the benefits of genetic engineering in the world of algae.
What first got you involved in algal genetic research?
I got involved with algae research when I came to Life Technologies about two years ago. I had been at Codexis Inc. in the Bay Area, where I had worked on metabolic and pathway engineering, mainly in yeast and E. coli, for the production of biofuels and other bio-based compounds with commercial potential.
It's exciting to be in algae because it's a young field with enormous, untapped potential. If you think about how long we have been working with other organisms, it's much longer – plants, for example, have been bred for something like 10,000 years. Then in the 1960s, the introduction of new cropping systems, crop protection and tools brought about the "green revolution," initiated by Norman Borlaug, which significantly increased the amount of calories produced per acre. The revolution in algae is still ahead of us.
Read the rest of the story.
March 20, 2013
What's next in shale country?
Weighing the need and the consequences on the west side of the Rockies
By Patty Limerick and Jason Hanson, Center of the American West
There's a saying in Colorado, a saying that we imagine is popular in awkward conversations between strangers in Shale Country bars, but a saying that nonetheless gets at a sincere sentiment beneath its corniness: "Oil shale has a fantastic future - it always has, and it always will."
People on the Western Slope can be forgiven their cynicism. After nearly a century of listening to pronouncements like Victor Clifton Alderson's, and despite numerous scientific and technological advances, they find the resource still in the ground. Perhaps the new generation of in situ technologies will finally prove successful, but at the moment even the energy companies admit that it is too early to know.
Sage and juniper dot the Shale Country landscape...
Meanwhile, the industry's earlier fumbles have shaken the Western Slope in ways that continue to reverberate. The Black Sunday bust in 1982 was devastating, but after a period of doldrums the region's economy recovered and embarked on a long-term amenity boom. The slack from the oil shale bust has been taken up by service workers, retirees, second-home owners, and cybercommuters, and Western Slope communities are thriving in ways that are not likely to be greatly undone by the current recession. With the recent oil and gas boom already straining local resources even as it adds more wealth to the regional economy and helps to mitigate the local impact of the nation's current economic woes, residents are understandably wary of what another wild ride with oil shale might mean for their communities and quality of life.
But the residents of Shale Country are not the only stakeholders in the matter. American society relies on abundant energy. It was not a coincidence that the rise of the Fossil Fuel Age, which unleashed enough energy to significantly reduce the labor burden on human beings, corresponded with the end of slavery and the expansion of democratic government. Today, people in developed and developing nations depend on easily available energy to drive large segments of the economy, to transport themselves over long distances, and to power a variety of everyday items that increase both productivity and quality of life. Simply put, abundant and affordable energy from fossil fuels has made life better for countless people around the world.
Read the rest of the story.
March 12, 2013
Sustainable startup: Cool Energy Inc.
A Christmas toy provided inspiration for this Colorado company
By Eric Peterson
INITIAL LIGHT BULB Sam P. Weaver founded Cool Energy with his father, Sam C. Weaver, and his brother, Dan Weaver, after a Christmas toy provided inspiration.Sam C.'s background in nuclear energy led to a longstanding family conversation on how power plants and industrial facilities could reclaim waste heat and convert it to electricity. Then came Christmas 2005 and the American Stirling Co.'s coffee cup Stirling engine. Robert Stirling's eponymous engines converted waste heat into mechanical energy during the Industrial Revolution, and the toy turned the waste heat from a cup of joe into 250 revolutions per minute. It captivated the Weavers. Cool Energy now has seven employees, with Sam P. Weaver serving as CEO and his father as chairman of the board. (Dan Weaver is an investor.)
IN A NUTSHELL Cool Energy was born from the idea for a low-temperature Stirling engine that didn't require combustion. The result of five years of research and development, the company's SolarHeart Engine converts low-temperature waste heat into electricity to be used onsite or sold back to the grid. After four prototypes that advanced the concept from 30 watts to 3 kilowatts, Cool Energy's final 20-kilowatt prototype is currently in the design phase, and Weaver says he expects to build it in early 2014 and subsequently scale up production. Thanks to better materials and more surface area to facilitate heat exchange, existing SolarHeart Engine prototypes operate at about 22 percent efficiency at 300 degrees Celsius, a breakthrough number that Weaver only sees increasing with the 20-kilowatt version. "What's nice about it is it will cost about 2 ½ times as much to build, but it produces seven times as much electricity," says Weaver, describing "economies of scale" for larger engines. Ultimately, Weaver says Cool Energy's technology could reduce fossil fuel use by 10 percent worldwide if it was applied universally to engines of all kinds.
THE MARKET Cool Energy's target customers include everything from coffee roasters to ceramic and cement manufacturers, as well as oil and gas fields. As the SolarHeart Engine will run $60,000 installed, the payback cycle could be as little as two years in markets where energy is most expensive. "The most lucrative markets look like they'll be in Europe," Weaver says. Before scaling up production, he says he hopes to license the design to manufacturing partners.
FINANCING Cool Energy raised $1 million from California-based Idealab in 2011 while also landing about $1.8 million in government grants. Weaver says the company is in pursuit of an investment of about $5 million more to launch production.
where Boulder | FOUNDED 2006 | web www.coolenergyinc.com
About Eric Peterson
Denver-based writer Eric Peterson is the author of Frommer's Colorado, Frommer's Montana & Wyoming, Frommer's Yellowstone & Grand Teton National Parks and the Ramble series of guidebooks, featuring first-person travelogues covering everything from atomic landmarks in New Mexico to celebrity gone wrong in Hollywood. Peterson has also recently written about backpacking in Yosemite, cross-country skiing in Yellowstone and downhill skiing in Colorado for such publications as Denver's Westword and The New York Daily News.
March 12, 2013
State of Oregon backs tribes' claim to oldest water rights
Impact depends on how the Klamath use them
By Grant Scott-Goforth, Eureka Times-Standard and Jeff Barnard, AP
The state of Oregon this week backed the Klamath Tribes' claim to have the oldest water rights in the upper Klamath Basin.
The findings filed with the Klamath County Circuit Court in Klamath Falls gives the tribes a new dominant position in the long-standing battles over sharing scarce water between fish and farms in the Upper Klamath Basin. Farmers and ranchers used to drawing irrigation water from rivers where the tribes now have the oldest claim could be restricted in drought years.
The oldest water rights have the first claim to water, and Oregon Water Resources found that the tribes' claim on Upper Klamath Lake and major segments of its tributaries dates to "time immemorial." The lake is the primary reservoir for a federal irrigation project serving 1,400 farms covering 200,000 acres, and the major habitat for two endangered species of sucker fish held sacred by the tribes. Tribal claims to portions of the Klamath River, which flows out of the lake, were denied.
Karuk Tribe Klamath Coordinator Craig Tucker said the effect on the lower basin of the Klamath River will depend on how the Klamath Tribes use their water rights.
"If the lake's full, then we'll probably get more flow downstream," Tucker said.
Read the rest of the story.
March 12, 2013
Wind report overstates PTC value
Job gains -- and losses -- overblown, researcher says
By Charles J. Cicchetti, American Energy Alliance
In December 2011, Navigant Consulting, Inc., produced a report substantially based on American Wind Energy Association (AWEA) assumptions. This report purports to evaluate and compare two wind Production Tax Credit (PTC) expiration scenarios (Scenario 1, without extending the PTC; Scenario 2 with the PTC ).
For each, Navigant estimated installed wind capacity and jobs. AWEA and its supporters have repeatedly used the report' s claim of 37,000 potential lost jobs in 2013 as a key reason to extend the wind PTC. Using energy policy to formulate a national jobs policy is not efficient, cost effective or sensible, especially when picking generation "winners" by providing extraordinarily expensive subsidies like the PTC.
But most significantly, the report's data, calculations, and resulting wind capacity and job loss estimates are not credible and should not be relied upon to support further extension of the PTC.
In particular, the report vastly overstates potential jobs losses without the PTC because it: (1) relies on biased, inflated wind capacity forecasts; (2) incorrectly applies economic models; an d (3) fails to consider job creation opportunities from building other generation sources instead of wind.
In fact, following Navigant's methodology, building conventional generating capacity results in even greater job creation than building more wind. Nevertheless, basing energy policy on the number of jobs created by building generation facilities is economically wasteful. The choice of generation alternatives should focus on establishing policies that create cost-effective, affordable, and reliable electricity.
EXECUTIVE SUMMARY
• Navigant erroneously calculated PTC-related job losses ignoring contrary federal government data, and instead used the wind industry's self-serving, inflated forecasts for wind capacity. Navigant forecasts 20,200 MWs of additional wind capacity with a four-year extension of the PTC, relative even to its also inflated base case. The Navigant forecasts with and without the PTC extension exceed the government's reference 2016 forecasts by 20 percent and 55 percent, respectively.
• Navigant incorrectly applied the Jobs and Economic Development Impact (JEDI) economic model. Replicating Navigant's work for five important wind states (California, Texas, Iowa, Illinois, and Pennsylvania) demonstrates that through this error alone, Navigant overstates potential job losses by at least 100 percent.
• Navigant also incorrectly applied the Impact Analysis For Planning (IMPLAN) economic model, using questionable multipliers to add indirect and induced jobs, which further overstates potential job losses by at least another 72 percent.
Read the rest of the story.
March 12, 2013
Clean energy trends for 2013
Western research firm takes a look ahead at wind, solar and biofuels
By Clean Edge, Inc.
Last year proved to be unsettling and difficult for clean energy. High-profile bankruptcies and layoffs plagued many clean-tech companies, overall venture investments retreated in the face of increasingly elusive returns, and the industry was begrudgingly transformed into a partisan wedge issue during the highly contentious U.S. presidential campaign.

The beginning of 2013 has continued many of these same themes. In the U.S., conservative organizations and politicians continue to attack pro-clean energy policies at both the state and federal level. Numerous groups, most prominently the American Legislative Exchange Council (ALEC), are feeding off election-season rhetoric by ratcheting up efforts to roll back supportive policies such as state-backed renewable portfolio standards (RPS).
In Europe, ongoing economic struggles continue to slow demand for a host of clean technologies. Even in China, where economic growth and clean-tech commitments seem to carry on unimpeded, the country's overleveraged solar manufacturers are being forced to crawl back to the government for even larger (and we'd say unsustainable) safety nets.

The fundamental global market drivers for clean technology, however, remain largely intact. Intensifying resource constraints (everything from freshwater to energy feedstocks) cannot be ignored, especially with a global population now exceeding 7 billion. In the aftermath of unprecedented climate disruption in the U.S. and abroad, resiliency and adaptation are becoming critical business and policy drivers as organizations scramble to meet a literally changing landscape.
In the U.S., President Obama has signaled a strong commitment to expanding clean energy and energy efficiency in his second term, calling for a doubling of renewable power by 2020. And increasingly lower prices for clean-tech goods and services are helping wind and solar power reach cost parity in both utility-scale and distributed markets, making the value proposition increasingly attractive. Even amidst the carnage of 2012, clean energy has continued its ascent as a major economic force, with an increasing focus on deploying technologies that are ready and available now.
Read the rest of the story.
March 05, 2013
Salazar's water future
Water may thrust Interior Secretary Ken Salazar back to the forefront of Colorado politics.
By Bart Taylor
Of the myriad ways to measure anxiety in the West over water, add legislative activity in a drought year. The raft of water-related bills coursing through the Colorado legislature this session prompted one lawmaker, Randy Fischer, (D-Fort Collins), to wryly note in his hometown newspaper, "The number of water-related bills tends to be inversely proportional to the amount of snowpack we have." The Coloradoan is tracking more than a dozen bills on the subject.

As commendable as it is for the state's elected officials to rally around the issue, the year-to-year, ad-hoc policy advocacy also speaks to the shortcomings of Colorado's water-planning methodology, particularly the lack of a strategic water plan. Instead, state planners here participate in a process, where water entities and jurisdictions across the state engage in an ongoing discussion about stewardship of the state's water resources. Historically, it has served the state well, and as I've said before, the professionals who administer Colorado's complex water law are top-notch.

In recent years, however, the process has left much to be desired, as water interests vie for legislative influence or oppose what they believe to be unreasonable incursions. The slurry of bills speaks for itself.

Moreover, Colorado's most pressing strategic water issue – the disposition of its remaining Colorado River allocation – is missing from the legislative docket. Although demand now exceeds supply, the prospect of developing several hundred thousand acre-feet of water the state is entitled to remains only a discussion point. Colorado remains undecided as to whether it should join its Upper Basin brethren and move decidedly to develop its entitlement.

Would a strategic plan change this outcome? It's likely. But today, a framework that facilitates the discussion and leads it toward a well-reasoned end-point seems eons away (here's another look at why this is the case).

Yet Colorado may have a wild card in play. There's much speculation here about the political future of former senator and recent Secretary of the Interior Ken Salazar. He comes back home tested by fire, literally, seasoned to again lead and still relatively young. Will Salazar enter the dialogue and change the course of the discussion?

Well-versed in Colorado water issues before he left for Washington, his post at Interior could not have exposed him more to regional water challenges, including the plight of the Colorado River and its Basin stakeholders. His agency, the Bureau of Reclamation, just completed the seminal Colorado River Supply and Demand study. Salazar is among the nation's foremost experts on water in the West.

Water also provides Secretary Salazar the issue he needs to engage the political sphere here in what might otherwise be an awkward reentry. Colorado's political leadership is true-blue, with a popular governor and two popular Democratic senators who don't appear to be going anywhere soon.

Nor do they seem particularly inclined to challenge the status quo on water. Granted, hundreds of years of water law and precedent is some stiff status quo. Yet on the issue of the state Colorado River Compact allocation, none seem inclined to act boldly with the state's interest on the line. Would Salazar?

For starters, Secretary Salazar should acknowledge what his former department now accepts as fact: Colorado uses less Colorado River water than it is entitled to by a significant amount.
Salazar's Bureau of Reclamation Commissioner, Michael Conner, spelled out the supply scenario in 2009, asserting that "..we have a hydrologic determination that has basically set the boundaries of what the Upper Basin states can expect under the Colorado River Compact. So it is not the 7.5 million [acre-feet] that was projected in 1922. It is somewhere closer to the 6 million acre-feet. So that's the hydrologic determination... The states understand and are planning to that level. And we'll be supportive of their planning efforts and their evaluations."
Colorado is entitled to 53 percent of 6 million acre-feet, or 3.18 MAF. The Bureau's just-released Colorado River Supply and Demand study quantifies Colorado's current annual demand at roughly 2.1 million-acre feet – meaning the state could easily develop several hundred-thousand acre-feet of water with ample room for error.

Why isn't Colorado "planning their efforts" and acting on its remaining allocation? Its a tall order to get consensus on any water issue, for one. There's powerful sentiment within the community against more development regardless of the entitlement. And without a roadmap, water is plain hard.
The media, among others, seem challenged to keep up. The past week, a Denver Post opinion-page contributor wondered, "...Just what is Colorado's remaining share from the Colorado River and its tributaries? Nobody seems to know." In fact, the Bureau of Reclamation, the agency of record for water in the West, does know – as does its former steward.

Salazar must also grasp the incongruous plight of his native state. As the most prolific headwater state in the basin, Colorado is the remaining party to the Colorado River Compact yet to develop, or set out to develop, its full entitlement. It has watered the blossoming of the Southwest – but is last to claim its rewards.

To suggest that Colorado deserves its fair share is to state the obvious. What's lacking may be the framework to make the argument – and a politician with the bona fides to make it.
About Bart Taylor
Bart Taylor is the publisher of Planet-Profit Report.
March 05, 2013
Court rejects challenges to California wind project
Pattern Energy and BLM prevail
By Editors of Electric Light & Power/ POWERGRID International
A federal district court for the Southern District of California has ruled in favor of Pattern Energy's Ocotillo Wind project and the Bureau of Land Management in two separate suits before the court.

The court granted Pattern and the BLM's summary judgment motions in a case brought by the Quechan Tribe of the Fort Yuma Indian Reservation, and in a separate case brought by several other parties, including the Desert Protective Council.

In issuing its decisions, the court denied the challenges to the Ocotillo project and dismissed each of the many claims that had been asserted against the project by the plaintiffs, according to Pattern. The court concluded BLM and Pattern conducted thorough studies of the effects of the project and had adopted appropriate mitigation measures to avoid or minimize the project's impact, according to the press release.

This decision is the latest in a string of favorable rulings issued by the federal court rejecting challenges to the Ocotillo Wind project, Pattern said.

"We are pleased with the federal court's decisions," said Mike Garland, Pattern Energy chief executive officer. "These rulings confirmed that we and the BLM followed the rules, working with Native American tribes, community groups and local residents during the development process. We remain committed to building a renewable energy project responsive to the concerns of the local community and respectful of the environment and local cultural resources."

Ray Castillo, chairman of the Imperial County Board of Supervisors, said the county appreciates Pattern's commitment to collaborate with the county and making the Imperial Valley part of the process of developing a world-class wind project.

"The sustained economic support from the Ocotillo Wind Project will address some of our community's greatest needs, creating positive impacts on current and future generations of Imperial Valley residents," Castillo said in the press release.
Read the rest of the story.
March 05, 2013
Getting smarter about the smart grid
Is an epochal transformation of economy of energy coming?
By Timothy Schoechle, Ph.D., National Institute for Science, Law & Public Policy
Scenes of protesters being arrested in the streets might be expected in association with demonstrations related to wars, human rights, or economic crises — but not often in opposition to the activities of utility companies and their seemingly mundane electric meters.
However, such scenes of protest occurred recently in California when demonstrators blocked PG&E trucks installing "smart meters" in Marin County. Subsequently, the Marin County Board of Supervisors unanimously passed an ordinance that deemed the installation of smart meters to be a public nuisance. Similar occurrences of rebellion against smart meters are occurring across the continent.
Are these situations anomalies, or could they be harbingers of a broad and spreading grassroots rebellion against the utility industry that may herald an epochal transformation of the political economy of energy?
The promise of the smart grid In recent years, the notion of the "smart grid" has emerged — first using information technology as a means of improving electricity reliability — and then more recently to improve efficiency, reduce pollution, and to incorporate more renewable and sustainable sources of generation.
Congress, state and local governments, as well as ratepayers, have been misled about the potential energy and cost saving benefits of the new "smart" meters, paid for in large part with taxpayer dollars, as well as ratepayer dollars.
This report makes the case that the smart meters have become confused and conflated with the much broader concept of the smart grid, and that the undue emphasis on meters diverts resources badly needed to develop and bring forward the key elements of a true smart grid technology that can integrate distributed renewable energy.
Read the rest of the story.
March 05, 2013
The risks of mining overseas
Small companies most compelled, least prepared to deal with corruption
By Dan Edwards and John Engele
Imagine this: A small mining company in Denver hires a consultant in a small African country to buy mining rights to a promising gold acreage. The company feels lucky to have hired the consultant because he is well known and connected in the community, someone who can get the deal done.
The company is aware that corruption is a way of life in many small countries, so the CFO has the consultant sign the company's Foreign Corrupt Practices Act (FCPA) policy and Code of Conduct. Enacted in 1977, the FCPA is a federal law that prohibits companies from paying bribes to foreign political figures and government officials for the purpose of obtaining business.
The consultant signs the documents, ensuring the CFO that he will not bribe any officials in order to buy the mineral rights. This is good news because the CFO knows that the consultant will be expected to produce a cash payment to get the permitting process started. Everything is done in cash in places such as this ― small, inflationary countries ― and the cash literally has to come in a sizable box.
Ignoring the agreement he made with the company, the consultant follows his country's customary practices, and pays a low-level clerk to ensure that the company's application is the only one that is forwarded to the ministry of mines. The cash is produced and the permit won, but in these countries, there are few secrets. The consultant and his company have attracted the attention of a non-governmental agency (NGO) whose mandate is to protect the environment from the likes of these mining companies.
Unbeknownst to our CFO, who didn't believe the consultant would break any laws to obtain the mineral rights, the consultant has made himself and the company vulnerable. Additionally, to cover up the illegal activity, the consultant bills the work he performs as "consulting services." Unfortunately, the NGO has their eyes and ears on the ground and learns about the unlawful payment. The NGO also know that the easiest way to stop the company is to show that it violated the U.S. FCPA.
Serious Consequences
The mining company that hired the consultant – as well as the consultant - faces serious penalties under the FCPA, which has gained greater attention worldwide because of new Department of Justice (DOJ) and SEC guidelines and strong prosecution efforts. The DOJ enforces the anti-bribery sections while the SEC is the enforcer of the books and records parts of the law. This is bad news not only for the consultant, but also for company officers and even stockholders on the basis of a "continuum of responsibility" that they should have known what was going on in Africa. To whit:
"For each violation of the anti-bribery provisions, the FCPA provides that corporations and other business entities are subject to a fine of up to $2 million. Individuals, including officers, directors, stockholders, employees, and agents of companies, are subject to a fine of up to $100,000 and imprisonment for up to five years.
Additionally, for each violation of the accounting provisions, the FCPA provides that corporations and other business entities are subject to a fine of up to $25 million. Individuals are subject to a fine of up to $5 million and imprisonment for up to 20 years."
— Page 68 of the "A Resource Guide to the U.S. Foreign Corrupt Practices Act"
Reading the Radar
The reality is that mining companies are on the radar of enforcement agencies more than ever before. In its February 2013 Foreign Bribery Facts Sheet, The Organisation for Economic Co-operation and Development (OECD) named the mining industry as one of the industries most affected by foreign bribery. According to the September 2012 Searle Civil Justice Institute's Preliminary Policy Report, The Foreign Corrupt Practices Act: An Empirical Examination of Enforcement Trends, "from 1978 to 2004, 34 percent of the FCPA actions involved companies in the extractive industry, and from 2005 to mid-2011 the extractive industry comprised 28% of the FCPA actions."
It should also be noted that from 1978 to mid-2011, the extractive industry represented the largest percentage of all FCPA actions. According to the OECD, there are roughly 300 ongoing investigations in the 40 States Parties concerning allegations of corruption of foreign public officials that could be covered by the OECD Anti-Bribery Convention. These 40 State Parties include 34 OECD members plus Argentina, Brazil, Bulgaria, Colombia, Russia and South Africa. Smaller companies are the least prepared and most exposed to being prosecuted.
Protect Yourself
All of these factors point to overseas mining as hazardous to one's career. After all, any kind of conviction under the FCPA is likely to end up with senior officers losing their jobs and being banned from the industry. If mining in foreign countries usually involves corruption, then how does a U.S. company get it done without breaking laws? Fortunately, it can be done with a common-sense compliance program.
The authorities realize there is no one-size-fits-all compliance program. But here are the hallmarks of a good program that can protect you from prosecution:
• Commitment from senior management and a clearly articulated policy against corruption
• A code of conduct and compliance policies and procedures
• Adequate oversight, autonomy and resources to affect the program
• Risk assessment
• Training and continuing advice for employees and consultants
• Incentives and disciplinary measures
• Third-party due diligence and payments
• Confidential reporting and internal investigation
• Continuous improvement, periodic testing and review
• Pre-acquisition due diligence and post-acquisition integration of mergers
Above all, avoid at all costs paying someone with the proverbial box of cash, despite the widespread practice overseas, even if it's to buy beds for the local hospital. Buy the beds yourself and have them delivered. You need to exhibit an unwavering representation to everyone you deal with that in no circumstance will you be handing over a box of cash for services you don't fully understand, or participating in any form of corruption. Insist on writing a corporate check that can be fully accounted for.
Occasionally, you may lose a deal because someone made a bribe to a foreign public or private official. That person will be seen as a mark and continuously be hit up for more bribes. You have a better chance of establishing a long-term prospect in a host country because you are working within their laws in addition to those of your home country. If you are going to be successful in rewarding your shareholders, you should play by the rules.
About Dan Edwards and John Engele
Dan Edwards, CPA, is a manager of business advisory services in the Denver office of Hein & Associates LLP, a full-service public accounting and advisory firm with additional offices in Houston, Dallas and Orange County. He specializes in technical GAAP and SEC advisory services, as well as SOX 404 implementation services, and also leads the firm's mining practice area. He can be reached at dedwards@heincpa.com or 303.298.9600.
John "Jack" Engele is CFO of Vista Gold Corp., a mining company focused on gold exploration and development. He has over 25 years of experience in the gold mining industry, where he has worked in top management with several senior and mid-tier gold producers. His experience includes extensive exposure to the laws and customs of many third-world and developing countries. He can be reached at jengele@vistagold.com.
This article expresses the views of the authors only, not that of their respective employers. The content of this article is not intended to be, and should not be, considered legal advice.

February 26, 2013
UNLV solar site helps companies improve technology
University swaps power generated for energy credits
By UNLV News Center
Thousands of motorists see them daily in Las Vegas. But what just what is done with those huge solar panels throughout the year?
The solar power generation systems are run by the University of Nevada-Las Vegas' Center for Energy Research. Opened in 2001, the "solar site" as it commonly called on campus, originally was funded by the U.S. Department of Energy grant. The goal was to help students learn the theory behind solar energy systems and how to maximize the efficiency of photovoltaic panels. The center has helped companies with new solar technologies collect and analyze valuable data and to develop enhancements to their systems. Students, meanwhile, are able to interact with potential future employers.
But the systems aren't just for theory. They produce up to 100 kilowatts of energy, enough to power 20 homes when in operation, according to Robert Boehm, an engineering professor and the center's director. The power generated on the site is given back to NV Energy in return for energy credits for the university.
Read the rest of the story.
February 26, 2013
Colorado officials express support for governor's oil & gas stance
Lawsuit over fracking gets a thumb's up
By Joe Megyesy
A bipartisan group of local elected officials from across the state have offered support for Gov. John Hickenlooper's state-led oil and gas policies.
Local lawmakers traveled to the State Capitol to deliver letters supporting his stance on energy, particularly his lawsuit against Longmont's local oil and gas regulation. Letters were signed by nearly 100 county commissioners, mayors and city council members representing localities stretching from the Eastern Plains to the Western Slope.
"We felt it was important to let Gov. Hickenlooper know that we all represent a majority of people who support his common-sense approach to oil and gas development," said Wayne Scott, a member of the Brighton City Council, after speaking with the governor. "Responsibly developing these resources is critically important to the economic well-being of Brighton."
Joining Council Member Scott to deliver the letters on behalf of 97 elected officials to the Governor were Mayor Joe Wilson of Erie, Commissioner Don Rosier of Jefferson County, Commissioner Peggy Littleton of El Paso County, Mayor Dick McLean of Brighton and former Commissioner Janet Rowland of Mesa County.
Seventy-seven elected officials signed on to one headlining letter, while other jurisdictions chose to draft their own letters and resolutions. The headlining letter stated: "The proposed Longmont regulations will create a de facto ban on oil and gas production in large segments of their community. If left unchallenged, those regulations open the flood gates for other additional regulatory responses. The resulting chaos would create unclear expectations for local governments, and would discourage future investment in energy development in Colorado."
"The Governor (has been) presented with letters from elected officials from every corner of Colorado that praised him for his leadership and his education process on energy and natural gas,"
Mayor Wilson said. "Colorado's rich natural gas supplies will provide citizens of our state with a better economic outlook, lower tax rates, far more employment opportunities and less expensive clean energy for the future."
The local officials said they decided to circulate the letter of support after witnessing the backlash Hickenlooper received from his decision to pursue legal action against the City of Longmont for "its overreaching and illegal oil and gas rules."
Last year, Longmont banned the natural gas extraction process of hydraulic fracturing, commonly known as "fracking." According to case law, it is unlawful for any local government to pass laws that usurp the authority of the state on operational aspects of oil and gas development.
"In politics we often speak out loudly when we disagree with someone and I think it's equally important to do the same when we agree. Last September when I read that there was a letter signed by some local elected officials stating that they were upset with the Governor's position over the Longmont oil and gas rules, I thought it was important that we speak out in support of Hickenlooper's stance," Janet Rowland said. "I think it's important that we acknowledge that the Governor is doing a good job with energy policy issues, in particular that he is focused on science and data and not emotion."
"I'm here to thank the Governor for the very detailed and scientific approach he is taking. We applaud him for his due diligence and his efforts," Commissioner Rosier said. "Your position is backed by common sense," said the local officials in the headlining letter. "Colorado cannot have a quilt of hundreds of different sets of oil and gas regulations if the state is genuinely committed to a thriving oil and gas sector."
A letter from Cheyenne County added, "We appreciate that you are using your influence as Governor to seek a sensible energy balance so that Colorado remains an attractive place to do business. Real political leadership is a rarity in the current environment. The energy industry is vital to our economic stability and in reality the majority of citizens and local governments support the industry."
The local lawmakers also said education was key in their decision to take action.
"We took an approach to learn as much as we could about the oil and gas industry, everything from listening to Colorado School of Mines professors to the Colorado Oil and Gas Conservation Commission, to going up and actually touring different sites in producing counties," Mayor McLean said.
"These elected officials are from areas that actually do have energy production. Not only oil and gas production, but also wind and solar. We just wanted to commend him for taking a reasonable, logical approach to an all energy economy," Commissioner Littleton said. "We wanted to thank him for doing the right thing."
"Oil and gas development, balanced with the protection of Colorado's environment and public infrastructure, is important to Colorado and its economic future," stated a letter fromthe Douglas County Board of County Commissioners.
"With current unemployment above eight percent, the prospect of new oil and gas development has never been more attractive. Colorado needs jobs and we should not be impeding an industry that creates jobs."
February 25, 2013
New Mexico researcher looks to the future—and algae
Sandia fellow working on converting carbon dioxide into biofuels
By Sue Holmes, Sandia News Media
Sandia National Laboratories Truman Fellow Anne Ruffing has engineered two strains of cyanobacteria to produce free fatty acids, a precursor to liquid fuels, and has also found that the process cuts the bacteria's production potential.
"Even if algae are not the end-term solution (to our fuel needs), I think they can contribute to getting us there," Ruffing said. "Regardless of however you look at fossil fuels, they're eventually going to run out. We have to start looking to the future now and doing research that we'll need when the time comes."
She has been studying the direct conversion of carbon dioxide into biofuels by photosynthetic organisms under a three-year Truman Fellowship that ends in January. She presented her project at a poster session in August and published her work on one strain, "Physiological Effects of Free Fatty Acid Production in Genetically Engineered Synechococcus elongatus PCC 7942," as the cover article in the September 2012 issue of Biotechnology and Bioengineering.
Ruffing considers her studies as proof-of-concept work that demonstrates engineering cyanobacteria for free fatty acid (FFA) production and excretion. She wants to identify the best hydrocarbon targets for fuel production and the best model strain for genetic engineering, as well as gene targets to improve FFA production.
She is using cyanobacteria — blue-green algae — because they are easier to genetically manipulate than eukaryotic algae, the natural "oil"-producing photosynthetic microorganisms more commonly used for algal biofuels, and because cyanobacteria can be engineered to create a variety of target fuels. Genetically engineered cyanobacteria excrete FFA and allow fuel to be collected without harvesting the cyanobacteria. This lowers the requirement for nitrogen and phosphate and reduces costs. But current yields from engineered strains are too low for large-scale production.
Read the rest of the story.
February 25, 2013
Pacific Northwest's dry year impacts power rates
Price of hydro goes up as precip goes down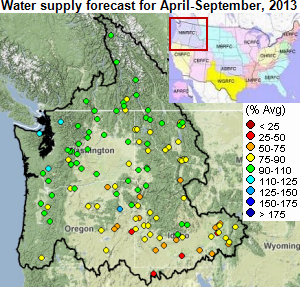 ---
By EIA.gov
The Northwest River Forecast Center's (NWRFC) most recent 2013 projections for April to September—typically the high hydro season—call for normal to below-normal water supply. This outlook is similar to last year's, and significantly lower than 2011, which was an exceptionally high water year. Within the region, the driest forecasts relative to the norm are in the southeast, and the wettest forecasts are in the northwest. The water forecast is a key driver of EIA's short-term energy outlook for hydropower generation in the region.
For this year's forecast, the NWRFC shifted its reference period from 1971-2000 to 1981-2010, reflecting a drier measurement of normal. At the Dalles Dam on the Columbia River (a widely used reference point for the Pacific Northwest), the new 1981-2010 normal runoff is 101 million acre-feet, slightly lower than the 1971-2000 value of 107 million acre-feet.
The map above shows observation stations in the watershed region of the Pacific Northwest with forecasts for the percent-of-normal water supply for that station. The colors of the stations represent forecasted water supply levels above normal (blue), near normal (green and yellow), or below normal (orange and red).
Significant quantities of water flowing in the Northwest are used to generate electricity. Because water supply and the subsequent hydroelectric generation can vary widely from year to year, these water supply forecasts are particularly important for operators of all electric generators in this region.
The overall water supply is broadly made up of the:
Precipitation that falls in a given time period
Snowpack held throughout a watershed
Subsequent runoff of the melting snow in the watershed
Northwest River Forecast Center tracks each of these phases in the water cycle. Precipitation in the region has varied this winter: a wet October (189 percent of normal, see maps below) was countered by a dry January (66 percent of normal). Temperatures were too high in October for that extra precipitation to build snowpack, and, as a result, snowpack levels are close to normal for most measuring stations.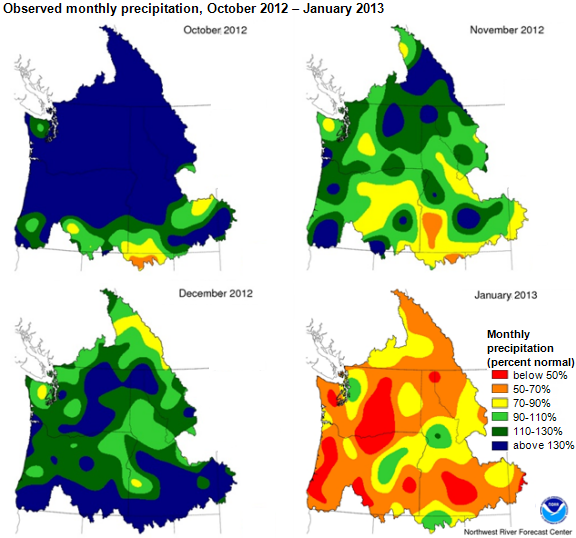 ---
The disposition of hydroelectric supply can greatly influence regional power prices. For example, during years when water is abundant, increased hydroelectric generation can drive down wholesale prices in Pacific Northwest markets. Hydroelectric supply can also have implications for the dispatch of other generators (such as wind turbines and thermal generators) in the Pacific Northwest, where four states (Washington, Oregon, Idaho, and Montana) host 35 percent of U.S. hydroelectric capacity. Hydroelectric output in 2011 was significantly above normal levels well into the summer, an unusual occurrence that drove down wholesale electricity prices in much of the western United States.
February 19, 2013
Water, trees and beetles: A surprising discovery
Pine beetle impact on watershed not what scientists thought
By Jim Scott, University of Colorado-Boulder
A research team involving several scientists from the University of Colorado Boulder has found an unexpected silver lining in the devastating pine beetle outbreaks ravaging the West: Such events do not harm water quality in adjacent streams as scientists had previously believed.
According to CU-Boulder team member Professor William Lewis, the new study shows that smaller trees and other vegetation that survive pine beetle invasions along waterways increase their uptake of nitrate, a common disturbance-related pollutant. While logging or damaging storms can drive stream nitrate concentrations up by 400 percent for multiple years, the team found no significant increase in the nitrate concentrations following extensive pine beetle tree mortality in a number of Colorado study areas.
"We found that the beetles do not disturb watersheds in the same way as logging and severe storms," said Lewis, interim director of CU's Cooperative Institute for Research in Environmental Sciences. "They leave behind smaller trees and other understory vegetation, which compensate for the loss of larger pine trees by taking up additional nitrate from the system. Beetle-kill conditions are a good benchmark for the protection of sub-canopy vegetation to preserve water quality during forest management activities."
A paper on the subject was published in the Jan. 14 issue of the Proceedings of the National Academy of Sciences.
"The U.S. Forest Service and other agencies have established harvesting practices that greatly mitigate damage to forests caused by logging, and they deserve credit for that," said Lewis. "But this study shows just how important the survival of smaller trees and understory vegetation can be to stream water quality."
In waterways adjacent to healthy pine forests, concentrations of nitrate is generally far lower than in rivers on the plains in the West like the South Platte, said Lewis. Nitrate pollution is caused by agricultural runoff from populated areas and by permitted discharges of treated effluent from water treatment facilities.
"In Colorado, many watersheds have lost 80 to 90 percent of their tree canopy as a result of the beetle epidemic," said Lewis, also a faculty member in CU-Boulder's ecology and evolutionary biology department. "We began to wonder whether the loss of the trees was reducing water quality in the streams. We knew that forestry and water managers were expecting big changes in water quality as a result of the pine beetle outbreak, so we decided to pool our university and federal agency resources in order to come up with an answer."
Study co-author and CU-Boulder Research Associate James McCutchan of CIRES said the new results should help forest managers develop more effective ways to harvest timber while having the smallest effect possible on downstream ecosystems. "This study shows that at least in some areas, it is possible to remove a large part of the tree biomass from a watershed with a very minimal effect on the stream ecosystem," he said.
Read the rest of the story.
February 19, 2013
ID utility faces costly coal decision
Power company must decide where to invest its money
By Rocky Barker, Idaho Statesman
Idaho Power is conducting an analysis of whether to invest $500 million or more in pollution-control equipment for three coal plants in Wyoming and two in Nevada. Idaho Power doesn't operate the plants, but it is a one-third owner of the Jim Bridger coal plants near Rock Springs, Wyo., and half-owner of two plants near Valmy, Nev.
The power company must decide whether to put its money into aging plants in other states, into new plants or into energy conservation - and Idaho conservationists are lobbying for that money to be invested in Idaho.
President Obama said in his second inaugural address that he would use the Environmental Protection Agency's authority under the Clean Air Act - upheld by the U.S. Supreme Court- to reduce the carbon emissions that power plants are allowed to produce. These emissions have been linked by scientists to global warming.
The coal plants Idaho Power uses also have to upgrade environmental controls on pollutants ranging from sulfur dioxide and nitrogen oxide to mercury and fly ash.
Read the rest of the story.
February 19, 2013
Fracking in the West: Big reserves, big reservations
California tries to decide if it wants to join the shale revolution
By The Economist
SHALE exploitation in North Dakota has lifted incomes and brought unemployment down to 3.2 percent of the workforce, the lowest level in the country. Californians are rarely found looking longingly towards the Midwest. But the revelation that their state, with unemployment at 9.8 percent and America's highest poverty rate, may be sitting on the largest deposit of shale oil in the continental United States has led some to wonder if their salvation lies 10,000 feet (3,000 metres) beneath them.
California has been an oil state since 1865. Thanks largely to reserves that can still be tapped by conventional means, it remains the third-largest producer in the country. Output has lately been declining by 2-3 percent a year, according to the state's Energy Commission. But in 2011, the federal Energy Information Administration declared that the Monterey shale formation, which spans 1,750 square miles (450,000 hectares) in southern and central California, held 15.42 billion barrels of recoverable oil, 64 percent of the total estimated to be in the 48 contiguous states.
In this section
That should be an attractive prospect for a state with a history of unemployment and fiscal woe. But environmental scruples have long been as characteristic of California as budgetary mismanagement, and a battle is brewing. Opponents of the hydraulic fracturing ("fracking") technique often used to extract oil and gas from shale rock in "unconventional" drilling say regulations proposed by the state in December do not adequately protect against groundwater contamination or air pollution. Some mutter about earthquakes. Such concerns find receptive ears in a seismically active state with a large farm sector.
Read the rest of the story.
February 18, 2013
Udall pushes for wind-energy tax credit extension
He says the industry needs more time to mature
By Raju Chebium, Gannett Washington Bureau
Wind energy's most prominent Capitol Hill advocate is renewing his push for the 113th Congress to extend taxpayer subsidies for the renewable energy source.
Sen. Mark Udall, D-Colo., wants Congress to extend a wind-energy tax credit beyond Dec. 31, though he nearly lost his bid to prevent lawmakers from killing off the incentive in the previous session.
He is dusting off old arguments in favor of the wind production tax credit — which costs more than $10 billion a year — as he pushes for a three- to five-year renewal.
He faces even tougher odds this year because Congress is in a cost-cutting mood. The first phase of $1.2 trillion in spending cuts over 10 years will take effect March 1 unless Congress comes up with a plan to avert them.
The dire fiscal picture doesn't change the fact that the industry needs more time to mature and stand on its own financial feet, Udall said in a recent interview.
Read the rest of the story.
February 12, 2013
Measuring the sustainability of Western water systems
The West's future depends on solving a formidable accumulation of water problems
By Jon Christensen, Barton Thompson and David Kennedy, Stanford University Water in the West program
Our water systems in the American West are old-fashioned hybrids. Combinations of natural and engineered systems, they are largely the products of archaic political and institutional structures, some dating back centuries, late nineteenth-century scientific assumptions, and mid-twentieth century engineering technologies. All of these foundational fixtures of the West's water system are showing severe signs of obsolescing rapidly.
Few water managers, moreover, are able to think beyond their basins or operate with a regional or watershed-wide mandate. The West's astonishingly fragmented water management systems – numbering more than 1,100 water districts, as well as hundreds of mutual water companies and other entities – have never been well articulated and are now approaching intolerable incoherence. Entrenched jurisdictional deadlocks chronically frustrate attempts to allocate and manage water efficiently and price it rationally.
Everywhere challenges arise from the age-old competition among agricultural and urban users, but also from new threats like aging water infrastructure, soaring population growth, intra-regional
population shifts, growing local and global demand for food, unanticipated climate change, and the increasingly compelling claims of aquatic ecosystems.
Read the rest of the story.
February 12, 2013
Energy predictions for 2013: Natural gas gold rush
Could it solve our nation's energy dilemma?
By Michael Butler, Chairman and CEO of Cascadia Capital
The rise of natural gas, coupled with the Presidential election and heated debates over energy policy, made 2012 a tumultuous year for this sector. Despite uncertainties of where the market is headed, 2013 will experience an uptick in investment and deals, with emphasis on natural gas, energy efficiency, and smart grid. This year, we predict that natural gas will remain at the core of major energy investment dollars, while activity in the energy efficiency and smart grid sectors will be ongoing, as we continue to experience technological advancements along with the breaking down of barriers. In the coming months, we also believe that the U.S. will move towards a formal, comprehensive energy policy.
Our top four predictions for the energy, environment, and applied technology sectors this year:
IT + Energy Efficiency = Increased Investor Attention. While the deployment of energy efficiency software remains far less costly than infrastructure development, investment activity in clean technologies was active throughout 2012, despite the lack of investment in other forms of renewable energy projects. We believe that the ongoing convergence of information technology and green technology will continue to grow in 2013, which will drive ongoing investment, coupled with increased consolidation as clean technology continues to advance.
Natural Gas Will Become the Modern Day Gold Rush -- Natural gas has been viewed by many as a viable bridge to transitioning the international economy to sustainable energy, and ending our dependence on foreign oil, which has led significant growth in the U.S. With a lower barrier to entry and more cost-effective production than its renewable energy alternatives, the natural gas sector has the potential to not only solve our nation's energy dilemma, but also fuel the job market, creating a significant number of positions in the energy research and development initiatives. As investments accelerate in 2013, Cascadia expects to see natural gas siphon investment dollars away from the renewable energy sectors.
Read the rest of the story.
February 12, 2013
Interior setting up first-ever Renewable Energy Zone in Arizona
Program will encourage wind and solar development
By Blake Androff, U.S. Department of the Interior
The U.S. Department of the Interior has designated 192,100 acres of public land across Arizona as potentially suitable for utility-scale solar and wind energy development, furthering President Obama's 'all-of-the-above' strategy to expand domestic energy production.
The publication of the Record of Decision (ROD) for this initiative, known as the Restoration Design Energy Project, caps a three-year, statewide environmental analysis of disturbed land and other areas with few known resource conflicts that could accommodate commercial renewable energy projects.
The ROD also establishes the Agua Caliente Solar Energy Zone, the third solar zone on public lands in Arizona and the 18th nationwide. The Solar Energy Zones are part of the Obama Administration's efforts to facilitate solar energy development by identifying areas in six states in the West with high solar potential, few resource conflicts and access to existing or planned transmission. With the Agua Caliente zone, Interior is delivering on the promise made as part of the Western Solar Plan to identify and establish additional solar energy zones.
"This project is a key milestone in our work to spur smart development of solar and wind energy on public lands across the West," Interior Secretary Ken Salazar said. "Arizona has huge potential when it comes to building a clean energy economy, and this landscape-level plan lays a solid foundation for making sure that it happens in the right way and in the right places. As we advance the President's energy strategy, we continue to work closely with states, local communities, tribes, industry, conservation and other groups to reduce potential resource conflicts and expedite appropriate projects that will generate jobs and investment in rural communities."
Since 2009, the Obama Administration has approved 34 renewable energy proposals for public lands, including solar, wind and geothermal projects. Together, they could generate 10,400 megawatts of electricity, or enough energy to power more than 3 million homes.
The lands identified in Arizona today include previously disturbed sites (primarily former agricultural areas) and lands with low resource sensitivity and few environmental conflicts. Bureau of Land Management lands in Arizona containing sensitive resources requiring protection, such as endangered or threatened wildlife and sites of cultural and historic importance, were eliminated from consideration. Additionally, the areas selected had to have reasonable access to transmission lines and load centers as well as be situated near areas with high electricity demand.
The ROD also sets standards for projects to avoid impacts to sensitive watersheds, ground water supplies and water quality and establishes a baseline set of environmental protection measures for proposed renewable energy projects. Today's action does not directly authorize any solar or wind energy projects; any proposal will need to undergo a site-specific environmental review.
"This initiative exemplifies our 'Smart-from-the-Start' review process, which puts appropriate pieces in place for responsibly developing renewable energy projects on public lands," said Mike Pool, acting BLM Director. "The Arizona project can really serve as a model for future statewide analyses for responsible energy development in the West."
The new 2,550-acre Agua Caliente Solar Energy Zone is located in Yuma County near Dateland, and the BLM estimates that the zone could generate more than 20 megawatts through utility-scale solar projects. The BLM administers about 12.2 million surface acres of public lands in Arizona.
To implement the ROD, eight BLM resource management plans will be amended to identify Renewable Energy Development Areas and provide guidance on how public lands are to be used. These identified areas are within 5 miles of a transmission line or a designated transmission corridor, and are close to cities, towns, or industrial centers.
Go here for more information on the announcement, including maps, a fact sheet and the ROD.
February 12, 2013
Western states dominate biofuels industry
Clean Fuel standards drive growth
By Bob Keefe and Jeff Benzak, Environmental Entrepreneurs
Three of the top five states for biofuel companies are in the U.S. West, but dozens of other states are beginning to realize the economic benefits of this emerging industry, according to analysis by Environmental Entrepreneurs (E2).
Combined, there are now more than 80 advanced biofuel companies, refineries and related operations located in at least 27 states. California is home to nearly 30 advanced biofuel companies; Colorado has six, and Texas has five. The other top biofuel states are Illinois, with eight companies, and Iowa, with four.
A searchable map and state-by-state breakdown of companies involved in the advanced biofuels industry is a centerpiece of a new website launched by E2. The site, a clearinghouse for information on how clean fuel companies are driving economic growth, includes reports that examine the growth and potential of the domestic biofuel industry; fact sheets about the industry and videos and other stories that spotlight American biofuel companies in action.
As detailed at www.fuelinggrowth.org, the biofuel market could be worth more than $60 billion within the next decade and more than 18,000 jobs could be created by the 26 biorefineries that are expected to open by 2015, according to E2 analysis. E2 is a national organization of more than 850 business leaders and others who advocate for good environmental policy while building economic prosperity.
Fuelinggrowth.org also details how advanced biofuels can be produced sustainably without competing with food. As the stories of many biofuel companies show, farmers are discovering new revenue opportunities for their agricultural waste; companies are developing new technologies to make fuels cleaner and biofuel refineries are popping up nationwide.
"We've got the resources, the knowledge and the technology to put our country on a path to meet our transportation needs with cleaner fuels," said Mary Solecki, clean fuels analyst at E2. "The type of innovation we're seeing in the biofuel industry is what makes America great.""
According to E2, U.S. and Canadian biofuel production capacity increased from 427 million gallons in 2011 to more than 685 million gallons in 2012. Capacity is expected to increase to 2.6 billion gallons by 2015.
There are many ways states can integrate clean fuels into their mix, according to Solecki. Some states use tax incentives, while others like California and Oregon have a Low Carbon Fuel Standard (LCFS). California's Alternative and Renewable Fuel and Vehicle Technology Program (AB 118) also has been especially helpful in getting companies to open new operations inside California.
States that will benefit the most from this promising and important industry are those that support sound clean fuel policies, Solecki says. States that ignore this growing economic development opportunity risk missing out in the future."
Expected demand from California's LCFS is helping biofuel companies like SynGest, one of the companies profiled on fuelinggrowth.org, to plan for future growth and hiring.
The Low Carbon Fuel Standard is actually one of the best things for business going, SynGest CEO Jack Oswald says.
U.S. biofuel businesses employ thousands of people across a value chain that includes farmers, engineers, factory workers, scientists, truck drivers, and railroad engineers, to name a few.
In addition to benefiting the economy, the clean fuel industry also benefits the environment by lowering the carbon content of our nation's fuel mixture, Solecki says. "That improves our air quality and cuts the greenhouse gas emissions that lead to climate change. And by reducing our dependence on foreign oil, the clean fuel industry also is helping bolster our national security.""
For more information please see www.fuelinggrowth.org. For more details on Environmental Entrepreneurs and its work on biofuels, see www.e2.org.
February 05, 2013
Clouds, fog and California forest preservation
Climate change is about more than temperature and precipitation
By Kathleen Wong, Natural Reserve System, University of California
The fog comes in, and a drop of water forms on a pine nee­dle, rolls down the nee­dle, and falls to the for­est floor. The process is repeated over and over, on each pine nee­dle of every tree in a for­est of Bishop pines on Santa Cruz Island, off the coast of Santa Bar­bara. That fog drip helps the entire for­est ecosys­tem stay alive.
Thou­sands of years ago, in cooler and wet­ter times, Bishop pine trees are thought to have pro­lif­er­ated along the West Coast of the U.S. and Mex­ico. Now, stra­tus clouds—the low-altitude clouds known locally as "June gloom"—help keep the trees grow­ing on Santa Cruz Island, Santa Rosa Island, and on one island off Baja Cal­i­for­nia. Other than these loca­tions, Bishop pine trees grow only far­ther north in Cal­i­for­nia where it is cooler and wetter.
Mariah S. Car­bone, first author of a new paper, titled "Cloud Shad­ing and Fog Drip Influ­ence the Metab­o­lism of a Coastal Pine Ecosys­tem," and her co-authors, stud­ied the influ­ence of clouds on the largest Bishop pine for­est of Santa Cruz Island. Santa Cruz Island is part of the UC Nat­ural Reserve Sys­tem, a net­work of pro­tected areas used for research, edu­ca­tion, and pub­lic ser­vice. Car­bone is a post­doc­toral fel­low with UC Santa Barbara's National Cen­ter for Eco­log­i­cal Analy­sis and Syn­the­sis (NCEAS). Their study was pub­lished in the jour­nal Global Change Biology.
"When peo­ple think about cli­mate change, they're often think­ing about tem­per­a­ture and pre­cip­i­ta­tion," said Car­bone. "When you think about pre­cip­i­ta­tion, it's rain and snow, depend­ing on where you are. What this study showed is that you can have really impor­tant water inputs com­ing from clouds that influ­ence the car­bon cycle."
Read the rest of the story.
February 05, 2013
Climatologist sees little drought relief in sight
Farmers will start spring planting with a deficit
By Rich Keller, Editor, Ag Professional
During the Dust Bowl of the 1930s, approximately 80 percent of the U.S. was in a moderate to extreme drought, and during 2012, at the drought peak, about 65 percent of the U.S. was in moderate to extreme drought, according to Brian Fuchs, climatologist with the National Drought Mitigation Center, School of Natural Resources, University of Nebraska.
Drought to some degree was in at least isolated spots of every state in 2012 for the first time in history, he said during an educational presentation during the opening day of Ag Connect, the agricultural machinery show.
"We are going to be talking about drought for much of 2013 as little relief is being projected," Fuchs said. "A lot of areas are going to go into this spring planting season with a deficit. We are seeing it already with winter wheat, and it is going to continue unless we see changes."
Fuchs said even with predictions of lower precipitation, we shouldn't lose faith that a major change could occur. "With the weather, I think everyone is smart enough to know that nothing is ever set in stone, as we saw a 100-year flood on the Missouri Basin followed by a historical drought. We have seen both ends of the spectrum."
There was no strong signal of the severity that the drought would reach going into 2012. He provided examples of the drought beginning in 2010 and progressing in different areas of the country. In October 2010, about 12 percent of the U.S. was in drought, most of it in the Southeast. As September 2011 began, about 33 percent of the U.S. was in drought but the area had moved to the Lower Plains, Texas and west with 88 percent of Texas and 69 percent of Oklahoma in drought.
January 2012 had 32 percent of the U.S. in drought with Texas and Georgia being the hardest hit states, and quite rapidly the drought spread to the Central and Northern Plains so that 65 percent of the country was in a drought condition as of September 2012. As of early January 2013, the drought had subsided only a small amount to cover about 58 percent of the U.S.
Read the rest of the story.
February 05, 2013
Wind power blowing strong across West
Utilities are shattering old records for generation
By Michael Goggin, American Wind Energy Association Manager-Transmission Policy
Utilities across the West are breaking wind-power generation records.
The Bonneville Power Administration (BPA), a federal power marketing agency and utility system operator in the Pacific Northwest, notched a new system wind generation record of 4,344 megawatts (MW) on Jan. 29.
The new record surpasses BPA's old wind generation mark of 4,289 MW, and came in the middle of a period of more than 60 hours during which wind generation never fell below 3,400 MW. It was the latest in a series of new highs being set around the country as new wind farms installed last year begin churning out electricity.
Under typical conditions, one MW of electricity can power approximately 800 homes, so wind output of 4,344 MW would be enough to power roughly 3.5 million homes.
Another regional utility system operator has shattered a wind power penetration record.
At one point on Dec. 2, 30.2 percent of the Southwest Power Pool's (SPP) power generation came from wind—a record for the grid operator and most likely a record for any grid operator in the nation. At that time, 5,900 MW of wind power capacity was pumping electrons onto the SPP system. Then on Dec. 5, the utility hit another wind power megawatt record, at 6,296 MW. (The percentage penetration at that time did not surpass the 30.2 percent record.)
Appropriately, the Dec. 2 news coming out of the region was referenced a few days later in a session at AWEA's Regional Wind Energy Summit – Southwest, which took place December 5-6 in Houston.
SPP is slated to have 7,780 MW of total wind capacity on its system by the end of the year.
SPP is not the only system operator to make news during the last month concerning wind power penetration. The Friday after Thanksgiving, output from wind turbines on the Midwest Independent System Operator (MISO) system surpassed 10,000 MW and comprised more than a quarter of the ISO's total power generation at the time. (To provide some perspective on that milestone, in 2006 the U.S. crossed the 10,000 MW milestone for total installed wind power capacity across the entire country.) In reporting on the record, MISO took the occasion to highlight wind's cost-saving power. Just a few days ago, the Electric Reliability Council of Texas (ERCOT) achieved wind penetration of 27.63 percent of the power being generated coming from wind and also hit 26 percent recently.
As for a utility power system, Xcel Energy's Colorado system holds the record, reaching a head-turning 56 percent at one point earlier this year.
Such numbers are further concrete evidence of what countless studies have found: large amounts of wind power can be reliably integrated onto the grid.
Read more from the AWEA.
February 05, 2013
Wyoming weighs groundwater testing mandate
Oil & gas companies would have to test before drilling
By Wyoming Energy News
The Wyoming governor's office is looking into possibly requiring petroleum companies that drill for oil and gas in Wyoming to test the local groundwater for any pollution before they sink a drill bit into the ground.

The goal would be to make it easier to pinpoint the source of any groundwater contamination that turned up during or after drilling. That could help any homeowners with contaminated well water to find out if oil or gas drilling in their area caused the problem or if the water pollution came from some other source.

Gov. Matt Mead looks to implement a groundwater testing requirement by the end of this year, said his natural resources adviser, Jerimiah Rieman.

"Most of the large operators do it but not all operators do it. It really can protect citizens, protect the state, protect the industry," Rieman said Monday.
Read the rest of the story.

January 29, 2013
Flaming Gorge lives
...along with big questions about managing Colorado's water future
By Bart Taylor
Last week, Colorado's Basin Roundtable Project Exploration Committee – the Flaming Gorge task force – released the results of its year-long evaluation of a proposed 500-mile pipeline to deliver water from western Wyoming to Colorado's Front Range. The Colorado Water Conservation Board funded the study to take a close look at Flaming Gorge, an idea that's stuck around to confound its critics, seemingly growing more interesting to planners as time passes. Colorado's entitled to more water from the Colorado River. The state needs the water. CWCB, in a controversial decision, convened a statewide panel of Basin representatives to study the idea.
Last month, I speculated that the task force would render a neutral finding on the project, a result I thought would also infuriate its opponents. After a brief look, the report does both – it's neutral, and for critics, will be maddening. Without a clear rejection of the idea, especially one with a few warts, it will be difficult for opponents to put a positive spin on the release.
There's little question this committee would have summarily flushed Flaming Gorge if given an opportunity. Early on, the project was clumsily steered through the water community by its chief advocates, Aaron Million and Frank Jaeger, Parker, Colo.'s ex-water chief. Each now "sponsor" separate proposals – though the concepts are nearly identical. The environmental community loathes the plan; it's a "legacy" pipeline that moves huge amounts of water over long distances. Wyoming is up in arms. In short, it's become a headache for many in the water community.
It may also be the best option for Colorado to develop its remaining Colorado River Compact allocation, fill a supply "gap" that's materializing much faster than anticipated by state planners, take the pressure off the state's agricultural sector, and ease the strain on the main stem of the Colorado River.
As a result, Flaming Gorge apparently lives.
Whether Colorado's water community can agree on how to proceed is another matter. The system seems ill-equipped to deal with projects of this magnitude. Unlike other Western states. there's not really a process in place to facilitate discussions about 'state' water projects. It's a fractionalized, decentralized ecosystem.
Half (or so) of the committee seemed to believe the Colorado Water Conservation Board should be involved. The other half believed a role to be outside its jurisdiction. There's confusion as to who should be the table, and different views on whether political advocacy even matters.
There is, apparently, agreement that Colorado needs the water, that the state would benefit from better process to evaluate and commit to projects, and that Flaming Gorge should be reviewed by a second panel. But what the panel would seek to accomplish is unclear. The report hinted a second committee won't make a recommendation either:
It is important to note that stakeholders would not be asked whether they support a Flaming Gorge project or if they think one should be built—this question would make several stakeholders uncomfortable and potentially inhibit productive discussion.
What then, would a second Flaming Gorge committee decide? Other Western states are sure to be interested in the answer.

About Bart Taylor
Bart Taylor is the publisher of Planet-Profit Report.
January 28, 2013
Challenges face U.S. West utility planners
Region is a patchwork of regulation, deregulation and permitting
By David Solan, Energy Policy Institute, Boise State University
The West is a patchwork of regulation and deregulation for electricity markets and jurisdictions with authority for project approvals. In most states, state public utilities commissions must approve generation and transmission expansion for investor-owned utilities, a major criterion of which is the affordability of projects to be borne by ratepayers.
The federal and state governments own a significant percentage of lands in the West, and there are two power administrations that must operate under certain rules derived from their formation in federal law to market power from federally constructed dams. The permitting of projects is also patchwork.
Transmission line permitting and approvals in the West are largely a state or even local jurisdictional issue. Understandably, public opposition to new lines is often strong and influential, whether the motivating factors are concerns over property values, the viewshed, health effects, or impacts on land considered to be of high value (e.g. agricultural, recreational, or historic to name a few). Attempts by the federal government through FERC to gain preemptive or overriding authority over states and localities in permitting have been rejected by the courts.
In addition, the West has traditionally been opposed to the widespread formation of what are known as regional transmission organizations or independent system operators, which have much more authority in terms of operating markets or approving regional transmission lines.
Only California has an independent system operator (CAISO) in the West, and CAISO mustcollaborate with other sub-regions with differing planning cultures and technical capacity. Incontrast, the Midwest, Northeast, Mid-Atlantic, and Texas have preferred the formation ofvoluntary independent system operators or their equivalent, and they have made efforts toforge ahead with initiatives such as tightly integrated regional markets and innovativetransmission planning.
Because of the challenges highlighted above, NSF funded the workshop to investigate what insights may be derived from organizational scholars and their interaction with electricity practitioners, and how this interaction may advance knowledge while suggesting improvements to transmission planning.
Read the rest of the story.
January 28, 2013
Wyoming pitches wind energy to California
A University of Wyoming study is helping
By Adam Voge, Casper Star-Tribune Energy Reporter
Wyoming wind officials say a recent University of Wyoming wind energy study is already aiding their efforts as they try to pitch the state's resource in California.
Data from the study show that combining Wyoming wind resources with those in California could reduce power source variability and save the Golden State money -- as much as $100 million per year.
Past Wyoming sales pitches have met with decided reluctance by California, which would prefer to rely solely on its own power generation.
Loyd Drain, executive director of the Wyoming Infrastructure Authority, said he and other representatives of the state's wind industry have already started to use data from the study in meetings with top California officials.
"It's been the centerpiece of our outreach effort to California," he said. "We've met with over 40 key officials. The fact that they're opening their doors and allowing us to share with them the results of this study means a lot."
A call to study author Jonathan Naughton was not returned Thursday. The study, "Wind Diversity Enhancement of Wyoming/California Wind Energy Projects," is the first analysis of a four-part University of Wyoming Wind Energy Research Center study on diversity of wind resources around the country.
Researchers used atmospheric wind data to log wind density and variability from five sites in Wyoming either near existing or planned wind facilities and compared them with similar sites in California. Wyoming sites used in the study include areas near Casper, Medicine Bow, Rawlins, Wheatland and the southern Laramie Valley.
Read the rest of the story.
January 28, 2013
Western states top new Clean Jobs Index
Oregon leads the field
By Jenny Foust, Ecotech Institute
After nearly a year of research, Ecotech Institute has created its first-ever "Clean Jobs Index", which aggregates all the available clean jobs in the U.S. The Index found that there were more than three million clean jobs available in 2012, and western states were among the top performers.
The index found that Oregon is the number one state for the entire Clean Jobs Index, taking all factors into account. (See how other states rank at www.ecotechinstitute.com/cleanjobsindex). Alaska is number one for clean jobs per 100,000 residents.Idaho generates the highest percentage of energy by renewables at 85 percent. California ranks lowest in energy usage per 100,000 residents. Hawaii has the highest number of customers on net metering energy per capita.
The Index breaks down clean jobs by state, with links to local jobs listings. In addition to providing objective information on jobs, the Index also looks at a variety of sustainability factors that affect citizens' lifestyles, including alternative fueling stations, LEED projects, total energy consumption, energy efficiency, green pricing, net metering and state incentives.

Ecotech Institute, the first and only college focused entirely on training students for renewable energy jobs, initiated and produced the Clean Jobs Index using a wide variety of external resources. Ecotech will update the sustainability factors of the Index data on a quarterly and annual basis (depending on when new data is released) and monthly as new jobs are posted for hiring.

To determine what jobs are deemed clean jobs, Ecotech used the "green jobs" definition from the U.S. Department of Labor – Bureau of Labor Statistics (BLS), which states that green jobs are either: (1) Jobs in businesses that produce goods or provide services that benefit the environment or conserve natural resources, or (2) jobs in which workers' duties involve making their establishment's production processes more environmentally friendly or use fewer natural resources (http://www.bls.gov/green/). Ecotech then took this definition and used data from Burning Glass International, whose patented job aggregation technology searches for job listings from more than 17,000 sources, to create the Clean Jobs Index list of available positions.

"The Clean Jobs Index addresses the prevalence of clean jobs and takes a unique ranking approach to hot topics in the world of sustainability," says Colin Coyne, Managing Principal, The Coyne Group and LEED 2.0 Accredited Professional. "This tool is able to aggregate important factors that affect job potential, businesses, livability, politics and much more by using a methodology that is 100 percent objective and an interface that is clean, concise and practical."

Ecotech Institute gathered data from a variety of independent research entities that develop and regularly publish cleantech information. Sources include a variety of government agencies, nonprofit organizations and businesses, including: U.S. Energy Information Administration, U.S. Department of Energy, U.S. Green Building Council, American Council for an Energy-Efficient Economy and Database of State Incentives for Renewables & Efficiency

"We are very proud to introduce the Clean Jobs Index to the world. Its aggregate data offers incredible insight into how each state is performing in areas of tremendous importance," says Kyle Crider, Ecotech Institute's director of sustainability. "The possibilities for the Index's use are infinite. We recommend that state leaders reference the data when policy is initiated, when companies are looking to build or improve operations, and especially when people are looking for jobs."

To learn more about the Clean Jobs Index, visit http://wwwecotechinstitute.com/cleanjobsindex/and to learn more about Ecotech Institute, visit www.ecotechinstitute.com.

About Ecotech Institute
Ecotech Instituteis the first and only college entirely focused on preparing America's workforce for careers in renewable energy and sustainability and is accredited by the Accrediting Council for Independent Colleges. Launched in April 2010 in Denver, Colorado, it offers six highly practical renewable energy degree programsthat provide graduates with skills valued by today's alternative renewable energy employers. Classes start once per quarter and applications are always accepted. Financial assistance is available to those who qualify. Ecotech Institute is a division of Education Corporation of America. For more information about Ecotech Institute, visit ecotechinstitute.com or call 877-326-5576.
January 23, 2013
Where does the water discussion go from here?
So far, there's little indication that data and drought will bring a new era of cooperation
By Bart Taylor
Late last year, two developments promised to have a material impact on the water discussion in the West. The enduring drought, specifically the lackluster early winter south of Wyoming in the Colorado Rockies, is foremost on the minds of water planners throughout the basin as most of the Colorado River runoff originates here. A dry January promises only to increase the high anxiety.
Second, release of the Bureau of Reclamation's Colorado River supply and demand study was seen as an opportunity to fundamentally alter the nature of the river discussion, where data would finally bring the protagonists in the competition for water together to solve the imbalance, or at minimum, break through long-held positions to begin a productive dialogue.
Are drought and data changing the discussion? It's early, but it's difficult to see. Yet.
Within a couple weeks of the release of the study, the bureau also announced approval of a new pipeline project that would tap groundwater on the Nevada/Utah stateline and convey water to Las Vegas. The project, more than 200 miles involving billions of gallons of water annually, was coveted by the Southern Nevada Water Authority and its influential general manager, Pat Mulroy. Mulroy has watched Lake Mead, which is dependent entirely on Colorado River water, diminish in recent years to the point that low water levels threaten the city's ability to pump from this Colorado River impoundment.
Yet pipeline projects like this that carry water over long distances are precisely the kind of 'legacy' infrastructure projects opposed by key stakeholders in the water dialogue. Environmental groups and local business interests in western Utah were quick to voice their opposition to the plan and dismay at the Bureau's record of decision.
When, again, does the consensus start?
Mulroy's a fascinating figure. She's been a true innovator; her conservation efforts in Las Vegas have been widely lauded. First, though, she's a water developer, a ruthless and effective one at that. It's admittedly hard to reconcile at times. Her plea for cooperation and inclusiveness at last December's Colorado River Users conference may have rung hollow to those also party to the discussion, but who want nothing to do with the water ambitions of urban developers.
Who then, will be an acceptable negotiating partner for no-development advocates in the West? For some, a Grand Bargain will be needed, a comprehensive regional plan. Where will compromise on the big issues be found? Southern Nevada certainly won't be the only flashpoint in the months ahead. More storage and more pipelines are needed throughout the West to meet growing demand.
To the extent these projects continue to be viewed as legacy projects that perpetuate unsustainable methods, argument may continue to be the rule and consensus the exception.
About Bart Taylor
Bart Taylor is the publisher of Planet-Profit Report.
January 23, 2013
This could be algae's big year
Western companies lead the way
By Katie Fehrenbacher, GigaOM
The allure of using algae to power the world's vehicles has been at the heart of many business plans over the years — some that have failed spectacularly, and some that are still chugging along down the long road to commercialization. But 2013 could represent a pivotal year for some of the algae fuel leaders that have spent years raising funding, building pilot projects, and selling their algae into niche markets like as an ingredient in high-end face lotions.
The players
One of the companies that's the farthest along is Solazyme, a South San Francisco-based company that went public in the spring of 2011. Solazyme was one of the first firms to focus on the alternative chemicals and personal care markets, developing a small but steady revenue stream as it braced itself for the difficulty of churning out its algae oil at a scale and cost that can compete with oil for transportation.
But Solazyme is now at the brink of ramping up its algae oil for fuel, too. This week the company said that its Brazilian joint venture with food processing giant Bunge — called Solazyme Bunge Produtos Renováveis — has received approval for a $120 million loan from the Brazilian Development Bank to build out its first commercial-scale algae fuel factory in Brazil. The factory is already under construction (it started in the summer of 2012) next to Bunge's sugarcane mill in São Paulo (it uses sugar for a feedstock). Solazyme hopes it will be ready to go by the fourth quarter of 2013. Initially it will produce 100,000 metric tons per year, but eventually by 2016 it's supposed to make 300,000 metric tons annually.
Solazyme also plans to reach commercial scale of its algae fuel in the U.S. soon, using a factory in Clinton, Iowa owned by agriculture giant ADM. That plant is supposed to make 20,000 metric tons of algae oil per year in early 2014, and eventually 100,000 metric tons per year. It also has its own smaller scale development factory in Peoria, Illinois.
Sapphire Energy is another company that is looking to cross through the so-called Valley of Death from low volume production to commercial scale that can one day compete with oil. The company has a 2,200-acre algae growing farm in Columbus, New Mexico, which has 70 ponds, each the size of a football field, as well as a refinery on site.
Read the rest of the story.
January 23, 2013
New hope for natural gas autos, Part 2
A roadmap to the future for NGVs
By Eric Peterson
(Editor's note: This is the second of two parts. Read Part 1.)
Matchmaking, NGV style
As the Denver-based manager of market development for Oklahoma City's Chesapeake Energy, the country's No. 2 natural gas producer, Dan Genovese is striving to "be the Chuck Woolery" of the industry to make a love connection between the private and public sector and get natural gas-fueled vehicles off of the drawing boards and onto the roads.
"We're going to pull this beast through the needle," Genovese says. "We're pushing and pulling the market."
His lofty projection is that natural gas could replace 15 percent of the nation's motor fuels in five short years. Both economic and environmental concerns are driving the trend. "There's kind of a double bonus," Genovese says. "If you adopt a fuel that has 25 percent to 30 percent less of a carbon footprint, it's a double win: more miles per dollar and less carbon."
Genovese says companies aren't going to be able to hit new Corporate Average Fuel Economy (CAFE) standards, calling for 54.5 miles per gallon by 2025 with incremental increases in interceding years, "so they look for credits. Electric vehicles will give them credits, and now natural gas vehicles give them credits."
If fleets adopt NGVs in a big way, the pathway to the consumer becomes a much shorter and easier route. "We suspect that natural gas vehicles will be cheaper and easier for consumers to adopt," says Genovese on why he sees the NGV as a better bet than the EV. "Auto manufacturers might find that an easier way to get credits. We think there's a lot of optimism and opportunity for natural gas vehicles with auto manufacturers."
Genovese praises South America's diverse transportation fuel markets; in Brazil, ethanol accounts for nearly 20 percent of transportation energy, and bifuel vehicles are common. "If we switch half of our transportation to natural gas, that's going to increase the price of natural gas and decrease the price of oil," he says. "I say that's the best thing that ever happened. If you have substitution, prices begin to reach parity, and you have a real stability to it, too."
The Colorado Energy Office's Schroeder calls it "resource hedging," noting that the state is aggressively pursuing other sources of transportation fuel beyond oil and gas.
The changing economics of natural gas
"Traditionally, BTUs (British Thermal Units), or energy content, whether it was oil, natural gas or another commodity, all tracked together," says Chesapeake's Genovese. "If oil went up, natural gas went up, ethanol went up, and all these other things. They cycled up and down with each other. When we started producing all of this shale gas in 2006, you saw this decoupling. As oil went up, natural gas went down. Therein lies the long-term advantage for natural gas as a transportation fuel. It no longer tracks the cost of oil."
Early 2013 prices for natural gas were around $3.25 per million BTUs, or about 75 percent cheaper than oil. A decade ago, the equivalent-energy price for natural gas was sky high, a bit higher than gasoline. Fracking brought those prices down to the ground.
But are today's low natural gas prices artificially depressed? There's a pretty good argument that they are: The market is closed (although some exports have been OKed by courts this year), and storage is nearly maxed out.
Genovese sees $4.50 as a good price for a million BTUs of natural gas. "I think there's a point in time where all the valves are turned on but also the drilling rigs start going back to drill those reserves that are out there. Markets achieve equilibrium."
Laws restricting energy exports "are old rules," he says. "There's a tremendous amount of talk of exporting now."
Exports wouldn't have a big long-term impact on price because "shale is everywhere," adds Genovese. "You might well see shale production in other countries. It's been advanced and perfected here in America, but it's not necessarily a technique that's been exported."
Environmental pros and cons
There is considerable debate over the environmental merits of natural gas. Gov. Hickenlooper sparred with activists at a December meeting of the Colorado Climate Network, an association of local governments seeking to mitigate and adapt to climate change.
According to a December 11 article in the Durango Herald, Hickenlooper argued at the Aurora conference that natural gas was the only way forward to cut greenhouse gas emissions in the near term. Anti-fracking activists pushed the governor for a move away from fossil fuels, but Hickenlooper said horizontal drilling and fracking have put the country on a course to significantly cut emissions.
Time was too short to wait for a renewable replacement for all fossil fuels, he added. "I'm willing to push the political reality as hard as I can, but I think it's morally reckless not to embrace natural gas as a short-term transition fuel."
NGVAmerica's Kolodziej says that federal standards have made for cleaner cars of all varieties, and NGVs are about 25 percent cleaner than gasoline vehicles, but every car is cleaner than it was a few years ago. "The EPA gets a lot abuse, but I just went to L.A. and I saw mountains I didn't used to see."
The environmental conversation on NGVs "has become a major liar's contest, and many of the environmental groups are the biggest liars," Kolodziej says. "They used to support natural gas vehicles, but they stopped because it's taking away from the luster of electric vehicles."
Kolodziej says the environmental lobby's support for natural gas at power plants but not on the highways amounts to hypocrisy. "Their logic doesn't make any sense. They want to use natural gas to power electric vehicles but they don't want NGVs because they are a threat to EVs.
"The data assumes the natural gas industry leaks or throws away a couple of billion dollars of natural gas every year. That's a nonsensical position. There are leaks, but it's not that bad."
Kolodziej cites a 2009 study by TIAX, a Massachusetts-based consulting firm, for the California Air Resources Board that found NGVs emit 29 percent less greenhouse gases than traditional gasoline vehicles.
"Many people claim there are environmental upsides to NGVs," says Mark Brownstein, chief counsel for the Environmental Defense Fund's Energy Program. "That can be true, but there are major questions about fugitive methane emissions. Relatively small leak rates in the supply chain can undo the greenhouse gas benefits you think you are getting. For NGVs to be a win in terms of climate, more attention needs to be paid to the magnitude of the leaks and where they're coming from."
The potency of methane as a greenhouse gas is far higher than carbon dioxide, the argument goes, and leakage rates could be 2 percent. The threshold for a positive climate outcome from mass adoption of NGVs is closer to 1 percent, says Brownstein.
"There is no definitive data what the leakage rates are," he adds. "The engineering estimates vary widely. We need to get better data and make it publicly available."
Asked whether the environmental lobby's push for natural gas to replace coal at power plants was contradictory to resistance for NGVs on the country's highways, Brownstein says it's a matter of relative evils. "Coal is much more carbon-intensive than oil," he says.
The fact that natural gas releases 25 percent less carbon emissions than diesel "is a relatively easy set of talking points to rattle off," Brownstein adds. "We're not rooting for NGVs to fail, but we're looking to have them address this issue of fugitive emissions."
Ford's NGV road map
Chrysler is building its bifuel Ram on the assembly line in Mexico and GM is working with one Indiana upfitter to convert a few trucks and vans, but Ford has seven upfitters working on aftermarket NGV conversions of the whole spectrum of vehicles, from light-duty to cargo vans, says Jon Coleman, Ph.D., Ford's fleet sustainability and technology manager in Dearborn, Mich.
He says Ford's strategy fits the bill for state fleets, just like the MOU ordered. "What the states have asked for is breadth of portfolio," Coleman says. "If you're going to invest in infrastructure, you want to spread it around every vehicle you have. That's an affirmation of our strategy moving forward."
Ford's plan is to continue working with upfitters rather than build NGVs on the assembly lines. "It's a question of market demand," Coleman explains. "The last three years, Ford has made about 25,000 NGVs, which is about twice GM and Chrysler combined. In an industry where the total volume is 15 million, 25,000 is a rounding error."
To wit, Honda made only 2,000 natural-gas Civics in 2012, versus about 220,000 gasoline-powered Civics.
Coleman says he sees the MOU as something of a road map to the future for NGVs and gives Detroit a good indicator of market demand, but his optimism is tempered by the reality of the market.
"I've spent a fair amount of time at the governor's office in Denver trying to make this work for Colorado," he adds. "I think we've made some good first steps, but this is going to take a concerted effort over a long period of time."
About Eric Peterson
Denver-based writer Eric Peterson is the author of Frommer's Colorado, Frommer's Montana & Wyoming, Frommer's Yellowstone & Grand Teton National Parks and the Ramble series of guidebooks, featuring first-person travelogues covering everything from atomic landmarks in New Mexico to celebrity gone wrong in Hollywood. Peterson has also recently written about backpacking in Yosemite, cross-country skiing in Yellowstone and downhill skiing in Colorado for such publications as Denver's Westword and The New York Daily News.
January 21, 2013
Wind company proposes turbines on UC-Davis campus
Could potentially power 7,500 dorm rooms
Foundation Windpower, a company that specializes in producing renewable energy, has proposed a plan to campus administration that would put up two wind turbines that could potentially produce enough energy to power 7,500 dorm rooms at the University of California-Davis.
According to Bob Lewis, founder and vice president of sales at Foundation Windpower, if administration agrees to accept the turbines, the company will develop, finance, build, own and operate the wind turbines at no cost to the campus.
"UC Davis and Foundation Windpower enter into a long-term contract where UC Davis agrees to purchase the 100 percent renewable electricity generated by the wind turbines," Lewis said. "Foundation Windpower uses that to take out a construction loan whose proceeds are used to purchase and install the wind equipment."
Mike Sheehan, director of facilities services at UC Davis Student Housing, said that hesitation to accept the turbines is in large part due to an uncertainty that the benefits would outweigh the costs.
Foundation Windpower estimates that the wind turbines will save the university over $2 million in energy costs over the life of the equipment.
"We price our electricity so it is cheaper than the traditional power supplied by the utility. We guarantee our price will start below and stay below the utility's price," Lewis said.
In addition to economic savings, the wind turbines could provide a source of energy that is safer for the environment. According to Lewis, the wind turbines are expected to reduce carbon dioxide emissions generated by the university by about 5,500 tons every year.
"This is equivalent to the greenhouse gas reducing effect. [It is] equal to planting about 1,500 acres of trees," Lewis said.
Read the rest of the story.
January 16, 2013
Streamlining Western water transfers
Report highlights their increasing importance
By Tom Iseman and Carlee Brown, Western Governors' Association
Scarcity is the defining characteristic of water in the Western United States. Freshwater is naturally limited to precipitation, runoff and aquifer storage. Climate variability and extreme weather events — especially drought — increase uncertainty across timescales, from days to decades. And yet demands for water continue to grow, along with the population and economy of the West.
As cities, industry, energy developers and other users seek new secure water supplies, they increasingly turn to voluntary water transfers. Water transfers are occurring throughout the West, and they will become increasingly important as new demands stress limited supplies. The goal of this
report is to suggest ways to make water transfers more efficient and equitable, while not promoting or opposing individual transfer proposals.
This report examines water transfer practices across the western states, highlighting successful models, analyzing case studies, and identifying leading practices. The goal is to share lessons and tools and to identify specific steps that states can consider in order to improve water transfer outcomes.
The History of Water Transfers in the West
Policy makers and economists have long advocated for the use of voluntary water markets. As long ago as 1986, the Western Governors' Association promoted water transfers as a mechanism for efficient water use in its report, "Tuning the System." Current WGA Policy Resolution 11-7 reflects the continuing importance of this issue to the West.
Given the new demands and water management challenges facing the West, one might expect a higher level of transfer activity. But despite their important role in western water allocation for the past several decades, transfers can be time-consuming, costly and contentious. The public and private benefits provided by transfers may be accompanied by concerns about impacts on third parties not directly participating in transfers, nor well represented by any public interest review.
Read the rest of the story.
January 15, 2013
California solar startup bought by Chinese firm
MiaSole is its second thin-film purchase
By Honey Wood, World News Resource
Hanergy Holding Group of China has just purchased one of the most promising Silicon Valley solar start-ups. The chief executive of MiaSolé was in Beijing for the announcement. However, the Chinese company purchased both the company and the solar technology for a fraction of the money investors had put into it.
MiaSolé employs 100 people and is based in Santa Clara, CA and is the second thin-film solar unit producing company that Hanergy has acquired in the last six months.
Hanergy purchased Q.Cells last September, a German company that had gone bust. This second acquisition has allowed the Chinese company to get their hands on a variety of patents at a very low cost, all the technologies represent hundreds of millions of dollars being mostly venture capital investments.
At a news conference in Beijing, the chairman of Hanergy, Li Hejun stated the company's hydroelectric dams produced hundreds of millions of dollars each year in free revenue which allowed the company to finance investments in solar energy technology under their own steam.
To date Hanergy has invested in six thin-film solar factories with another three in the pipeline.
Read the rest of the story.
January 14, 2013
New hope for natural gas autos, Part 1
Colorado is among 22 states aligning to promote natural-gas vehicles
By Eric Peterson
(Editor's note: This is the first of two parts.)
Natural gas is domestic and cheap and clean, so the story goes. So why are we still guzzling gasoline in our cars instead of sipping natural gas?
There are no easy answers, but Colorado Gov. John Hickenlooper has reached across party and state lines in search of one.
To push for the adoption of natural gas as a transportation fuel, Hickenlooper, a Democrat, signed a November 2011 memorandum of understanding (MOU) with Oklahoma Gov. Mary Fallin, Wyoming Gov. Matt Mead, and Pennsylvania Gov. Tom Corbett – all Republicans. The MOU has a stated goal "to attract automobile manufacturers in the U.S. to develop a functional and affordable original equipment manufacturer (OEM) fleet natural gas vehicle (NGV) that will also meet public demand."
The states committed to buy NGVs for their state fleets to buoy local natural gas producers and give the broader market a boost. Hickenlooper traveled to Detroit last July to discuss the issue with the auto industry's leaders, and the conversation continued when manufacturer representatives visited Colorado in August.
"This bipartisan effort demonstrates the ability of government to work together to secure energy independence for the U.S.," says Tracee Bentley, the Hickenlooper administration's director of policy and legislation. "Vehicle procurements on this scale provide economic development, promote jobs and utilize a lower-cost, cleaner burning fuel. The MOU is moving the transportation industry in a good direction."
Early Rewards of the MOU
Since the MOU's genesis, 18 additional states have signed on, bringing the grand total to 22 states stretching from Maine to Utah. In 2013, the strategy is starting to bear fruit.
Oklahoma's bid prices for NGVs and bifuel vehicles that can run on either natural gas or gasoline dropped by about 10 percent to 20 percent in 2013. The Sooner State's price tag on the Honda Civic GX, the only OEM-made light-duty NGV on the U.S. market, fell from about $31,000 to $25,000. The bifuel Dodge Ram 2500 Crew Cab fell from $36,000 to just under $30,000.
In Colorado, the early results of the MOU have been less pronounced, but the state bids for the bifuel Ford F-250s were down more than 15 percent, while the bid for the Civic GX remained the same at $25,557.
But incremental cost dropped by much higher percentages, making NGVs an easier sell for high-mileage fleet operations. Also important for fleets, the breadth of options has widened: Colorado can choose from two light-duty NGVs and 15 bifuel trucks and vans in 2013, up from only five in 2012.
Thanks to historically low natural gas prices, the payback for fleet vehicles could be as little as two or three years. Estimates hold that Colorado would save $20,000 in fuel over five years with the compressed natural gas (CNG) Dodge Ram, but it costs about $10,000 more than a gasoline Ram.
"Natural gas is attractive because it's cheap," says Alex Schroeder, senior manager for transportation fuels at the Colorado Energy Office. "Fleets and businesses are doing this for economic reasons." The volatile economics of petroleum-based fuel "is lifting all boats" in the uncharted alternative-fuel waters.
California and Utah are ahead of the curve, but "Colorado is catching up," Schroeder says. But if 22 states start aggressively buying NGVs for their fleets, he adds, "Now you're talking numbers the manufacturers can respond to. It starts with the fleets. The big step now is implementation."
Broader consumer adoption will take longer, Schroeder says. "That's not something that's going to happen overnight. We've been using petroleum for 100 years." A five-year development cycle is the norm for the auto industry, and volume will help drive the price of NGVs closer to that of their petroleum-fueled peers.
Rich Kolodziej, president of NGVAmerica, a pro-NGV trade association in Washington, D.C., calls the MOU "a big deal" but laments that more OEMs have not responded. Instead, American automakers are largely working with aftermarket partners to offer conversions. "It's slow because only a few states have gone through the bid process," Kolodziej says. "I think it's going to pick up, because I think more states are going to sign on (to the MOU)."
Manufacturers "should be coming out with additional models," Kolodziej says. "That's what we want to see. Right now, we've just got the Honda Civic."
Beyond the MOU, increased federal funding for natural-gas vehicle R&D and EPA policies would be the biggest catalysts for the industry, he adds. "The federal government could do a lot of different things. The MOU has provided an impetus at the state level. The automakers have to see demand. If they see demand, they'll build it. It's all about volume."
If this sounds like déjà vu, that's because this played out over the course of the last decade. Light-duty NGV availability peaked in the U.S. in 2002 when buyers could choose from 18 models from American automakers. That dropped to five models in 2005 and dwindled to one – American Honda's Civic GX – by 2007. Excluding aftermarket conversions, the light-duty NGV catalog hasn't changed in the six years since: Beyond the Civic GX, no automaker currently has a light-duty NGV rolling off its assembly lines with the U.S. market in mind.
It follows that the domestic market penetration has likewise been minimal. Of the 14.8 million NGVs in operation worldwide – mostly in Latin America and the Middle East – only about 120,000 are in the U.S. Total U.S. NGV volume was about 8,400 vehicles in 2012, according to Pike Research. Pike analysts project that number will quadruple to more than 30,000 by 2016.
A market dilemma
The Colorado Energy Office's Schroeder says there is a "chicken-and-egg problem" with natural gas vehicles: Infrastructure is the egg and NGVs are the chicken, or maybe it's the other way around.
"There are no vehicles out there," says Schroeder, thus there aren't many service stations where you can fill up on natural gas. "The feeling is we can bring both the chicken and the egg together."
Beyond the MOU, Schroeder's vision of chicken-egg oneness might be catalyzed by legislation. Signed into law last May, Colorado HB-1258 deregulates the resale of natural gas and electricity at service stations.
But there are still only about 20 retailers where you can fill up on compressed or liquefied natural gas in Colorado, most of them on the Front Range.
More are on the way. Clean Energy will have 150 trucking-oriented filling locations coast to coast by the end of 2013 and Shell has plans for another 100. There is also the possibility of at-home fueling for households with an appliance like the BRC FuelMaker Phill.
NGVAmerica's Kolodziej says early diesel customers traded convenience in finding a pump for high mileage and were willing to drive to a truck stop in the post-Arab oil embargo 1970s. He says NGV infrastructure will follow a similar curve. "There are 150,000 gas stations in the U.S.," he says "People assume we have to blanket the entire country. That's not true. If there were 5,000 stations offering natural gas, we wouldn't be having this conversation, but there are only 1,000 right now. But we certainly don't have to have 150,000."
Instead, he says a slight fraction will suffice, noting that Los Angeles has about 100 stations offering compressed or liquefied natural gas. "It's not a surprise that Honda sells more natural-gas Civics in L.A. than anywhere else."
It follows that Kolodziej sees NGVs will first emerge as a commuter-friendly second or third car in the consumer market, and not a good option for one-car households. "We want to go after people with two or three cars to do things they do around town." After 200 miles, they can rely on vehicle No. 1 or No. 2 and not have to worry about where to fill up on natural gas on a trip to the Grand Canyon.
About Eric Peterson
Denver-based writer Eric Peterson is the author of Frommer's Colorado, Frommer's Montana & Wyoming, Frommer's Yellowstone & Grand Teton National Parks and the Ramble series of guidebooks, featuring first-person travelogues covering everything from atomic landmarks in New Mexico to celebrity gone wrong in Hollywood. Peterson has also recently written about backpacking in Yosemite, cross-country skiing in Yellowstone and downhill skiing in Colorado for such publications as Denver's Westword and The New York Daily News.
January 14, 2013
Controversial wind farm plan scrapped
Facility would have been near Calfornia national park
By Janet Zimmerman, The Riverside Press-Enterprise
The application for a commercial-scale wind farm project proposed for two scenic mesas northwest of Joshua Tree National Park has been withdrawn, Bureau of Land Management officials said Friday, Jan. 11.
Desert Mesa Power, a subsidiary of Element Power, began testing wind conditions on Black Lava Butte and Flat Top Mesa in Pipes Canyon, northwest of Yucca Valley, in 2011. But public opposition began shortly after the Portland, Ore., company erected two 197-foot meteorological towers on the site.
Critics said 400-foot turbines would ruin the unique, flat-top mesas that rise from a boulder-strewn valley. They also complained that construction of the wind farm would damage rare plants and the habitat of endangered animals and destroy Native American cultural sites that include nearly 1,000 petroglyphs.
"We don't want to see it industrially developed. That changes the whole character," said Frazier Haney of Save Our Desert, a citizen group. The California Desert Coalition, which successfully fought a major transmission line project through the same area a few years earlier, also worked to protect the volcanic mesas.
The groups want to have the mesas declared "areas of critical environmental concern," which can restrict certain uses of the land.
Element Power notified the BLM on Jan. 10 that it was terminating its right-of-way grant for the wind testing. The company "does not believe that the wind resource at the site is conducive for further consideration for utility scale wind energy generation," the letter said.
Read the rest of the story.
January 08, 2013
Energy investors gain with cliff deal
Tax extenders provide short-term relief, long-term implications unclear
By Bart Taylor
If you were like me, you were surprised to learn that the fiscal-cliff deal, the most contentious of legislative battles, included in the end a package of energy tax provisions that on their own have been at the center of legislative discord for years. But there they were, a package of a dozen or so energy tax provisions, including an extension of the divisive wind energy production tax credit.
Surprise for me was simply business-as-usual for seasoned observers, including Joshua Green, Deputy Chair, Energy and Environment Practice for Washington D.C.-based law firm Patton Boggs.
"In the end this is classic Washington," Green said. "Everybody knew, intuitively, that there was going to be some type of deal, but to get this to chambers, there were going to have to be sweeteners added, and those sweeteners included the energy tax extenders.
"The key was the PTC – there were others there obviously – but the wind PTC enjoyed bi-partisan support in the Senate. And the overarching package was pretty much settled by the Senate finance committee last summer, at the end of August."
I asked Green if the legislation would have made it out of the House of Representatives first, to then be considered by the Senate.
"No. It would have had to be amended in the Senate then sent back to the House, and what leadership understood and the White House understood was that the fiscal cliff deal had to be limited in the number of times members voted," he said.
As to the collective impact of the energy tax package on investor sentiment, Green cautioned about their potentially limited impact. I asked whether the fiscal-cliff deal might act as a catalyst for investment.
"The extension of most of the credits is only a year, and the applicable credit amounts are such that I don't think there's going to be that much movement in the markets," he said. "Obviously, there's going to be some developers who look to get their projects done in this short window to avail themselves of the credits.
"But most investors will be looking for movement on broader tax reform debate and legislative movement in the first term of this Congress as the real driver," Green said. "At the end of the day, tax equity investing in the energy space, while its a sizable amount, is dwarfed in comparison to other capital investing, and what others are looking at is more certainty on cap gains, dividends, depreciation, R&D, and others."
Here's the package:
Credit for certain non-business energy property (25C). The bill extends through 2013 the credit under Section 25C of the Code for energy-efficient improvements to existing homes, reinstating the credit as it existed before passage of the American Recovery and Reinvestment Act. Standards for property eligible under 25C are updated to reflect improvements in energy efficiency. The provision also updates the energy efficiency requirements from the 2003 International Energy Conservation Code to the 2006 International Energy Conservation Code. This provision is estimated to cost $2.446 billion over 10 years.


Alternative fuel vehicle refueling property (non-hydrogen refueling property). The bill extends through 2013 the 30% investment tax credit for alternative vehicle refueling property. This provision is estimated to cost $44 million over 10 years.

Plug-in electric motorcycles and highway vehicles. The provision reforms and extends through 2013, the individual income tax credit for highway-capable plug-in motorcycles and 3-wheeled vehicles. This proposal replaces a 10 percent tax credit that expired at the end of 2011 for plug-in electric motorcycles, three-wheeled vehicles and low-speed vehicles. Thus it repeals the ability for golf carts and other low-speed vehicles to qualify for the credit. This provision is estimated to cost $7 million over 10 years.

Cellulosic biofuels producer tax credit. Under current law, facilities producing cellulosic biofuel can claim a $1.01 per gallon production tax credit on fuel produced before the end of 2012. This provision was created in the 2008 Farm Bill. The provision would extend this production tax credit for one additional year, for cellulosic biofuel produced through 2013. The proposal also expands the definition of qualified cellulosic biofuel production to include algae-based fuel. This provision is estimated to cost $59 million over 10 years.

Incentives for biodiesel and renewable diesel. The bill extends through 2013 the $1.00 per gallon tax credit for biodiesel, as well as the small agri-biodiesel producer credit of 10 cents per gallon. The bill also extends through 2013 the $1.00 per gallon tax credit for diesel fuel created from biomass. This provision is estimated to cost $2.181 billion over 10 years.

Indian country coal production tax credit. Under the 2005 Energy Policy Act, coal produced on land owned by an Indian tribe qualifies for a production tax credit equivalent to $2 per ton through 2012. This provision would extend the tax credit through 2013. This provision is estimated to cost $1 million over 10 years.

Extension and modification of incentives for renewable electricity property wind production tax credit and modification of other renewable energy credits. Under current law, taxpayers can claim a 2.2 cent per kilowatt hour tax credit for wind electricity produced for a 10-year period from a wind facility placed-in-service by the end of 2012 (the wind production tax credit). The bill extends through 2013 the production tax credit for wind. The provision also modifies section 45 to allow renewable energy facilities that begin construction before the end of 2013 to claim the 10-year credit, and amends section 45 to clarify that commonly recycled paper is excluded from qualifying from the production tax credit. This provision is estimated to have a net of cost $12.109 billion over 10 years.

Investment tax credit in lieu of production tax credit. Under current law, facilities that produce electricity from solar facilities are eligible to take a thirty percent (30%) investment tax credit in the year that the facility is placed-in-service. Facilities that produce electricity from wind, closed-loop biomass, open-loop biomass, geothermal, small irrigation, hydropower, landfill gas, waste-to-energy, and marine renewable facilities are eligible for a production tax credit for electricity produced over a ten-year period. The investment tax credit is better for small and offshore wind facilities. The bill would allow facilities qualifying for the production tax credit to elect to take the investment tax credit in lieu of the production tax credit for facilities that begin construction by the end of 2013. This provision is estimated to cost $135 million over 10 years.

Credit for construction of new energy efficient homes. The bill extends through 2013 the credit for the construction of energy-efficient new homes that achieve a 30% or 50% reduction in heating and cooling energy consumption relative to a comparable dwelling constructed per the standards of the 2003 International Energy Conservation Code (including supplements). This provision is estimated to cost $154 million over 10 years.

Credit for energy efficient appliances. The bill extends through 2013 the tax credit for US-based manufacturers of energy-efficient clothes washers, dishwashers and refrigerators. This provision is estimated to cost $650 million over 10 years.

Cellulosic biofuels bonus depreciation. Under current law, facilities producing cellulosic biofuel can expense 50 percent of their eligible capital costs in the first year for facilities placed-in-service by the end of 2012. This provision was created in the 2008 Farm Bill. The provision would extend this bonus depreciation for one additional year for facilities placed-in-service before the end of 2013. The proposal also expands the definition of qualified cellulosic biofuel production to include algae-based fuel. This provision is estimated to cost less than $500,000 over 10 years.

Special rule for sales or dispositions to implement Federal Energy Regulatory Commission or State electric restructuring policy. The bill extends for two years, for sales prior to January 1, 2014, the present law deferral of gain on sales of transmission property by vertically integrated electric utilities to FERC-approved independent transmission companies. Rather than recognizing the full amount of gain in the year of sale, this provision would allow gain on such sales to be recognized ratably over an eight-year period. This provision has a negligible cost over 10 years.

Incentives for alternative fuel and alternative fuel mixtures (other than liquefied hydrogen). The bill extends through 2013 the $0.50 per gallon alternative fuel tax credit and alternative fuel mixture tax credit. This credit can be claimed as a nonrefundable excise tax credit or a refundable income tax credit. Due to claims of abuse in the alternative mixture tax credit, the Committee adopted an amendment denying taxpayers from claiming the refundable portion of the alternative fuel mixture tax credit. This provision is estimated to cost $360 million over 10 years.
Thanks to the National Venture Capital Association for this summary.
About Bart Taylor
Bart Taylor is the publisher of Planet-Profit Report.
January 07, 2013
Tech startup: PanTerra Energy LLC
A geothermal heating company run like a utlity
By Eric Peterson
INITIAL LIGHT BULB Then in the roofing business, Mike Ryan had lunch with Tom Myers, a colleague in the construction management, in 2011. "I was looking to do something different," Ryan recalls. "It sounds cliché and silly, but we scribbled on a couple of napkins and came up with a general idea of what to do."
That general idea became PanTerra Energy: a geothermal-heating company that operated like a utility, akin to a similar strategy that has been embraced by the solar industry.
"Geothermal is the ultimate renewable resource," Ryan says. Underground piping, a.k.a. the loop field, absorbs heat in winter and dissipates it in summer, making for a more efficient and stable heating system.
Ryan says geothermal is three to five times more efficient than stand-alone gas-fired heaters and can result in up to 60 percent savings on heating costs. "It's a very efficient way to heat and cool your structure," he says. "It will save you money over time."
Ryan is now PanTerra's president and Myers serves as VP.
IN A NUTSHELL "One of the problems with geothermal is the upfront cost," Ryan says. "We're putting the loop field in the ground with no up-front cost." PanTerra maintains ownership of the system and sells access back to the property owner or the tenants via a "thermal purchase agreement" modeled after power purchase agreements that are in vogue in the solar industry.
Ryan says he is still working out the kinks of the model and hopes to install the first such system by summer. "We haven't crossed the finish line on pricing," he says, citing a projected savings approaching 50 percent.
PanTerra also drills and installs geothermal systems with more traditional financing. "Collectively, we have over 50 years of experience in the construction industry," Ryan says. "We have 18 years of drilling experience. We can handle jobs of any size." Pricing typically begins at about $7,000, and systems can pay for themselves in eight years.
"The technology is proven," he adds. "It's been around for decades. People are very happy with the systems we've installed. What we're doing is making it more obtainable."
THE MARKET Ryan says PanTerra's market includes most structures (commercial, industrial, municipal and residential) with heating systems, schools and prisons emerging as initial targets.
FINANCING Ryan says PanTerra will fund its first utility-model projects internally but will soon be looking for investors on a project-by-project basis. "Once we've proven the model, we'll take it out to fund it for more projects."
where Englewood | FOUNDED 2010 | web www.panterra-energy.com
"The effect on comfort is tremendous. With natural gas or propane or heating oil, you typically are heating it up, shutting it down, and heating it up again. With geothermal, it operates best if you maintain a constant temperature."
– PanTerra Energy President Mike Ryan
About Eric Peterson
Denver-based writer Eric Peterson is the author of Frommer's Colorado, Frommer's Montana & Wyoming, Frommer's Yellowstone & Grand Teton National Parks and the Ramble series of guidebooks, featuring first-person travelogues covering everything from atomic landmarks in New Mexico to celebrity gone wrong in Hollywood. Peterson has also recently written about backpacking in Yosemite, cross-country skiing in Yellowstone and downhill skiing in Colorado for such publications as Denver's Westword and The New York Daily News.
January 06, 2013
Western cities always among the nation's greenest
But other contenders might surprise you
By Roddy Scheer and Doug Moss, E-The Environmental Magazine
Which American city is the greenest depends on who you ask. Every year dozens of publications and websites release their own assessments of which cities have the most environmentally conscious citizenry, the highest percentage of recycling or the lowest carbon footprint per capita. Portland, Oregon, Seattle and San Francisco are often top contenders, but some of the other leading choices may be a surprise.

The Daily Beast based a recent round-up of greenest U.S. cities on data collected by market research firm Experian Simmons, which has been tracking the greening of the nation for half a century. Researchers polled thousands of Americans to find out what percentage in different geographic regions think and act in an eco-conscious way versus what percentage do not, as well as what percentage make a conscious effort to recycle. The company also tracked the number of public transit trips per capita and the percentage of households that use solar heating by region. Honolulu, most likely by virtue of the fact that one percent of homes there utilize solar power, came out on top. New York, with more than double the amount of public transit ridership per capita than any other U.S. city, is #2, followed by San Francisco, Seattle and Boston.

Meanwhile, the website Ecosalon looked at similar types of data and drew different conclusions, finding San Francisco to be the greenest. Ecosalon was especially impressed by San Franciscans routinely voting for aggressive green programs (like banning plastic grocery bags and financing renewable energy sources for public facilities) and by the fact that the city diverts 70 percent of its waste, thanks to mandatory recycling and composting. To top it off, nearly half of all San Franciscans bike, walk or take public transit every day—and the city is on track to reduce its greenhouse gas emissions 20 percent below 1990 levels this year. Ecosalon ranks Portland, Oregon second, followed by Seattle, Chicago and New York.

In another ranking, Canadian research company Corporate Knights granted Portland, San Francisco and Seattle a three-way tie for America's greenest city. Denver ranked #4 while Albuquerque, Charlotte (NC) and Oakland tied at fifth."Unlike other city-sustainability rankings, this ranking focuses on the effort cities are making rather than on their results, which could take years to achieve," reported Kent Portney, a Tufts University researcher who participated in the project. "In other words, this ranking is aspirational in nature." He says that each city was awarded a point for undertaking one of 38 programs or policies listed by Corporate Knights, in categories such as smart growth, land-use planning, pollution prevention, etc.

And in yet another recent round-up, Mother Nature Network (MNN) declared Portland, Oregon—where 200 miles of dedicated bike lanes and legions of supporters of local and sustainable food sources rule—the nation's greenest city. San Francisco, Boston, Oakland and Eugene (OR) round out MNN's top five.

Regardless of which city is "greenest," all U.S. cities are greening up every day because planners now realize the economic advantages of using less energy, recycling more and keeping air and water clean. We can all help by supporting municipal energy savings, recycling and composting programs and community enhancement efforts. Who knows: If you keep it up, maybe your city will top one of next year's lists.

CONTACTS: The Daily Beast, www.thedailybeast.com; Ecosalon, www.ecosalon.com; Corporate Knights, www.corporateknights.com; Mother Nature Network, www.mnn.com.
January 04, 2013
Western wind energy gets a PTC boost
Petition signatures helped push it through
By U.S. Sen. Mark Udall, D-Colo.
For many years, you and I have been fighting to make Colorado the country's leader in clean energy production. The latest chapter in that fight was six months ago, when I pledged to deliver a speech on the Senate floor nearly every day we were in session about how the wind Production Tax Credit and the wind energy industry have boosted our economy and created jobs in Colorado and across our great nation.
Two short hours after the ball dropped and 2013 began, our efforts finally paid off. The U.S. Senate overwhelmingly voted, as part of the fiscal cliff deal, to extend the PTC and help wind energy manufacturers create jobs and invest in American manufacturing and Made-in-America energy. The U.S. House of Representatives followed suit the next day.
I was humbled to have Republican and Democratic lawmakers in the Senate and House join me in my fight to invest in wind energy. What started out as a series of speeches became a grassroots movement. And I have you to thank for your support and words of encouragement.
During my tour of our great nation, from Colorado to the Gulf Coast, the Pacific Northwest and the Atlantic seaboard, I had the honor of sharing with my colleagues and the nation how wind energy touches each and every one of us. And you joined me in telling the nation about how wind energy moves us forward: 9,172 Americans signed my petition to Congress and shared their stories of how wind energy affects their daily lives.
Read the rest of the story.
December 18, 2012
Industry interview: Incitor's Jacob Berman and Troy Lapsys
New Mexico firm's high-performance fuel from algae biomass
By David Schwartz
There is a new process that algae producers can use in the conversion stage to help increase their capacity and add to the bottom line, says Incitor's VP of Business Development Jacob Berman. "Our process will add more products for them to sell – products that now they are not even considering they can generate."
Just peeking out from the shroud of R&D secrecy, Incitor is an Albuquerque bio-based chemical and fuel company that takes any kind of biomass and converts it into energy-dense fuels, fuel additives and commodity and specialty chemicals.
They specialize in generating a family of fuels they call Alestron, a high-performance biofuel made from the non-lipid portion of the biomass. While any biomass will basically feed their technology, they prefer algae biomass.
Says Berman, "There is a preference for algae because algae does not contain lignin, and has a high percentage of C-6 sugars. We can burn lignin for energy to power a facility, but algae will give us more products, rather than just something to burn."
Troy Lapsys, President of Incitor, explains that there are two possible integration points for their process in a traditional algae operation, assuming the traditional algae operation is focused primarily on lipid generation for specialty products, nutraceuticals or fuels. "The first point of entry," says Lapsys, "is if the algae company has already put an extraction mechanism into play. Then the logical point of entry for us is on the backend where we take all of the biomass that is non-lipid, and that can be placed through our system. The sugar content of that cell wall remainder and the other materials from the inside get converted in our process.
"The other entry point into the system is that Incitor's process can serve as an extraction mechanism for the lipids, while generating the other components. Our process does not affect the lipids," he says.
Read the rest of the story.
About David Schwartz
David Schwartz is Editor/Publisher and co-founder of AlgaeIndustryMagazine.com, an online industry trade publication focusing on the growth and development of the algae biofuels and co-products industry. A long-term California resident, David has been living in Santa Fe since 2007. Prior to A.I.M. David had an 18-year career as Editor-in-chief of Mix magazine, the professional audio and music industry's leading technology magazine. His educational background includes a BS in Industrial Engineering from Purdue University and an MBA from Indiana University. He received an algae biofuels certification from Santa Fe Community College, the first such program in the United States.
December 18, 2012
Snapshots of Western sustainable design
Elegant density inspires urban migration
By Eric Peterson
A virtuous cycle keeps residential construction on the front end of sustainability. Best practices emerge and get embedded in industry-standard checklists before they quickly migrate into the building code. A home built in 2012 is considerably more green than one built in 2002, and light-years beyond the homes of decades before the turn of the millennium.
Architects and designers are on the front lines of the push for more sustainable lifestyles, balancing cost and carbon and a whole host of other data points in their quest for a future of net-zero energy homes. The question is not merely "How green do you want to be?" The question isn't one home builders or home buyers can answer on their own. Rather, it's a complex query based on economies of scale, adoption rates and production efficiencies.
Looking beyond environmental sustainability and carbon neutrality, today's architectural and design communities are taking the next step into socially sustainable place-making, aiming to integrate and optimize health, collaboration, recreation, and other aspects of a sustainable lifestyle.
David Barrett of Barrett Studio Architects in Boulder says Colorado communities are learning that huge tracts of open space can only remain huge and open if we plan denser communities. "We've been calling it elegant density," Barrett says.
"People are really starting to realize the draw of these wide-open spaces can be continued through denser urban areas rather than spreading out haphazardly," adds Maggie Flickinger, Barrett Studio's director of business development.
Barrett says the trend toward sustainable design and architecture has been fueled by industry initiatives like the 2030 Challenge, which aims to make all new homes and renovations carbon-neutral by 2030. Currently, the industry is at about 60 percent. "Let's do something and not fiddle away while Rome is burning," says Barrett of what he sees as the prevailing industry attitude in the face of climate change. Sustainable features "are in the minds of most clients today," he adds. "Developers are slowest to respond, because they are more focused on cost, but the market is demanding it."
Barrett's portfolio includes everything from greenhouses to barns to planned mixed-use communities, namely the Holiday development in north Boulder.
Barrett is working on a net-zero energy New Belgium "workhouse" in Fort Collins with six temporary quarters for visiting sales reps. "Instead of Days Inn, they're staying in straw-baled casitas," says Barrett, touting New Belgium's status as a national pace-setter for the sustainable movement. "It's exciting for us to work with these people," Flickinger adds.
Spotlight on Twin Buttes Ecovillage, Durango, CO
As master planner and architect, Barrett Studio worked with Durango city leaders on green building standards that were subsequently adopted by the city. The 600-acre site 2.5 miles west of downtown Durango will feature 480 acres of open space and a dense urban center on 120 acres. "We like to think of it as a Tuscan hill town," says Barrett, citing solar-friendly south-facing slopes that connect to Durango via mass transit and bike path. "The developer [Eric Flora] really changed his path early on and realized now is the time to change."
The first residents should move into Twin Buttes Ecovillage by the end of summer 2013. Ultimately Twin Buttes will have 600 homes including single-family and multi-family units as well as "AgriLofts on a community garden, plus mixed-use development.
On the Web: www.barrettstudio.com
Urban Infill and Redevelopment
Bernie Costello of B. Costello Design & Consulting LLC in Denver focuses on residential redevelopments in Denver and first-ring suburbs. "New urbanism is neither new nor urban," he says.
"The only way we can truly let our cities become sustainable is to truly become urban. And that comes down to the 'D' word: density," Costello says. "People have seen the irony of an Energy Star or LEED-certified home, yet it's 6,000 square feet and 45 minutes from civilization."
Costello points to a project he worked on in the south Denver neighborhood of Harvard Park, where two adjacent lots, once home to "two little neglected houses" are now home to four residences. Another in the north Denver neighborhood Sunnyside took an 18,000 square-foot parcel that was home to only one household and built five separate units, each with partially attached two-car garages. (See "Spotlight on Solis 43.")
Costello still sees some "holes in the urban fabric" in Denver. The 2010 zoning changes "added a lot of wonderful things to the menu, but they're limited in where they're allowed. The current mapping that went along with the zoning could hurt our ability to be sustainable." The end result is "$1.2 million homes that are popping up in Wash Park," he says. "It has slowed down the reinvestment in other areas.
"The market relied for years on the buying power of the Baby Boomer generation," Costello says. "Then Generation Y came into the mix and supplemented what Generation X was doing," reinvigorating "first-ring suburbs" and the city. Generation Y "has embraced the city, but home ownership is still valuable to them."
Spotlight on Solis 43, Denver
There was one home on an existing 18,000-square-foot parcel in Denver's Sunnyside neighborhood. There is actually room for five.
Dubbed a "micro community," Solis 43 consists of a detached home and four partially attached ones featuring an artful use of common and private space with a common courtyard, private roof decks, and a cantilevered layout that maximizes privacy and solar potential. Koelbel Urban Homes recently broke ground on the project.
Costello's design makes meticulous use of private and common space and shows how Denver can develop its way out of its low-density legacy and take the next step toward sustainability.
On the Web: www.bc-dc.com
Social Sustainability
"Do we ever say we wrote the book on sustainability?" jokes Brad Buchanan, principal at RNL, a Denver architecture firm. "We wrote a book on sustainability." RNL has 130 employees, with about 100 of them in Denver, and has earned a reputation as one of the country's greenest architecture and design firms.
Tom Hootman, RNL's director of sustainability, wrote the book in question, "Design for One Earth," and now he's got another one coming out called "Net Zero Energy Design" (Wiley Books). "Zero energy is sort of the endgame," he says. On the way to zero energy, "There is a need in the industry for something LEED is not doing well: measurable performance," Hootman says. "The trend is going past the design model and making sure the building is being operated correctly. There's a gap in the metrics. You get LEED plaques but you don't know how the building is performing."
New York and Seattle are among the cities that have started tracking energy use and other performance metrics of larger buildings, and Denver could follow suit if these and other pilot programs prove successful. "That changes the motivation of the building owner," Hootman says. "That's going to be a metric people would be interested in."
Social sustainability is just as important as environmental sustainability, Hootman says. "It was about high-performance buildings," he says. "Now it's about high-performance people."
Spotlight on Tapiz at Mariposa
(1099 Osage Street, Denver)
The first phase of the South Lincoln redevelopment, Tapiz is an eight-story, 100-unit affordable-housing building emblazoned with a colorful mural of butterflies and a tree, located just north of the 10th and Osage light-rail stop in Denver. "This project is truly different than any project in the city's history," Buchanan says. "We truly want to end the cycle of poverty. How can we design places that are truly life-changing?"
On the environmental side, there's an innovative water-reuse system that uses gray water from the showers in the toilets and ground-sourced heat pumps that loop through the foundation and not just the parking lot. The latter are a pilot program for Colorado State University researchers.
Socially speaking, the building has a community resource center offering job-skills training, health-oriented features, and an arts center and a culinary academy, complete with a commercial kitchen.
On the Web: www.rnldesign.com

About Eric Peterson
Denver-based writer Eric Peterson is the author of Frommer's Colorado, Frommer's Montana & Wyoming, Frommer's Yellowstone & Grand Teton National Parks and the Ramble series of guidebooks, featuring first-person travelogues covering everything from atomic landmarks in New Mexico to celebrity gone wrong in Hollywood. Peterson has also recently written about backpacking in Yosemite, cross-country skiing in Yellowstone and downhill skiing in Colorado for such publications as Denver's Westword and The New York Daily News.
December 18, 2012
The super-smart house that Team Vegas built
It leaves residents with energy to spare
By Bob Whitby, Vegas Seven
It's 2 p.m. on a Friday, and about 20 students are gathered around large work tables in the Building Technologies Lab in the University of Nevada-Las Vegas' School of Architecture, poring over technical drawings and 3-D models of a small house. The wall behind them is plastered with colorful scale drawings, elevations and cutaways showing the innards of the structure, but the students' focus is on the table in front of them.
The students are up against a hard deadline to produce a 30-page summary of all the building's systems in less than a week, which wouldn't be a difficult task if they were designing a typical Las Vegas home; there's nothing revolutionary about plywood framing, stucco siding, a tile roof and a huge air conditioner to keep it all livable. But this team isn't working on another tract home; it's competing with students from 19 other universities around the globe to design a house of the future using the technology of the present. The house has to be heated and air-conditioned; it has to have all the expected amenities, such as a computer, refrigerator and a TV; it has to be less than 1,000 square feet. And it has to be powered by solar energy.
It also has to easily come apart, be shipped to Irvine, Calif., and then be reassembled so it can be judged against the other entries from such places as Stanford and Caltech in the U.S. Department of Energy's 2013 Solar Decathlon. The UNLV team was one of only 20 worldwide chosen for the decathlon. "It's a very serious competition," says Eric Weber, an assistant professor of architecture and the team's principal investigator.
Team Las Vegas decided early on that it wanted to build a home for our climate that could be habitable completely off the grid. That means using solar arrays for power and hot water, screen walls for shading, and thinking hard about things like where the windows will go and what the roof will be made of. The team also wanted to solve a design problem that, for many, ultimately becomes a quality-of-life problem, Weber says.
Read the rest of the story.
December 18, 2012
Water study reaction: predictable—and self-serving
Active river management can make all the difference going forward
By Bart Taylor
Much of the initial reaction to the Bureau of Reclamation's Colorado River study was predictable – and self-serving. In part this was because a good portion of the study's groundbreaking data had already been released, including the forecast of a 3.2 million acre-feet shortfall that made most headlines last week.
Water utilities across the West were quick to acknowledge the need for basin-wide collaboration, conservation where possible and responsible stewardship. Environmental voices stressed the current imbalance in the river system where demand now exceeds supply in some years. Lower Basin voices reiterated current efforts underway to operate within the parameters of the Colorado River Compact. And policy-makers welcomed the final report's intensive modeling of options to deal with scarcity.
The release was timed to coincide with the annual Colorado River Users Conference in Las Vegas. Several things stood out in conference presentations that referenced the study:
Everyone is concerned with the study's dire forecast of the impact of climate change. Global Climate Models (GCM) predict, on average, a 9 percent diminishment of the Colorado River because of warming over the coming decades. Debate the causes if you must, but know this: water planners are near unanimous in embracing climate-change science that forecasts warming with less water in the river as a result.
This final report analyzed the impact of more than 150 different suggestions submitted to the Bureau to address the imbalance in the river, ending up with six separate combinations that were modeled against the supply and demand data. Results were very promising in some cases. It may sound obvious, but active, collaborative river management can make a big difference going forward. Whether policy-makers will use these models to maximum effect remains to be seen.
Desalination will be in the mix – likely in a big way.
The Lower Basin, in particular, is counting on a high-level of consensus developing around this solution 'tool-kit'. As I've written before, the decades to come may well tilt upstream, to the Upper Basin. There's a sense that Nevada officials, in particular, will work mightily to maintain comity between the Lower and Upper Basin. But self-interest in the headwater states may stress this status-quo.
The most pointed concerns about the results of the study came from agriculture – easily the industry sector that stands to lose most in a new river reality. Researchers assumed agriculture could realize additional million-acre-feet of water savings through conservation in the coming years. This raised eyebrows. As one presenter said, "You can only line water canals once." More on ag's dilemma in the next post.
The results should embolden Colorado, Utah and Wyoming to develop their full legal entitlement to the Colorado River. The math works especially well for Colorado. Data from the past couple decades aligns with forecasts from the study to indicate an average of 13 million acre-feet of water to divide annually. The Upper Basin gets 50 percent, Colorado 51 percent of that, or 3.3 million acre-feet. Call it 2.5-2.8 given other factors. The state currently uses 2.1. With pressing demand, Colorado water officials should move on several hundred-thousand acre-feet of new supply in the coming years. Much to ag's relief.
More about the study's detail in the next Planet-Profit Report.
About Bart Taylor
Bart Taylor is the publisher of Planet-Profit Report.
December 11, 2012
Dissonance at Flaming Gorge
Water Conservation Board's upcoming report may cause a stir – and heartburn for its opponents.
By Bart Taylor
In January, the Colorado Water Conservation Board (CWCB) will release the findings of its Flaming Gorge pipeline task force, convened early this year to study a project that's divided the water community throughout the Colorado River Basin. Supported by users in Colorado with an acute need for water, the pipeline is opposed by motivated, well-funded interests who seemed to have the upper hand in a long-running debate over the project's feasibility and wisdom.
But based on updates published by meeting facilitators, it's a good bet the task force will recommend further study and deliberations, a result certain to anger its opponents. Even a neutral result that stops short of killing the idea outright would be a bitter disappointment for those hoping Flaming Gorge will be flushed by Colorado water officials.
The pipeline would tap Flaming Gorge reservoir in western Wyoming and move water east along the I-80 corridor, then south, for use and storage along Colorado's thirsty Front Range. Flaming Gorge backs up Wyoming's Green River, the Colorado River's primary tributary. Opponents argue there's no surplus water to divert, that the entire Colorado River system – including the Green – is tapped out, overdeveloped. The Bureau of Reclamation supply and demand study has demonstrated that demand in the seven-state river basin has indeed outstripped supply in most years.
Yet Colorado and the other Upper Basin states seem poised to tip over the current allocation regime along the river, and do so legally, pursuant to the Colorado River Compact. Colorado, Utah, Wyoming and New Mexico, the Upper Basin, haven't developed their full river entitlement. For decades, California, Arizona and Nevada have used their share plus the Upper Basin's unused portion. Given the economic value that flows downstream with every lost gallon of undeveloped water, this appears certain to change. Today, the headwater states need the water.
Can Flaming Gorge help Colorado develop its full entitlement? Certainly this question motivated CWCB to fund more research. Under the objective lens of the task force – with a timely assist from nature – the project's attributes may be holding up.
As its proponents have argued, tapping the Green River in Wyoming provides a back up of sorts to the main stem of the Colorado River. The Green rises in north central Wyoming, near Jackson. If you're a skier, you know a northerly storm track has dumped more than nine feet of snow at the Jackson Hole resort so far this winter.
When Colorado's Rockies are dry, as they are now, Wyoming's might hold more snow – essentially taking the pressure off the Colorado River headwaters, a scenario apparently not lost on the task force. In effect, Colorado would be able to tap a different source within the Colorado River system to realize its allocation. In years like those we're currently experiencing, this could be significant.
Drought may also be accelerating supply shortfalls that were initially forecast to develop in Colorado in 2030 and beyond. Gary Barber, Chairman of the Arkansas Basin Roundtable and a task force participant, issued a stark warning in mid-November to John Stulp, Colorado's Director of Interbasin Compact Negotiations and Gov. John Hickenlooper's water 'czar'.
"The very real potential exists for a water supply gap in agriculture next year, 2013, if the snow pack along the Continental Divide is average or less," he said. "A municipal supply gap could exist as early as the year 2020."
Flaming Gorge proponents have long held that this was the right project to take the pressure off Colorado's agriculture sector. It would be 'new' water into the system – a new source. Currently most 'new' supplies sustaining Colorado's economic growth, from energy to urban development, are coming from the state's ag sector. Ag transfers are watering Colorado's boom. But for how long? Much is being written today about the future of agriculture here and throughout the West. How long can state planners here lean on ag?
As Barber notes, "The alternative to moving forward on new supplies will be the loss of irrigated agriculture in the Arkansas Basin."
Of course, few if any of the arguments for Flaming Gorge will convince opponents of its viability. After all, it's an infrastructure option in a time of diminishing support for large water infrastructure projects. It's expensive.
Wyoming isn't a fan, although water law may obviate their objection in the end. And there's the current state of the basin. We know with certainty that demand now exceeds supply. Flaming Gorge opponents argue there is no more water to develop.
Finally, there's the possibility that if Colorado develops more water from the river, drought, over-use and Lower Basin obligations will dry up new users that have grown accustomed to it. Curtailment, as it's called, would present very large headaches for water officials here.
It's a good possibility we might get an even closer look at Flaming Gorge in the near future if task force deliberations are an indication of how they'll report on the year-long process. We should know in early January. The blowback from opponents will certainly not go unnoticed.
About Bart Taylor
Bart Taylor is the publisher of Planet-Profit Report.
December 10, 2012
Oregon utility customers save $1 billion in 10 years
Energy Trust's resources have made a decade of difference
By Amber Cole, Energy Trust of Oregon
In the 10 years since Energy Trust of Oregon began offering resources, technical assistance and financial incentives to help utility customers invest
in energy-efficiency and renewable energy projects, participants have saved more than $1 billion on their energy bills. The energy and bill savings will continue year after year at nearly 438,000 homes, commercial and public buildings, and industrial and agricultural facilities around the state.
"This has been a decade of difference," said Margie Harris, executive director, Energy Trust. "From the shop floor to the board room to the dinner table, Oregonians are learning how to use energy differently and are seeing immediate benefits. Together with customers, local trade ally contractors and our affiliated utilities, we're helping build a different, better and more sustainable Oregon."
In addition to helping industrial, commercial and residential customers trim their utility bills, throughout its first decade of service Energy Trust has contributed to Oregon's economy, protected the environment and helped utilities deliver energy to customers at the lowest possible cost.
Delivering effective services and value for ratepayers An independent, nonprofit organization, Energy Trust began operation in March 2002. Energy
Trust has helped Oregon customers of Portland General Electric and Pacific Power save and generate 426 average megawatts of electricity. It has helped Oregon customers of NW Natural and Cascade Natural Gas, and Washington customers of NW Natural, save 23.2 million annual therms of natural gas. These savings are equivalent to the energy needed to power all Portland homes for one and one-half years and heat all Pendleton homes for seven years.
Utilities rely on Energy Trust savings from efficiency to meet future energy needs for their customers at a lower cost. For every $1 Energy Trust invested in energy efficiency from 2002– 2011, ratepayers will save nearly $4 in costs utilities would have incurred to provide the same amount of energy from other, more costly resources.
Greater economic benefits for Oregon Energy Trust has invested $684 million in program delivery, incentives, technical assistance, trade ally contractor training, quality control and assurance and outreach activities to help utility customers put clean energy projects into action.
"The millions of dollars businesses and households are saving on their energy bills can now recirculate back into our local economy, providing further benefits through new purchases of goods and services, job creation, increased wages and wealth, and new business income," Harris said.
The consulting firm of ECONorthwest completed an independent economic analysis of utility bill savings and activity associated with Energy Trust and reported that the nonprofit has added $2.1 billion to the Oregon economy, including $630 million in wages, $120 million in small business income and employment equivalent to 18,000 full-time jobs lasting one year.
"This is economic activity that would not otherwise have taken place but for Energy Trust investments," Harris said.
Helping customers lower energy costs and generate their own power Energy Trust programs and services are available to 1.5 million electric and natural gas customers. Thousands have participated — seeing lasting benefits through using energy more efficiently or generating their own power with renewable energy.
One of thousands of businesses Energy Trust has helped is Pacific Natural Foods, a Tualatin-based producer of natural and organic food products. The company has implemented 20 energy improvement projects with Energy Trust since 2005.
"While we've worked with many great advisors, no single partner has done more to help us achieve our environmental goals than Energy Trust," said Rory Schmick, director of sustainability and environmental affairs, Pacific Natural Foods.
Energy Trust has also supported a range of renewable energy technologies over the past 10 years, investing dollars and providing assistance to help install 3,800 biopower, geothermal, hydropower, wind and solar systems. By year-end, Energy Trust is on track to help residents and businesses install 5,000 solar electric systems and add 50 megawatts of solar energy capacity to the grid.
Envisioning a future of possibilities
"Energy Trust was forged through a collaborative relationship with utilities, and through input from citizen representatives, public forums, two advisory councils comprised of industry professionals and dozens of advocacy and trade groups," said Harris. "We are grateful for the vision and commitment of so many to help deliver these remarkable results.
"While we celebrate our progress, our focus remains on the work we started in 2002 and possibilities for the future. There is no shortage of opportunity as we strive to go further, engage with more customers and expand the benefits that ensure a brighter future for all of us."
Energy Trust of Oregon is an independent nonprofit organization funded by the utility ratepayers of PGE, Pacific Power, NW Natural and Cascade Natural Gas, and is overseen by a volunteer board of directors with input from two advisory councils of industry professionals. Energy Trust services, cash incentives and energy solutions help keep energy costs as low as possible, create jobs and build a sustainable energy future. Learn more at www.energytrust.org.
December 10, 2012
Colorado's CO-EXist program builds cleantech export ties
The payoff has been huge
By Eric Peterson
Nodding to the popular pro-tolerance tailgate adornment, CO-EXist "is no purple bumper sticker," says Sandi Moilanen, director of the OEDIT's international division. Short for Colorado Export of Innovative and Sustainable Technologies, "It was designed to help Colorado's cleantech industry."
The Governor's Office of Economic Development and International Trade (OEDIT) launched the CO-EXist program in 2010. Funded partially by a grant from the U.S. Department of Commerce, it has focused specifically on getting Colorado cleantech to buyers in China and Mexico, based in large part on existing trade ties with those countries. "We studied where there was real growth potential," says Moilanen. "We thought we could make a difference in those two markets."
Originally slated to end at the end of 2012, CO-EXist was extended through at least late 2013 in September and is in the process of expanding into Canada and Japan. The four-year budget: about $1.1 million, with federal money making up roughly a third of the funding. The money is used to help Colorado cleantech companies expand internationally by helping offset assorted export-related costs. Companies are eligible for up to $4,500 in matching funds annually. The program also provides technical assistance and support for trade shows and other events. But it's hard to put a price tag on the networking groundwork that's well-worn terrain for the OEDIT. "The value-add is we set up B-to-B meetings," says Moilanen.
The payoff has been huge. To date, 70 Colorado companies have exported about $31 million of cleantech goods and services with CO-EXist assistance. "We thought we would hit $36 million by the end of the program and we are well on our way to hitting it," says Moilanen, noting that a huge sale that could immediately more than double that total is "in the works." And the bang for each federal buck is even higher: Only $120,000 has been spent to date, making for nearly $250 in exports per federal dollar spent.
Jorge Diaz, CO-EXist program administrator, led a group of representatives from six Colorado companies to the Green Expo in Mexico City in September. "It is probably the most popular trade show in Mexico for cleantech," he says. Several companies closed deals at the Colorado booth; others developed "mid-term and long-term opportunities." In Mexico, OEDIT works with a consultant, Raul Arriaga Becerra.
Denver-based Coolerado worked with the CO-EXist program to find a distributor in Mexico, says Fabio Diaz, vice president of international sales. "CO-EXist has been a big help," says Diaz (no relation to Jorge). He describes the subsidies as "fundamental" in closing over $400,000 in exports with a sales pipeline of about $2.5 million.
Another CO-EXist client, the Strasburg-based Bio2 Solution, provides green wastewater treatment technology to livestock operations. When the company wanted to expand into Mexico, it utilized CO-EXist. "It's a terrific way to leverage ourselves," says Tracy Woodward, the company's director of international business. CO-EXist helped The Bio2 Solution to advance its international expansion by making two trips to Mexico, she adds, dubbing Arriaga Becerra "an incredibly well connected partner."
Tom Binet heads up OEDIT's Asian initiatives, including CO-EXist's program in China. "We make a point to engage in what we call commercial diplomacy," he says. "It helps the Chinese side to know that they are welcome here."
Craig Hoechstetter, director of sales for InDevR, represented the Boulder-based maker of instrumentation for microbiological analysis on two CO-EXist-subsidized trips to China in 2012. His March visit set the stage for a $100,000 sale in late September. "This is very impactful from a business perspective," says Hoechstetter, commending Binet and the OEDIT.
Another possible export from Colorado is particularly intriguing, Binet adds. "We're working on exporting beetlekill to China for fuel," he says. "Negotiations are ongoing."
About Eric Peterson
Denver-based writer Eric Peterson is the author of Frommer's Colorado, Frommer's Montana & Wyoming, Frommer's Yellowstone & Grand Teton National Parks and the Ramble series of guidebooks, featuring first-person travelogues covering everything from atomic landmarks in New Mexico to celebrity gone wrong in Hollywood. Peterson has also recently written about backpacking in Yosemite, cross-country skiing in Yellowstone and downhill skiing in Colorado for such publications as Denver's Westword and The New York Daily News.
December 10, 2012
The wind industry's corporate welfare?
An argument against the Production Tax Credit
By Bonner Cohen, The National Center for Public Policy Research
Americans will soon learn whether the political class in Washington is serious about cleaning up the dirty acts of favoritism and cronyism that are business as usual in the nation's capital. From loan guarantees for the well-connected to subsidies for the non-competitive, Washington specializes in feathering the nests of those with special access to levers of power and taxpayer money.
Following the collapse of solar-panel-maker Solyndra and numerous other now-bankrupt energy companies that received federal funding, it should be clear that the U.S. government has no business placing bets with other people's money. Rooting out well-entrenched cronyism is an uphill task, but a good start can be made by ridding the nation of one of the most egregious corporate handouts Washington has to offer.
For 20 years, the wind-energy industry has been the beneficiary of a federal subsidy called the Production Tax Credit (PTC). Designed to promote wind power as part of an overall strategy to boost "renewable" energy, the PTC provides producers a tax credit of 2.2 cents per kilowatt-hour of electricity generated. What began as a temporary helping hand to enable wind power to compete with traditional sources of energy, has become a permanent fixture of the wind industry's business model. The PTC has faced expiration six times since it was enacted in 1992, only to be extended by Congress under pressure from the wind industry and advocates of renewable energy. Unless Congress once again intervenes during this year's lame-duck session, the subsidy is scheduled to expire at the end of 2012.
The 20-year-old subsidy to the wind industry should be allowed to expire, and here are the reasons why:
The wind industry does not need the PTC in order to survive.
As an industry, wind power is not in its infancy and thus not in the need of a helping hand. It is well established within the renewable-energy sector, where it has seen substantial growth in recent years. Wind power's 50,000 megawatts of capacity represent a five-fold increase since 2006 and a 1,300 percent increase in capacity over the past ten years. By the end of 2011, the U.S. Department of Energy reported that new wind projects containing an additional 219,000 megawatts of power capacity had requested transmission interconnection.
Read the rest of the story.
December 04, 2012
Forging missing policy links for Western groundwater management
Stanford study looks at how to make it work
By Rebecca Nelson, Stanford University
Groundwater is a critical component of the water supplies for agriculture, cities, industry and ecosystems across the Western U.S. It can have significant advantages over surface water in terms of reliability and water quality. However, water law and policy have oftenconsidered groundwater in isolation from rivers and ecosystems that depend on it, and separate from holders of rights or entitlements in connected waters.
History shows that this risks allowing a situation in which groundwater pumping can affect river flows, potentially drying rivers, and exacerbating conflict between holders of surface water and groundwater rights. It also increases risks of groundwater pumping damaging ecosystems that are fully or partially dependent on it.
A wide variety of ecosystems may be groundwater-dependent, including those associated with rivers, wetlands, springs, terrestrial vegetation, and coastal, estuarine, near-shore, and marine areas. Law and policy tools for integrating groundwater management with surface water management seek to forge these missing policy links between groundwater and surface water, and between groundwater and ecosystems.
Integrated groundwater management means adopting policies that recognize the links between groundwater and the broader water system, including rivers, wetlands, other ecosystems, and users of connected waters. Across the Western U.S. states, pumping groundwater poses a key law and policy challenge: how to deal with the impacts that pumping has on connected surface waters and groundwater-dependent ecosystems, while not unduly constraining groundwater use.
We call management that achieves this "integrated groundwater management" because it integrates these considerations, rather than seeing groundwater in isolation from connected water sources and environments. Integrated groundwater management also requires carefully managing aquifers that are not connected to surface waters and GDEs: they are not only highly valuable resources in themselves; depleting aquifers can indirectly affect surface waters, by increasing pressure on them when aquifers are economically exhausted.
Read the rest of the story.
December 04, 2012
Cleantech 2.0: Pragmatic and capital-efficient
Aravaipa Ventures leads a new version of Cleantech investing
By David Lewis
While the popular media and one presidential candidate actively berate cleantech, a Colorado fund remains strongly confident in a strong future for cleantech. Aravaipa Ventures' Founder and Managing Director Robert Fenwick-Smith calmly states, "Like all young industries, cleantech is growing from an idealistic spendthrift youth to a pragmatic and capital constrained adulthood. And for the investors who bought into the original hype, these are painful days."
Fenwick-Smith argues, "The first phase of cleantech investing has been mainly characterized by large coastal venture capital firms taking big bets on game-changing billion-dollar technologies. This is understandable as most of these VCs have IT backgrounds where game-changing bets provided superb returns, and these firms have such huge funds – hundreds of millions or billions – that they can only afford to make large investments."
Since its inception in 2008, Aravaipa Ventures has taken a very different approach: to build profitable and capital-efficient cleantech companies. Or put otherwise, "Aravaipa looks for singles, doubles or triples whereas traditional VCs look for home runs. These two very different approaches could yield similar returns for a fund: traditional VCs having very few large winners while Aravaipa has multiple smaller successes."
This more pragmatic approach does include backing technologies designed to have a tremendous impact on the world. Fenwick-Smith highlights Lightning Hybrids LLC, one of the Aravaipa portfolio companies: "Lightning Hybrids' hydraulic hybrid system reduces gas consumption of light commercial fleets by 35 percent – a much bigger impact on U.S. gas consumption than Tesla and Fisker combined! Obviously not half as sexy – until you understand that Lightning Hybrids will have that impact with less than $10 million invested versus the billion going to each EV company." Aravaipa Ventures calls this pragmatic and capital-efficient investing "Cleantech 2.0."
Another example of Cleantech 2.0 from the Aravaipa portfolio company is RavenBrick LLC. Where its smart window competitors Sage and Soladigm have invested hundreds of millions of VC dollars to set up manufacturing, RavenBrick will do the same, right here in Denver, for less than $20 million, and produce a smarter and cheaper window.
Pragmatic and capital-efficient cleantech also means looking for niches instead of simply following the herd into wind and solar. "Silver Bullet is the most exciting Cleantech 2.0 venture that I have encountered in the last four years. First, because it achieves enormous energy AND water savings, and, more importantly because it has an extraordinary recurring revenue model that beats even most cloud computing cash flows," says Fenwick-Smith.
Interestingly, as Aravaipa applies its pragmatic and capital-efficient investment criteria to cleantech ventures in Colorado, it has only invested in companies whose products increase the efficiency of one resource and/or another. Fenwick-Smith believes, "This is most likely due to the fact that most efficiency ventures are making an EVOLUTIONARY play – not a moonshot. Typically, such efficiency-tech ventures have a shorter development phase, much earlier sales, and faster adoption." Aravaipa, therefore, will continue to concentrate on efficiency-tech in Colorado.
Fortunately for Colorado, Aravaipa is not the only Cleantech 2.0 fund in the state. Where Colorado had virtually no traditional VCs participating in Cleantech 1.0, a strong group of funds, in addition to Aravaipa Ventures, has emerged to invest in Cleantech 2.0: King Hill Capital, 9th Street Capital, Infield Capital and Vision Ridge Capital – to name the most active. Together these funds give Colorado a unique head start and may even herald a time when Colorado has a cleantech lead on the coasts. Also, pragmatic, capital-efficient companies have a better track record of creating long-term local jobs. Fenwick-Smith finishes, "Now if we can just get journalists interested in less sexy, but more realistic ventures, we can start promoting the future of Cleantech 2.0."
About David Lewis
David Lewis is a freelance writer based in Denver.
December 04, 2012
Public lands give U.S. West an economic edge
Report details the reasons for the region's competitive advantage
By Headwaters Economics
The Western economy has outperformed the rest of U.S. economy in key measures of growth—employment, population, and personal income—during the last four decades. The region has prospered by successfully diversifying its economy to include fast-growing and higher-paying services industries—such as high-tech, finance, and health care jobs—and attracting talent and entrepreneurs who incubate tomorrow's companies.
As the West continues to shift from a natural resource-based economy to a knowledge-based economy, the key to the region's competitiveness is increasingly the ability to cultivate and attract innovative companies and an educated workforce. Research shows that these companies and individuals are increasingly "footloose" and are drawn to the West's high quality of life, which includes outdoor recreational opportunities and attractive natural landscapes.
In the fierce global competition for business and talent today, the West has a clear competitive advantage in its public lands. The West has more federal public lands, and protected public lands such as national parks and monuments, than any other region of the country. These lands offer access to hiking, fishing, hunting, skiing, boating, and other forms of recreation, and provide a scenic backdrop to the region's communities.
Not surprisingly, economists have found that Western national parks, monuments, and other protected federal public lands support faster rates of job growth and are correlated with higher levels of per capita income. This report reviews the West's increasing economic diversity, the growth of the region's modern services economy, and the economic role of public lands in the West. It examines the West as a whole, including large metropolitan areas where most economic activity takes place, as well as the non-metropolitan West where small to mid-sized
communities also are successfully competing for businesses and talent, and creating new jobs by leveraging nearby public lands.
Read the rest of the story.
December 04, 2012
Where solar meets organic
A look at energy efficiency and food supply sustainability
By James W. Keyes, R. Michael Martin, and Brett T. Gage, Principal Solar Institute
Over the past few decades, the organic food industry has gained increasing attention among various sectors of the population. Consumers and suppliers, alike, have facilitated this growth by appealing to a health and wellness conscience that grew out of the 20th century. Until the early 20th century, there was no distinction of "organic" foods—in fact, nearly all foods were organic by nature.
However, as scientists discovered solutions to some of the problems that plagued the agriculture industry, there arose a need for distinguishing between traditional, organic food supply and genetically modified alternatives ("GMOs"). With the growth of the organic food industry is a parallel trend of social responsibility showing that consumers across all sectors are not only demanding great products at affordable prices, but also understanding that their products were produced with minimal harm to the environment. More than ever, corporations across the nation are being held accountable for the footprint that their products leave behind.
NRG Energy CEO, David Crane explains, "Every CEO I know wants to identify their company with sustainability. Their employees are demanding it, their customers are demanding it, and the next generation of American consumers is demanding it."
Examining the food industry, one of the biggest questions presented to suppliers is how to balance the quality that consumers ask for and the affordability that they need. Twentieth century production shifted to GMOs and unsustainable practices as they were often cost effective and increasingly productive. As the industry attempts to reassess its approach, the problem of affordability and quality become formidable hurdles. While the solution to these issues is multi-faceted, a focus on sustainable farming and energy efficiency presents itself as a primary step.
In recent years, alternative energy sources, such as solar, have become increasingly cost effective and technologically feasible. Subsequently, they are positioned for great expansion into the supply and retail of organic foods. Paired with additional technology, such as Leadership in Energy and Environmental Design (LEED)—certified facilities that reduce environmental impact, the food supply industry has the tools to make great progress in sustainability and energy efficiency.
Read the rest of the story.
November 28, 2012
Will the Bureau's Colorado River study live up to the hype?
Here's why it might not
By Bart Taylor
One measure of the high anxiety around water in the West is the hyper-interest in the Nov. 30 release of the final phase of Bureau of Reclamation's Colorado River study. This phase promises to be the most interesting, approachable part of the study, focusing on a long list of proposals submitted by the public to restore the Colorado River to a healthy balance, where supply can meet growing demand.
But those looking for a silver bullet from the Bureau's research might be disappointed. It's a good possibility this final report won't live up to the hype. For one, researchers have warned that policy recommendations will be avoided. The study won't propose a plan to fix the imbalance in the river. We're instead promised more information that will facilitate good policy-making. The question is whether the report will lead to answers to the big, intractable challenges that Western water planners face.
That said, the Bureau study has already broken new ground. It has quantified use throughout the seven-state Colorado River Basin and forecast it decades into the future, a first. Modeled against the study's supply data, it's how we know with certainty there's an imbalance – that the demand for Colorado River water exceeds supply.
I'm told the final report will analyze the dozens of proposals to fix the imbalance against the study data. It's a fascinating list of proposals ranging from suggestions to increase supply, reduce demand, modify operations and conceive of ways to govern or regulate water differently. At minimum, if the report provides meaningful feedback on the feasibility of the more promising suggestion, planners will have the makings of a new and helpful 'toolkit' of options to consider when dealing with River issues.
It remains to be seen, however, whether the final report will help resolve huge policy issues that loom.Two issues top my list:
1. Will the Upper Basin be 'made whole'?
In the 90-plus years the Colorado River Compact and related agreements (the 'law of the river') have managed its allocation, the river has tilted downstream, decidedly in favor of the Lower Basin states of Arizona, Nevada and California. For decades, the Lower Basin has used its share plus the unused portion earmarked for the Upper Basin by the Compact. But now, the Upper Basin needs the water and likely will pursue its entitlement, as every gallon of 'surplus' water that flows downstream equates to economic loss.
Colorado is required to protect its allocation by statute, and the study has already determined it uses less than the Compact entitles by a wide margin, as much as a million-acre feet. Will the study contemplate a future where the Upper Basin uses more water, not less? It's a near certainty Colorado will develop its remaining allocation, much as New Mexico and Utah are. What impact will this have Basin-wide?
2. Can Basin-wide planning co-exist with prior appropriation?
Of the suggestions relating to 'governance and implementation' received by the Bureau, none dealt with the long-term efficacy of 'prior appropriation' (first in time, first in right). Western water law has developed with prior appropriation at its core, but as a 19th-century concept, some view it as barrier to effective planning.
Natural resources law specialist Michael Blumm, writing in the informative book The Public's Water Resource, by Colorado Justice Greg Hobbs, sums up a growing opinion in water circles. "The current system of water allocation (prior appropriation)suffers from poor enforcement, little citizen involvement, and virtually eschews comprehensive planning entirely."
But a higher level of Basin-wide planning seems inevitable. If Blumm is right, prior appropriation may have to modified. That's a tall order. Will the study offer a way forward?
Other questions may elude the study. Drought and climate change can be measured fairly easily. Can inaction by policy-makers be "modeled?" It's difficult to see how. I'm guessing the study will take a close look at the viability of widespread desalination - an expensive and resource intensive process. Again, is their political will to follow-through, today, before a crisis unfolds?
But if the study doesn't offer a management "silver-bullet" that some hope for, the Bureau will still have done a service. It's already added much to the discussion. Possible short term disappointment aside.
I'll review the results next time.
About Bart Taylor
Bart Taylor is the publisher of Planet-Profit Report.
November 27, 2012
The new energy economy: A bumpy but exciting ride
It helped Colorado through the recession
By Allen Best
You might wonder whether Colorado's New Energy Economy should be swapped for a different model. Abound Solar, the Loveland-based manufacturer of thin-film solar panels, flopped into bankruptcy in July, and General Electric put the skids on a new factory in Aurora that was to employ 355 people, also manufacturing thin-film solar.
Factories for wind components, so recently the symbol of new-energy triumph in Colorado, have also been buffeted by adversity. Vestas, the Danish company, this year has shed 29 percent of its 1,700 employees at its plants in Windsor, Brighton and Pueblo for manufacture of blades, towers and nacelles.
But say this for the New Energy Economy, the phrase trumpeted by Bill Ritter in his successful campaign for governor in 2006: If it now seems to be sputtering, it's been an exhilarating ride.
From being dead last among the 50 states in installed wind capacity in 2000, Colorado now is eighth. Strong winds and minimal demand on April 15, between 3 a.m. and 4 a.m., allowed Xcel Energy to deliver nearly 57 percent of its electrons to customers in Colorado from wind farms, a national record.
Despite the layoffs and bankruptcies, Colorado's new-energy players have allowed the state to ride out the recession better than some others, says Tom Clark, chief executive of the Metro Denver Economic Development Corp.
"History will treat former Gov. Ritter very well, even if the short-term history will not," says Clark. "When you look at the magnitude of what the economy looked like in 2006, when he was elected, there wasn't much going on. And it was going to get even worse. He only had had one horse to ride, and that was clean tech. He rode it like a rodeo rider."
Clark and others had told Ritter that Colorado enjoyed several advantages that would allow it to prosper with the clean tech sector in coming years. It had research institutes along the Front Range and a major airport with good connections to far-flung places. In the case of wind, it boasted a proximity to the blustery wind corridor that blows across the continent's short-grass prairies. Minneapolis and Dallas were too far away. Colorado's Front Range was just right for companies like Vestas.
"Unemployment would have been three-tenths of a percent higher had it not been for (Ritter's) appearance on the political stage at the crucial period in time. It was truly extraordinary," Clark says.
From 2007 through 2011, clean tech job totals grew 6.4 percent annually, fossil fuels grew 4.5 percent, and health and wellness 4.2 percent in the nine-county region from Castle Rock to Fort Collins and Greeley. Financial sector jobs fell.
"If you can grow at a rate of 3.5 percent to 4 percent annually, you are rocking and rolling in the world of innovation clusters," says Clark. Too, these were not service-sector jobs with just-scraping-by wages. "Those are the jobs that keep you moving forward in the forefront of innovation," Clark says.
Fossil fuels continue to pull more weight. According to the November 2011 issue of Resource Rich Colorado, a report issued by Clark's group for 2010, fossil fuels were responsible for 20,080 jobs on the Front Range from metro Denver northward, with an average wage of $95,750, or a total payroll of $2 billion.
In recent years, according to a statewide survey by the Colorado Energy Office, oil and gas provided 50,000 jobs, solar 6,186, wind 5,000, and coal 2,199.
Coal as a fuel for electrical production has been declining rapidly in the United States. Just four years ago it was responsible for 48 percent of generation, but the U.S. Energy Information Administration cautiously projects coal will fall to 38 percent in the next 25 years.
Testimony of Dick Kelly upon his retirement as chief executive of Xcel last year after a career spanning decades in a coal-dominated utility suggests need for an even more rapid retreat. "We've got to get off fossil fuels. The quicker the better," he told a Minnesota publication called Minn Post. "I'd be OK if there were never any more coal," he added. Earlier this year, he became board chairman of BrightSource Energy, a solar thermal company based in California.
With the coming switch of Xcel power plants in Denver and Boulder from coal to natural gas, Colorado is part of that broad national shift. Carbon intensity of the Colorado economy has fallen 20 percent since 1995.
Natural gas is also a fossil fuel, but with half the greenhouse emissions of coal. Prices have been a roller coaster. They tumbled from $13 per million Btu in 2008 and have fluctuated between $2 to $4 in the last year as improved production techniques have delivered a flood of product to a market whose growth has been slowed by recession. The recession has also slowed the demand for new generating capacity. Growth in demand has flattened. After averaging 4.5 percent to 5 percent growth a decade ago, Tri-State Generation and Transmission's growth slowed to 3.3 percent last year and is projected to be 2.25 percent next year.
Jobs in the natural-gas sector in Colorado similarly vanished. They generally parallel the rig count, which has been growing slowly but steadily and is now about 60 percent of the peak levels achieved in 2008, according to the Colorado Oil and Gas Association (COGA).
As the price of natural gas has declined, making it a viable alternative for electrical production, coal has become more expensive. Coal cost 70 cents per million Btu of heat when the Comanche 3 power plant at Pueblo was authorized in 2004. By last year the cost had grown to $1.60 or $1.70, points out Leslie Glustrom, a Boulder-based advocate of renewables. "If burning fossil fuels had no single environmental impact, if there was not a single external cost, it's still imperative to make this transition," she says.
If coal is to continue to be a powerhouse of electrical production, producers in Wyoming's giant Powder River Basin must figure out a way to efficiently extract the giant seams as they dip farther underground, making strip-mining too costly, while also figuring out how to capture and sequester carbon more effectively.
When Ritter ran for governor in 2006, the common visual metaphor for his campaign was a wind turbine. Each wind turbine can earn farmers and ranchers between $2,000 and $8,000 per year, depending upon size, wattage and location. It's a strong shot in the arm to some local economies.
While construction of a new wind farm near Limon continues even now, the industry pace has flattened. The chief problem is the uncertainty about whether Congress will renew the production tax credit. Since 1999, Congress has repeatedly let the tax expire or renewed it only at the last minute. It's a lousy way to plan wind farms, given how important the tax has been to wind economics. But that uncertainty comes with the turf.
"You can't claim to be surprised, really. It just rings hollow," says Ron Lehr, Western representative for the American Wind Industry Association and a former chairman of the Colorado Public Utilities Commission. "I think the dynamics are there. We just have to survive some of these bumps in the road and keep going."
Natural gas and wind are natural allies. Xcel figures it needs one megawatt of natural gas generating power for every megawatt of installed generation for intermittent renewable sources.
If drilling rigs were never a central image in his campaign, Ritter insists that natural gas always had a place behind his New Energy banner. It was a matter of tightening regulations governing drilling and other operations to reduce impacts. He says those regulations, along with the disclosure rules governing chemicals used in hydrofracturing adopted by the Colorado Legislature last winter, make Colorado the gold standard for natural gas governance. His proof is that other states have now adopted Colorado's templates as their own.
But natural gas remains controversial. Most prominent have been perceived threats from chemicals used in hydrofracturing to high-quality water supplies. A growing issue is the incidental release during drilling of methane, the primary constituent of natural gas and a greenhouse gas far more powerful than carbon dioxide. Many Colorado communities have also raised questions about the proximity of drilling to residential and other land uses.
"What needs to be addressed, and wasn't part of the Colorado experience, is when drilling runs right up against urban and suburban living," says Ritter, who now heads up the Center for the New Energy Economy at Colorado State University. "This has everything to do with community concerns about whether the appropriate protections are in place. We think there is a way to address that."
Tisha Conoly Schuller, chief executive of COGA, concedes some unanswered questions about the impacts of drilling, but argues the case for a broader, collective conversation.
"We really need to take the long view in energy," she says. If wind and solar were delivering as much energy as oil and gas, she says, "I think we would see the same sort of vibrant issues around – well, you name it, birds with wind farms being one example." In her view, the concerns and objections to fracking and methane emissions are "place holders" for a broader discussion about how do we do natural gas well. This is a broad community conversation that must continue, she says. But any sober assessment of our energy future includes a broad role for natural gas.
Some environmental advocates have talked informally about pushing for a 40 percent renewable portfolio standard. It's now at 30 percent for Xcel, which delivers about two-thirds of Colorado's electricity, and Black Hills Energy. Xcel expects to meet the mandate in 2017 or 2018, two or three years ahead of its deadline. Municipalities, including Fort Collins and Colorado Springs, have a 10 percent mandate. Electrical cooperatives, most of which are supplied by Tri-State Generation and Transmission, also have a 10 percent mandate. Tri-State reports it is well on pace to achieve its requirement. Holy Cross Electric, based in Glenwood Springs, has already pushed past 10 percent and is marching toward 20 percent.
If this higher mandate is to occur, many think it must offer a broader tent to embrace a greater variety of emission-reducing technologies. Bill Midcap, director of renewable energy development for the Rocky Mountain Farmers Union, sees anaerobic digesters in the dairies burgeoning on the Eastern plains being one possibility. Morgan County alone has 40,000 to 50,000 cows to supply Leprino cheese factories built in Fort Morgan and Greeley.
"In rural Colorado, (the higher standard) might be more acceptable — and it is a big maybe — if they have more of an all-of-the-above approach, including landfill methane, coal-based methane, if you really want to talk about what's good for the environment, and not just what's good for big wind and solar," he says.
In a survey to which 60 of the state's 100 legislators responded, one only person gave unqualified support for an expanded portfolio standard for renewables at this time. "They have taken (Gov. John) Hickenlooper's stance that we have done enough for awhile," Midcap says.
Energy efficiency is seen by some, including Ritter and Clark, as a place for growth in this clean-tech sector absent major policy initiatives. It is, says Clark, becoming a more dominant part of corporate culture, part of a broader sustainability package. "The tipping on this has begun, and we're living it," Clark says.
The solar industry has turned its attention to solar thermal, seeing great opportunities in the normal temperature swings of day and night in Colorado to make hot water for heating a prime opportunity for rapid payback in residential applications.
Can the federal government stalemate be broken? Ritter sees the renewable sectors being willing to forego tax incentives for production if carbon emissions are taxed, basically creating a level playing field. "We privatize the benefits of energy production, but socialize the detriments, and that's because we don't put a price on carbon emissions," he says.
Given how much cap-and-trade was trounced, an emissions tax would seem as dead as a bark beetle-killed lodgepole pine. But Ritter sees something for both sides of the aisle, if the carbon revenues are specifically allocated to deficit reduction. "That might be something that gives everybody a little," he says.
Are the renewables in Bill Ritter's New Energy Economy on the ropes? Some companies, yes, but Glustrom sees certain triumph in time. She points to the history of auto manufacturing.
"Any time you try to start a new industry, there are ups and downs," she says, pointing to a paper by Carnegie Mellon University's Steven Klepper. He found that more than 200 auto manufacturers were scattered across the country in 1909. Most disappeared in the next decade, leaving an oligopoly dominated by three giants based in Detroit.
"There were a lot of them, and then there was a big crash of car manufacturers. A lot of people went bankrupt," says Glustrom. "But that didn't mean we wouldn't have cars."
About Allen Best
November 27, 2012
Natural gas: Cleantech's "bridge fuel"
Turns out they can work together nicely
By David Lewis
Cleantech and natural gas. If reading that sentence makes your blood pressure rise, just hang in and read on. Because sometimes things work out. If they do this time, the two energy sources could go together like peas in a pod.
"There is a handful of ways that you can look at natural gas as fitting into the clean technology space," says Tom Dougherty, attorney with Rothgerber Johnson & Lyons LLP and leader of the firm's Energy and Infrastructure Practice Area.
"The simplest one is just looking at natural gas as a lower-emission source for energy, so on the electricity side you have zero emission sources at one end – solar, wind, nuclear – and everything goes up from there. If you look at fossil fuel sources the traditional sources of coal, oil and natural gas, then natural gas is generally accepted as being the cleanest of those three."
And it turns out that natural gas and cleantech can work together nicely.
"Natural gas-fired power plants have the advantage of being able to turn on and off very quickly and come up to power very quickly," Dougherty says. "There are a lot of people looking at the role of natural gas generation as a means to help integrate renewable resources, particularly wind and solar, which are highly variable."
Let's say for instance your solar power plant is enjoying a pleasant, sunny day down in the San Luis Valley, producing 100 percent of its power capacity. Alas, a threatening black cloud heaves into view.
At that moment, "You want to have some ability to quickly fill that gap with alternative generation, and that's where natural gas-fired generation has the advantage of being able to ramp up very quickly."
If you think about it, some power plants basically are jet engines mounted on the ground. "They all have the advantage of being able to turn on very quickly and bring them to power, so they have that benefit of being able to help integrate variable generation such as wind and solar."
Nor is teaching natural gas and cleantech to work together to generate electricity the duo's only potential utility. Dougherty is optimistic about the growing role natural gas is playing in fleet transportation. Getting a push from Colorado Gov. John Hickenlooper hasn't hurt.
"A number of different businesses that operate fleets are exploring natural gas as a cleaner technology and as an alternative to gasoline or diesel fuel vehicles," Dougherty says.
Fleets are emphasizing natural gas fueling "because they lend themselves to having their own fueling facilities," he says.
Natural gas has inserted itself into the picture because, due largely to hydraulic fracturing, there is an abundance of domestic gas production now, and prices have taken a header.
"Prices are relatively low now, especially in Colorado compared to the rest of the country, and certainly prices are low in the United States compared to foreign countries," Dougherty says.
If the notion of coexistence between cleantech and natural gas puts your teeth on edge, you might have to get used to it.
"Traditionally, historically, there has this been this tension between traditional energy sources – oil, gas, coal – and the newer alternative energies – wind, solar, biomass, geothermal – and from a market standpoint you can appreciate that there is competition between those because again looking at the electricity application they are both trying to do the same thing: deliver electricity to the grid," Dougherty adds.
"Natural gas is positioning itself in-between those two; it is part of the traditional energy sources on one hand, but it is also one of the cleaner sources of those traditional sources, and in that sense, it is the bridge fuel."
About David Lewis
David Lewis is a freelance writer based in Denver.
November 26, 2012
Smaller rural communities maybe the next wind power market
It's time to target new customers, advocates say
By Laura D'Alessandro, SNL Financial
Communities that have been engaged by and in communication with the wind industry may be the best sites for future wind development, speakers said Nov. 15 at the American Wind Energy Association fall symposium in Chandler, Ariz.
Targeting customers who want wind makes a big difference, said former Iowa Gov. Chet Culver. With many large utilities already meeting state renewable portfolio standards, community wind could be the next market in the second-largest wind-producing state in the U.S.
"That's the next exciting phase for Iowa, the small community wind opportunities," he said. "Yes, we need the federal policies to help the industry, but [at the state level] we don't have near the partisanship or the frustration and the length of time it takes to get things done at the federal level. You can really get a lot done working with cities and counties." In a nutshell, Culver said, the industry's new motto should be, "It's the state, stupid."
OwnEnergy Inc., a Brooklyn, N.Y.-based community wind developer, is already partnering with landowners in Iowa who have been interested in getting a project built for years, CEO Jacob Susman said in an interview.
Ten farmers in Carroll, Iowa, have been planning the Carroll Area Wind Farm for about seven years, Susman said. They reached out to OwnEnergy when they were ready to partner with a developer and move toward construction. "It's just a great story, 10 farmers who saw wind development around them wanted to do this on their own," he said.
Read the rest of the story.
November 26, 2012
Industry interview: Arizona State's MIlton Sommerfeld
The university opens a hotbed of algae innovation testing
By David Schwartz
The big algae news in the state of Arizona is the $15 million award by the Department of Energy to Arizona State University to establish a national algae science and technology testbed, dubbed the Algae Testbed Public-Private Partnership, or ATP3. Leveraging ASU's extensive biology and cultivation facilities, as well as a unique and powerful algae brain trust, public and private organizations can now bring in their algae projects, inventions and aspirations for analysis and evaluation.
The origin of this development traces back to a discussion that Dr. Qiang Hu and Dr. Milton Sommerfeld had in 2005, after ASU's algae program relocated to the Polytechnic campus, in Mesa, Ariz. Their move was prompted by access to a new research building, greenhouses and several acres of land adjacent to their research building. Dr. Hu came up with the idea that the fledgling algae industry needed a "testbed" to assist start-up companies or entrepreneurs that were looking at algae as a potential fuel source or food source.
They toyed around with some ideas and put together a 2-page white paper on the idea, but quickly put that on the back burner because their laboratory was already having plenty of success getting funded for laboratory and small field projects to grow algae. So while the timing wasn't quite right, the need and opportunity were growing to develop a place where they could interact with industry, with academics, and with national labs to assist in moving algae technologies forward.
At the recent ABO Summit Dr. Sommerfeld shared some of his thoughts about this exciting time for ASU, and reminisced a bit on his days with the Aquatic Species Program, a reunion of which got the crowd buzzing in front of the ASU booth.
How did the ATP3 go from a white paper to a proposal?
Well, it took about seven years of incremental steps to build a facility – both laboratory and outdoor facilities – that could actually nurture the industry and help it move forward. We had a lot of help along the way. A key factor was the establishment of the Arizona Center for Algae Technology and Innovation (AzCATI) on ASU's Polytechnic campus. Science Foundation Arizona and the Arizona Governor's office assisted in terms of expanding the outdoor facilities. We were able to convince them that Arizona was the place for development of algae technology.
Through the work of the Sustainable Algal Biofuels Consortium (SABC) that was led by ASU, we established important partnerships and formed good working relationships that demonstrated to the Department of Energy, that our team can deliver. We developed corporate relationships that gave us insight into key issues.
We learned much through this process that has allowed for the expansion of our efforts through the Algae Testbed Public-Private Partnership (ATP3).
Read the rest of the story.
About David Schwartz
David Schwartz is Editor/Publisher and co-founder of AlgaeIndustryMagazine.com, an online industry trade publication focusing on the growth and development of the algae biofuels and co-products industry. A long-term California resident, David has been living in Santa Fe since 2007. Prior to A.I.M. David had an 18-year career as Editor-in-chief of Mix magazine, the professional audio and music industry's leading technology magazine. His educational background includes a BS in Industrial Engineering from Purdue University and an MBA from Indiana University. He received an algae biofuels certification from Santa Fe Community College, the first such program in the United States.
November 20, 2012
The best and brightest of cleantech startups
Capital is done, but enthusiasm is up
By Michele Chandler
Less venture capital money is flowing into young cleantech companies. But that rugged funding landscape didn't curb the enthusiasm of 1,000 energy entrepreneurs, investors and government representatives who gathered on Nov. 8-9 to honor promising young companies at the Cleantech Open in San Jose, Calif., the nation's Academy Awards for green startups.
Cleantech Open firms competed in five categories: Air, Water and Waste; Green Building; Renewable Energy; Smart Power; and Transportation. Nationwide, 150 startups were brought into the Cleantech Open program earlier this year, with 25 winners from seven regions advancing to the finals.
Two Colorado firms were named finalists in the competition earlier this fall. Molon Labe Designs, a Breckenridge, Colorado startup in the Transportation category, has designed movable airline seats that streamlines the passenger boarding process and can help airlines cut their loading and unloading time in half.
Hydrant-Flush of Westminster, Colo. was a finalist in the Air, Water and Waste category, which focuses on improving resource availability, conservation and pollution control. The start-up's technology enables water districts to rehabilitate water main distribution systems without excavation or disruption to landscape environments.
The top "Cleanie" Green Building category prize went to GR Green, which has developed a patented process to produce roofing tiles from recycled milk bottles, grocery bags and limestone waste. The Burnaby, B.C.-based startup is in the competition's Pacific Northwest region.
Finalists in the Green Building category included Hillsboro, Ore.-based Regenergy365. The company developed a technology that captures waste air from commercial and industrial heating, cooling and refrigeration systems and uses it to generate electricity that can be used for heating and cooling.
The business competition's Grand Prize of $250,000 in cash and services went to HEVT, originally founded in 2005 as an academic spin-off of the Power Electronics and Motor Drives Laboratory at the Illinois Institute of Technology. The Chicago-based company is developing advanced electric motor technologies.
Since 2006, the Cleantech Open business competition and mentorship program has backed 593 clean-tech startups as they develop their technologies and helped alumni firms raise more than $500 million in external capital. The program's awards provide a combination of marketing and public relations services, legal and management advice and cash—an important source of support as funding from venture capital firms growing increasingly scarce.
For the first three quarters of this year, the venture capital industry put $2.75 billion into 193 clean technology deals, according to the recent MoneyTree Report, compiled by PricewaterhouseCoopers LLP (PwC) and the National Venture Capital Association, based on data provided by Thomson Reuters.
That's a 17 percent decline from the same period last year, when venture firms had invested $3.34 billion in 265 cleantech deals, according to the report.
About Michele Chandler
Freelance writer Michele Chandler has been a business reporter for the San Jose Mercury News, the Miami Herald and the Detroit Free Press.
November 20, 2012
Drought impacts Western farms
Prices reflect water challenges
By the USDA Economic Research Service
The most severe and extensive drought in at least 25 years is seriously affecting U.S. agriculture, with impacts on the crop and livestock sectors and with the potential to affect food prices at the retail level.
With the ongoing drought expected to destroy or damage a portion of the field corn crop in a number of states, an increase in the farm price of corn has already occurred and additional increases will depend on the extent of the drought. This will in turn, affect the price of other crops, such as soybeans, and other inputs in the food supply such as animal feed. Any effect on U.S. retail food prices would depend on the severity of the drought and would begin to appear on supermarket shelves in the fall.
•We will likely see the earliest impacts for beef, pork, poultry and dairy (especially fluid milk). The full effects of the increase in corn prices for packaged and processed foods (cereal, corn flour, etc.) will likely take 10-12 months to move through to retail food prices.
•The drought has the potential to increase retail prices for beef, pork, poultry, and dairy products first and foremost - later this year and into 2013. But in the short term, drought conditions may lead to herd culling in response to higher feed costs, and short term increases in meat supply. This could decrease prices for some meat products in the short term. That trend would reverse over time after product supplies shrink.
•Commodity prices are just one of many factors affecting retail food prices. Historically, if the farm price of corn increases 50 percent, then retail food prices as measured by the Bureau of Labor Statistics (BLS) in the Consumer Price Index (CPI) increase by 0.5 to 1 percent. Commodities make up less than 15 percent of the average value of retail food purchases.
Read the rest of the story.
November 20, 2012
Internet mapping tool helps protect Western wildlife
Wyoming launches system already up in three other states
By Madeleine West, Western Governors' Association
The State of Wyoming recently launched an Internet-based mapping tool that makes it easier for the public to locate wildlife habitat, migration corridors, and other related information. The Western Governors' Association has been working with Wyoming and other Western states to collaborate in their development of on-line mapping tools that depict important areas for wildlife across the region.

The Wyoming Interagency Spatial Database and Online Management system (WISDOM) is similar to mapping systems already up and running in Arizona, California, Montana and Washington. These state-based systems are the foundation of a West-wide Crucial Habitat Assessment Tool (CHAT) that will be an easily accessible online system of maps displaying crucial wildlife habitat and corridors across the West. The West-wide CHAT will be released in 2013 at the direction of Western Governors.

"These special maps are valuable for anyone interested in wildlife, but particularly to companies looking to lay a pipeline or other means of transmission," said Kirk Nordyke, geographic information system coordinator for the Wyoming Game and Fish Department. "The maps could also be useful for someone planning any type of project and wanting to know the type of wildlife habitat in the project area as well as proximity of other projects, roads, streams, etc., so they will have a detailed snapshot of the land use and wildlife status they would deal with on the project."

WISDOM does not identify the location of individual private lands or the owners' names, nor does it pin point specific wildlife sites, such as sage grouse leks, raptor nests or bear dens. The maps are not recommended as a public/private land guide for hunters. WISDOM can be accessed at http://wisdom.wygisc.org, which includes a tutorial on how to use it and what information the system offers.
Read the rest of the story.

November 19, 2012
The business value of going green
Sustainability initiatives impact the bottom line
By Martha Young
Investing in sustainability can make companies more profitable and better investments, a fact highlighted at a recent University of Colorado-Denver Business School event.
The event participants were Kohlberg Kravis Roberts & Company (KKR) and First Data Corp., a large Colorado employer and KKR-backed company.
KKR is a private equity investment leader that has a growing commitment to being a responsible investor. In addition to other initiatives and activities, since 2008 the company has partnered with the Environmental Defense Fund(EDF) on its Green Portfolio Program(GPP), signed on to the United Nations' Principles for Responsible Investment, and published two sustainability reports. (Available for free here.)
Since the launch of GPP in 2008, 25 companies have participated in the program. In 2011, more than a dozen companies provided their sustainability initiatives information. Collectively, these firms estimated they avoided 2.2 million tons of waste, reduced water usage by 300 million liters, and avoided 810,000 tons of greenhouse gas emissions. These initiatives resulted in a positive financial impact of $365 million.
"Most major corporations have begun to adopt sustainability as a key element in their corporate strategies," said the event moderator, Graham Russell, lecturer in sustainable business in the UCD MBA program. "However, most Wall Street analysts don't seem to understand that sustainability can be a major driver of enhanced enterprise value, so it's all the more significant that such a well known and successful private equity investment firm as KKR is actively encouraging its worldwide portfolio of companies to identify and implement a variety of green and sustainable business initiatives."
Ellen Sandberg, vice president of community relations at First Data, and president of the First Data Foundation, said the payment-processing company has implemented a variety of sustainability with KKR's guidance and support.
First Data determined its initial key environmental performance area of focus was its multiple data centers. Using KKR's GPP metrics, First Data established its baseline measures for greenhouse gas emissions and energy used. With ongoing measuring and reporting, the company has established a continuous process improvement model.
Data center consolidation was the first major step taken by the company. It reduced its physical presence from 13 data centers to five. The next step was to implement a technology refresh that improved compute processing cycles per server while concurrently reducing the total number of servers needed to support its growing financial transaction processing business. The net result was an overall reduction in its data center footprint.
"It's encouraging to hear of the major role private equity has begun to play in creating a more environmentally and socially responsible economy," said Ken Bettenhausen, director of UCD's MBA management program. "We hope it represents the leading edge of a trend that will see expanded membership of the investment community recognizing sustainability as a key driver of economic value and allocating their capital accordingly."
With the data center consolidation efforts, First Data implemented the new recommended standards for cooling and airflow dynamics. It increased the data center temperatures from 50 degrees to 75 degrees. The company saw significant benefits in its first full year of implementation. Comparing 2009 with 2010, the company was able to do the following:
Reduce GHG emissions by 4 percent
Improve energy efficiency by 15 percent
Avoid more than15,000 metric tons of GHG emissions
Achieve a $1.3 million savings in energy costs
About Martha Young
Martha Young is principal at NovaAmber, LLC, a business strategy company based in Golden. Young has held positions as industry analyst, director of market research, competitive intelligence analyst, and sales associate. She has written books, articles, and papers regarding the intersection of technology and business for over 15 years. She has co-authored four books on the topics of virtual business processes, virtual business implementations, and project management for IT. Young can be reached at myoung@novaamber.com or on Twitter @myoung_vbiz
November 13, 2012
When energy needs and water supply collide
Western states face tough choices
By Bart Taylor
Have water planners in the Colorado River Basin states anticipated a winter with as much anxiety as 2012-13? It would be hard to imagine. As sanguine as they've been this beautiful Western fall about the forthcoming snow pack, hope gives way to expectations in November. In Colorado, a foot of weekend snow helped, but without more snow by month's end, optimism will give way to deep concern.
Two related news items again brought Colorado River issues into sharp relief in Colorado, the most prolific headwater state.
Monday's report from the International Energy Association that the "U.S. will become the world's largest oil producer by 2017, overtaking current leaders Saudi Arabia and Russia…" was met with relief in many quarters, but perhaps not as enthusiastically along Colorado's thirsty Front Range. Certainly, the state benefits from the boom in natural gas and oil production that has transformed the energy segment in profound ways. And unless another major macro-economic slowdown materializes that would drive energy prices and demand down, Colorado will continue to benefit and be a national leader.
But the technologies driving the spike in natural gas and oil recovery here can be water-intensive, and questions persist about both the availability of sustainable supplies and the state's ability to manage its long-term water future.
The process of hydraulic fracturing, or "fracking," requires water. How much is debatable, but in Colorado and other Western states, any new supplies earmarked for energy reduce amounts available elsewhere. Thus far, the energy sector has worked arm-in-arm primarily with agriculture to acquire enough water to drive the shale gas boom. Long-term, questions remain as to whether ag will continue to divest itself of enough water to support this rapidly growing sector.
This may be especially true with regard to shale oil. The IEA boldly predicts that by 2017, the U.S. "would become the world's largest oil producer," and become a net exporter of oil by 2030. It's unlikely, however, that states like Colorado will lead a boom in shale oil production unless more water-efficient processes come online. It's unclear how the IEA forecasts might account for the water challenge.
Uncertainty over how much water is available even in the near-term for energy quickly became the focus of a court case last week regarding a request for 140,000 acre-feet of water from the White River in northwest Colorado, a tributary of the Colorado River. The Yellow Jacket Water Conservancy Districtis seeking a new source to support industrial oil shale development. A state water court rejected its initial application.
Ag and conservation interests have been quick to disparage the filing, on grounds that the White River would be unable to sustain such a diversion and adequately support current uses; and importantly, that the shale oil industry is unproven, that the diversion would be speculative. Whoever prevails in Colorado's Supreme Court, the lesson is fairly clear: Any new, substantial filing for water to support shale oil will be challenged here and throughout the West, and not only by conservation or environmental interests. Urban users who also rely on ag transfers to water growth will likely be hyper-competitors for new supplies.
Complicating matters is Colorado's lack of a comprehensive roadmap, a framework, to evaluate claims by energy and urban providers in the context of the state's long-term interests. In fact, Colorado's water community remains divided over the most basic if profound questions, such as whether the state should pursue its remaining Colorado River Compact allocation.
Faced with the enormous economic benefits that flow downstream with every surplus acre-foot of water, it's likely that Colorado and the other Upper Basin states will choose to develop every last gallon of water to which they're entitled. But until consensus is reached on this major issue, energy providers will continue to acquire rights in the hope it's enough to support the current boom and will face growing opposition to filings substantially more modest than Yellow Jacket's.
Substantial drought will only cause more pain. Stay tuned.
About Bart Taylor
Bart Taylor is the publisher of Planet-Profit Report.
November 12, 2012
Nevada hosts world's hottest geothermal tech
U.S. companies have strong market overseas
By Shawna Seldon, Geothermal Energy Association
More than 2,000 business and policy leaders from over 20 countries came together in Reno, Nev., last month for the GEA Geothermal Energy Expo 2012, the world's largest gathering of the geothermal business community. The GEA Expo, hosted by the Geothermal Energy Association (GEA), featured 166 exhibitors showcasing the latest in geothermal technological advancements. This year the focus was on the international market, where double digit growth has created a strong export business for U.S. geothermal companies.
"Each year, the GEA Expo offers an opportunity for exhibitors to showcase their latest developments, talk business on the Expo floor, and then do business together afterward," said GEA Executive Director Karl Gawell. "This year in particular, I was struck by the strong interest in the global market, and how U.S. leadership in technological advancements can translate into new business overseas for U.S. companies. And, despite a sluggish economy in the United States, the industry is hopeful that there will be a turnaround in the next couple of years as the economy recovers, particularly if federal and state policies are adjusted to recognize the value geothermal energy."
"GDA always welcomes the opportunity to participate in the annual GEA expo. There is no better time to reconnect with the companies in our industry to celebrate our successes with one another," said Yvette B. Hamacek, Marketing Coordinator, Geothermal Development Associates. "It is also a valuable time to collaborate on current interests and future possibilities for turning potential energy into energy on the grid. Moving forward, GDA will continue to focus on the strong working relationships that we have formed overseas, particularly in the African Rift Valley, Indonesia and Papua New Guinea. Additionally, we look forward to exploring some new found possibilities—both overseas and in our home state of Nevada."
"The GEA Expo is the single largest annual event for the global geothermal industry, and TAS Energy has been participating since we entered the geothermal market. We would never miss this opportunity to connect with the most important stakeholders, thought leaders, developers, government agencies, and geothermal partners, coming together face-to-face for an exciting three day intensive event, to discuss, plan, and commit to engage in future business together," said Halley Dickey, Director Geothermal Business Development, TAS Energy. "With the explosion in growth of several key international markets, our company succeeded in connecting with those moving important project developments forward in these rapidly expanding markets abroad. We met with key clients and partners to secure business that we expect to complete before this year's end, and established the foundations for strong growth in 2013."
"The GRC Annual Meeting coupled with the GEA Expo provided an effective forum for geothermal development both nationally and internationally," said Paul Thomsen, president of GEA and director for Ormat Technologies, Inc. "The event presented a great opportunity to highlight Reno as a hub for geothermal and encouraged continued discussion among the many entities involved in future project success."
Nevada had 11 companies exhibiting at the GEA Expo. The Silver State leads the nation with 59 geothermal projects currently in development, and Reno is the only major metro area in the United States that produces enough geothermal energy to meet its entire residential load.
This year's GEA Expo attracted a diverse roster of attendees, including leading geothermal companies, higher-education institutions and government agencies. Senator Dean Heller (R-NV) walked the trade show floor, visiting exhibitors including Department of Navy Geothermal Program Office; Ormat Technologies, Inc.; PowerChem Technology; and Geothermal Development Associates, among others.
Commenting on the GEA Expo, Senator Harry Reid (D-NV), a longtime proponent of geothermal and other renewable energy sources, highlighted Nevada's continued clean energy efforts which have resulted in in-state job growth: "Nevada is a leader in clean energy innovation. By continuing our efforts, Nevada will be able to tap into its vast clean energy potential and utilize renewable sources of power like geothermal, wind, and solar to secure a clean energy future. Clean energy development has already created thousands of jobs in Nevada and continued investment will help to drive our economy forward. Clean energy innovators like those at the Expo will provide the solutions that Nevada and the rest of the country need to maintain its momentum as a leader in clean energy development."
The geothermal community and others interested in the industry can continue the conversation at the GEA Finance Forum, GEA Summit and other events planned for 2013. Check the GEA website at www.geo-energy.org for dates and announcements about future events.
November 12, 2012
Cleantech: Filtering out the hype to arrive at true value
Watch out for headwinds
By David Lewis
The Gartner Hype Cycle has been around since 1995, when it helped make sense of what became the Internet bubble.
You know the Hype Cycle, it's the pattern of events that follows the invention of a new technology, such as clean technology.
The Gartner Hype Cycle "was originally adopted for technology innovations and companies, but it really is equally applicable for green technology," says Josh Green, general partner of Menlo Park, Calif.-based Mohr Davidow Ventures.
Greentech has "gone through the classic elements of the hype cycle," Green says. "We went through the hype that created unrealistic expectations of the last seven or eight years and now we have gone down the other side of it, which is what we're experiencing now, which is the trough of disbelief. The key at this point is that what ends up happening is, as we say in Silicon Valley, a lot of the tourists have left town because it's not so friendly here any longer.
"As an investor I'd say we're facing some significant headwinds," says Green.
Once greentech pulls itself out of the trough, what's next?
"The people who are really stalwarts are continuing to chip away and create true value through creating greater productivity, lower costs and all the traditional metrics of what you find in a really good business," Green says.
Yet, even at this market, there is money to be made.
"I absolutely believe there is," Green says. "An investor needs to know where to look.
"I've been in Silicon Valley for 32 years so I've seen a number of these hype cycles in different industries over that time," Green says. "And when everyone else is losing their wits around you it's most important to hunker down and work on the things that are really important and really valuable. That's true when you're at the top of the curve and when you in the trough as well. It's most important to realize that you've got to build something that's fundamentally sound, because that's where real progress comes from."
Not every expert observer believes the hype cycle necessarily is a hype cycle.
"Some people hear the word hype as a negative, so I might recast it as what we might call a very normal pattern for the adoption of innovations" says Charles "Chas" Eggert, president and CEO of OPX Biotechnologies and chairman of Colorado Cleantech Industry Association.
"When we have an innovation, we see its potential; we get excited about the possibilities of that new invention. Then comes the difficult work; the challenging work."
Hype often is an obstacle to progress.
"Once we get through that euphoria, what can really be done to turn this into a real business?" asks Eggert. "Then you get on a more solid footing and you start moving forward along the rest of that curve in that model, and begin to really focus on converting the probabilities into realities.
"It's a very natural phenomenon in the world of invention, innovation and commercialization," he says. "Many times it's all about the adoption of new inventions and the natural process of filtering through from the possibilities to the probabilities to the realities."
About David Lewis
David Lewis is a freelance writer based in Denver.
November 11, 2012
Colorado study confirms wind-power health benefits…
...for people and the environment
By Tom Gray, American Wind Energy Association
Wind energy in Colorado each year saves a billion gallons of water while avoiding emissions of air pollutants equivalent to that produced by half a million cars, according to a recent report from Environment Colorado. Between 2000 and 2011, production of electricity from wind energy in Colorado grew from zero to 4.7 million megawatt-hours (MWh), and is now producing nearly 10 percent of the state's electricity.
The group released the report, "Cool Breeze: Less Pollution and More Water Savings from Wind Energy in Colorado, during a press conference at National Jewish Health, a Denver-based hospital that specializes in respiratory and heart ailments. In addition to the billion gallons of water saved, wind energy avoided emissions of more than 1,700 metric tons of smog-causing sulfur dioxide and 3,680 tons of nitrogen oxides, and more than 2.7 million metric tons of carbon dioxide.
Chris Urbina, MD, Executive Director of the Colorado Department of Public Health and Environment (CDPHE); John Stulp, Special Policy Advisor to the Governor for Water; and Alisa Koval, MD, pulmonologist at National Jewish Health, praised the environmental and public health benefits of wind energy highlighted in the report.
"The negative health effects of air pollution are well-documented, from eye, nose, throat, and breathing symptoms in healthy people to aggravation of existing respiratory and cardiac disease, especially in vulnerable populations of children and the elderly," said Dr. Koval. "Reducing emissions of these air pollutants through the use of wind power and other alternative energy sources helps reduce the burden of these negative health effects."
"Wind energy is a valuable renewable energy resource helping to provide cleaner and healthier air for the citizens of Colorado," said Dr. Urbina.
"To be sure, wind power has provided major economic benefits for Colorado, including thousands of jobs and millions of dollars in benefits for our rural economy," said Mr. Stulp. "Let's not dismiss the important environmental benefits. In this year of significant drought, the water savings are critical to our local environment and our economy."
Read the rest of the story.
November 06, 2012
The world's most expensive waterslide?
One view of the Lake Powell Pipeline: unnecessary
By Amelia Nuding, Western Resource Advocates
The largest, most expensive water slide in the world.
That's what Utah will be able to claim if the "Lake Powell Pipeline" is ever built. The Washington County Water Conservancy District, or WCWCD, wants to build a 139-mile pipeline to bring water from Lake Powell to Southwest Utah, and they want everyone in Utah to pay for it with a 15 percent earmark on future growth in sales tax.
Here's the kicker: It's not needed.
Back in 2008, the state projected a big population growth for Washington County. By the year 2060, they said, there will be 860,400 thirsty residents in places like St. George, a considerable jump from the 138,800 people who populated the county as of the 2010 Census. Then this summer the Governor's Office of Planning and Budget did a revised population estimate, and it turned out they were off by a few hundred thousand people. In 2060, they now project Washington County will have roughly 498,200 residents — about 42 percent less than originally projected.
It's true that more people are going to need water in the coming decades, but WCWCD will have plenty to go around without asking taxpayers to find the $1.2 to $2 billion it would cost to build a giant pipeline. Washington County doesn't have a supply problem. They have a consumption problem. On average, Washington County residents use more water than just about every residential area in the West. Phoenix, Albuquerque, Denver and even Las Vegas residents use less water than Washington County.
Read the rest of the story.
November 04, 2012
California utility wants nuclear reactor back on line
Safety concerns shut it down
By Abby Sewell, Los Angeles Times
Southern California Edison has asked federal regulators for permission to restart one reactor at the shuttered San Onofre nuclear plant, but the plant will not return to full power in the near future.
The proposal comes eight months after the plant was powered down over safety concerns when a small amount of radioactive steam was released from one of the plant's generator tubes.
The leak led to the discovery of wear on thousands of tubes that carry water that transfers heat from the reactor core to generate electricity. The steam generators were newly replaced and had been operating for less than one year in one of the reactors, Unit 3, and less than two years in Unit 2.
The U.S. Nuclear Regulatory Commission ordered Edison to keep the plant shut down until it could pinpoint the cause and determine how to address it.
Repairing San Onofre has become an expensive proposition for the utility, and perhaps the ratepayers. Fixing the problem could run into the hundreds of millions of dollars, but keeping the plant offline already has forced Edison and co-owner San Diego Gas & Electric to spend more than $142 million to replace the lost power.
Read the rest of the story.
November 04, 2012
The flack over fracking continues
It's time to export some common sense
By Pete Webb, The Colorado Statesman
It's only been in the last year or so that controversy has erupted over the practice of "fracking," (or fracing), an energy industry term that's shorthand for "hydraulic fracturing," a technique used to disrupt underground formations and release the oil and gas captured in the geological strata.
More precisely, fracking is a process that requires large volumes of water and sand, and a smaller amount of chemicals. The high-pressure mixture is injected into drilled wells and the fluid "fractures" or "disrupts" shale rock located deep underground to unlock natural gas and other recoverable energy elements.
The disruption I've seen is more on the public front, and I'm wondering why the oil and gas industry is so far behind the curve in speaking out. The usual suspect anti-everything environmental groups seem to have taken control of the public dialogue, and the industry is still catching up. Common sense doesn't seem to be part of the discussion.
Geologist-In-Chief's Message
The state's best known fracking advocate is none other than the state's geologist-in-chief, Colorado Governor Hickenlooper. He's been on the radio ads for the oil and gas association, and he offers a strong defense of the technique, touting "Colorado's toughest and fairest fracking rules." Hickenlooper told Fortune magazine, "If done properly, certainly out in the West, there is literally no risk - certainly much less than many industrial processes."
Read the rest of the story.
November 04, 2012
Tech transfer on the rise
Cleantech-connected schools help push ideas, technologies to market
By Eric Peterson
Colorado's universities are playing an increasingly active role in laying the groundwork for the state's startup community, with an especially keen focus on cleantech.
Trent Yang, director of CU Cleantech, works with the CU Technology Transfer Office to help spin off startups and license cleantech developed at CU. "The university is a fairly significant driver of economic growth," says Yang, citing companies like Sundrop Fuels and OPX Biotechnologies as recent success stories. "We help identify great technologies that can be useful in industry."
Beyond catalyzing tech transfer, Yang wants to boost entrepreneurialism among students. Last year saw the inaugural CU Cleantech New Venture Challenge, a $100,000 business-plan competition, and the 2013 event is on the calendar for April. "The goal is to get students to be more entrepreneurial," says Yang.
Will Vaughan, director of technology transfer at Colorado School of Mines, started in 2008. "Our first fiscal year, we had 11 disclosures (by faculty inventors)," he says. "Last year, we had 33." Vaughan says Mines is unique because it receives nearly half of its research funding from industry, versus 3 percent to 5 percent at CU and CSU. "(Researchers) have this little kernel in the back of their mind to get it out there to market." Faculty culture is key, he adds. "You can publish and patent at the same time. It's not an either-or proposition."
Grants of up to $35,000 are available from the Colorado School of Mines Research Foundation for proof-of-concept funding. Numerous cleantech concepts are in the pipeline now, says Vaughan. "This push for cleantech really came a couple of years ago," he adds. "We're just on the cusp of getting some of the interesting technologies out there."
At CSU, Tim Reeser is vice president of CSU Ventures and executive director of the school's cleantech "supercluster," Cenergy. The latter entity came to be in 2008 when CSU identified three areas of expertise with a critical mass of research and at least 100 relevant faculty members. (The others are cancer and infectious diseases.)
"We've had five startups in clean energy," says Reeser. "It's one thing to say we started companies, but the majority of those companies need funding." For this reason, CSU Ventures offers strategic seed grants and works to connect researchers and investors. "The thing I'm most proud of is we now have a vibrant ecosystem of investors and entrepreneurs," says Reeser. "To create a job and make an impact requires more than just the university."
One standout cleantech-transfer example that originated at CSU is Solix Biosystems, which recently closed on $31 million in Series C funding, but the pipeline is just as impressive: In its fifth year of seed grants, Cenergy doled out nearly $200,000 to accelerate the commercialization of 11 different technologies, spanning smartgrid technology to biofuels to energy policy.
One 2012 recipient was power-metering startup InGreenium, founded by Daniel Zimmerle, senior research associate at CSU. The $24,711 grant from Cenergy will pay graduate students to establish proof of concept. "We got the idea, but now we have to prove that it works," says Zimmerle. "I think it would have died on the vine without the seed money.
About Eric Peterson
Denver-based writer Eric Peterson is the author of Frommer's Colorado, Frommer's Montana & Wyoming, Frommer's Yellowstone & Grand Teton National Parks and the Ramble series of guidebooks, featuring first-person travelogues covering everything from atomic landmarks in New Mexico to celebrity gone wrong in Hollywood. Peterson has also recently written about backpacking in Yosemite, cross-country skiing in Yellowstone and downhill skiing in Colorado for such publications as Denver's Westword and The New York Daily News.
October 29, 2012
Western drought: The new normal?
University researchers say yes
By David Stauth, Oregon State University
The chronic drought that hit western North America from 2000 to 2004 left dying forests and depleted river basins in its wake and was the strongest in 800 years, scientists have concluded. But they say those conditions will become the "new normal" for most of the coming century.
Such climatic extremes have increased as a result of global warming, a group of 10 researchers reported in Nature Geoscience. And as bad as conditions were during the 2000-04 drought, they may eventually be seen as the good old days.
Climate models and precipitation projections indicate this period will actually be closer to the "wet end" of a drier hydroclimate during the last half of the 21st century, scientists said.
Aside from its impact on forests, crops, rivers and water tables, the drought also cut carbon sequestration by an average of 51 percent in a massive region of the western United States, Canada and Mexico, although some areas were hit much harder than others. As vegetation withered, this released more carbon dioxide into the atmosphere, with the effect of amplifying global warming.
"Climatic extremes such as this will cause more large-scale droughts and forest mortality, and the ability of vegetation to sequester carbon is going to decline," said Beverly Law, a co-author of the study, professor of global change biology and terrestrial systems science at Oregon State University, and former science director of AmeriFlux, an ecosystem observation network.
"During this drought, carbon sequestration from this region was reduced by half," Law said. "That's a huge drop. And if global carbon emissions don't come down, the future will be even worse."
This research was supported by the National Science Foundation, NASA, U.S. Department of Energy, and other agencies. The lead author was Christopher Schwalm at Northern Arizona University. Other collaborators were from the University of Colorado, University of California at Berkeley, University of British Columbia, San Diego State University, and other institutions.
Read the rest of the story.
October 29, 2012
Google test California startup's biofuel blend
Cool Planet's fuel used for 2,400 miles
By Environmental Leader
Google has been using Cool Planet Energy Systems' biofuel blend to run a fleet vehicle at the search giant's Mountain View, Calif. campus, according to the energy-tech startup.
Google Ventures — along with General Electric, BP, ConocoPhillips, NRG and the Constellation Energy division of Exelon — is also an investor in the Camarillo, Calif.-based Cool Planet.
During the Google trial, a campus vehicle called GRide ran on Cool Planet's biofuel for more than 2,400 miles. By running on a five percent Cool Planet "carbon-negative" fuel blended with 95 percent regular gasoline, the test car blend met California's 2020 Low Carbon Fuel Standard more than seven years ahead of schedule, according to the company.
The control car used 100 percent regular gasoline.
GRide successfully passed five smog checks with no significant difference between cars, Cool Planet says. The total mileage of the test car was virtually the same as the control car, driving a total of 2,490 stop-and-go miles compared with the control car's 2,514 miles.
Other field tests planned include a partnership with Ventura County, and another test at a different California investor's headquarters, Cool Planet says.
Read the rest of the story.
October 29, 2012
Arizona researchers map greenhouse gases
New software estimates emissions in cities
By Sandy Leander, Arizona State University
Arizona State University researchers have developed a new software system capable of estimating greenhouse gas emissions across entire urban landscapes, all the way down to roads and individual buildings. Until now, scientists quantified carbon dioxide (CO2) emissions at a much broader level.
Dubbed "Hestia" after the Greek goddess of the hearth and home, researchers presented the new system in an article published Oct. 9 in Environmental Science and Technology. Hestia combines extensive public database "data-mining" with traffic simulation and building-by-building energy-consumption modeling. Its high-resolution maps clearly identify CO2 emission sources in a way that policymakers can utilize and the public can understand.
"Cities have had little information with which to guide reductions in greenhouse gas emissions – and you can't reduce what you can't measure," said Kevin Gurney, an associate professor in ASU's School of Life Sciences, and senior scientist with the Global Institute of Sustainability. "With Hestia, we can provide cities with a complete, three-dimensional picture of where, when and how carbon dioxide emissions are occurring."
Read the rest of the story.
October 29, 2012
Wind power equals mile-high progress for Colorado
It already supports 5,000 jobs
By John Anderson, American Wind Energy Association
Proven reliable and affordable, wind power is good for America and for Colorado, and on pace to meet 20 percent of the nation's energy needs by 2030.
Colorado wind power already supports up to 5,000 construction and maintenance jobs, and wind farm owners are paying $10 million a year in taxes to Colorado communities.
In total, the American wind industry currently attracts up to $20 billion in private investment annually, all driven by the Production Tax Credit (PTC), and provides significant economic benefits through local tax revenue.
Support from Colorado elected officials — particularly outspoken leaders like U.S. Sens. Mark Udall and Michael Bennet — has helped make these benefits possible.
Wind power displaces emissions that would otherwise be released by fossil fuel generation sources. Currently installed wind power in Colorado will avoid 3.5 million metric tons of carbon dioxide annually. Wind energy also saves invaluable water resources, as there is virtually no water used in the generation of electricity.
Highlighting this benefit is the recent decision by the Bureau of Land Management (BLM) to "scale back the amount of land available for oil shale research and development [because] the state's water supply is too fragile to be put at risk." Coloradans certainly appreciate the problems related to droughts, and wind's water-free attribute is a priceless benefit.
Read the rest of the story.
October 23, 2012
Spectre of drought always haunts California
Long-term weather outlook offers no reassurance
by Matt Weiser, Sacramento Bee
When Californians suffer under oppressive heat, as they have for weeks, another concern is sure to follow: drought.
Long-term weather outlooks for the Golden State do not provide much reassurance. Indeed, drought conditions have worsened across California compared with one year ago, and are expected to get more severe through December. Sixty-nine percent of California is considered to be in moderate drought conditions or worse, according to the National Drought Mitigation Center. One year ago, none of the state was in that condition.
The national drought center bases its outlook largely on soil moisture measurements.
California officials look at drought a little differently, basing it on whether people's water needs are being met. The state Department of Water Resources is a long way from declaring a drought, saying it depends much more on local conditions and regional demand.
But it acknowledges the potential is there.
For instance, most of the state's major reservoirs are at below-average storage levels. California avoided drought this summer because those reservoirs were filled to the brim by a wet winter in the early months of 2011. Such was not the case January through March of this year, and the surplus is gone.
Read the rest of ths story.
October 23, 2012
Federal plan outlines solar development on Western public lands
Sets the stage for energy to power 7 million homes
By Kathleen Goldstein, The Nature Conservancy
The Departments of the Interior and Energy has adopted a plan for solar energy development on public lands in the West that will facilitate the siting and construction of multiple solar energy facilities while creating jobs, reducing greenhouse gas emissions, protecting natural habitats and contributing to national security.
"This federal solar plan is an important step forward in how energy can be smartly developed on our public lands," said Michael Powelson, The Nature Conservancy, North American Director of Energy Programs. "The Nature Conservancy commends the Departments of Interior and Energy and the Bureau of Land Management for their commitment to find workable solutions that support renewable energy goals and protect the needs of people and nature."
The plan, known as the Solar Programmatic Environmental Impact Statement (PEIS), is a roadmap for large-scale energy development on lands administered by the Department of the Interior's Bureau of Land Management (BLM) in Arizona, California, Colorado, Nevada, New Mexico and Utah. It sets the stage to develop enough solar energy to power 7 million American homes while also protecting southwestern ecosystems. The plan represents the first time that the Bureau of Land Management has taken a proactive approach in identifying appropriate zones for energy development on public lands. It also provides a guideline for the Bureau of Land Management to systematically invest in the protection of animals, habitats, and natural systems to compensate for the impacts of development, another historic first.
Interior Secretary Ken Salazar today signed the Record of Decision for the plan, officially adopting it into the Department's development guidelines. The Nature Conservancy worked closely with the BLM, the Department of Interior, and other stakeholders to ensure that the plan contained steps to prevent solar energy development from damaging sensitive natural areas.
For long term success, some of the most critical aspects of implementing the plan will be for the Department of Interior and Bureau of Land Management to:
• Honor the spirit, tenor, and intent of the Final PEIS - use of landscape-scale ecological assessments to drive decision-making, a zone approach for guiding development, a high bar for development outside of zones, and a systematic approach to mitigation, including a commitment to an off-site compensatory mitigation program.
• Commit to the "zone approach," especially in regards to other federal and state renewable energy plans being developed, like the Desert Renewable Energy Conservation Plan in California and the Restoration Design Energy Project in Arizona. The roadmap establishes 17 zones that have been identified as providing the best opportunities for solar development without imposing threats to natural areas and species. Incentives are provided for development within zones.
• Fulfill regional mitigation plans and establish a programmatic, systematic, consistent, and transparent approach to mitigation overall. The Nature Conservancy is pleased that the Bureau of Land Management and the Department of Interior have initiated the development of a Regional Mitigation Plan for the Dry Lake Solar Energy Zone (SEZ) in Nevada. We are committed to working with the agencies and other stakeholders to create a successful mitigation plan for this SEZ, as well as an example process for planning effective mitigation.
"The federal solar plan can serve as a model for how the Bureau of Land Management addresses all forms of energy development," said Laura Crane, The Nature Conservancy, Director of the California Renewable Energy Initiative. "Honoring the zone approach agreed to by industry, utilities, conservation groups, and other stakeholders is critical to the success of the plan."
"Solar energy development is advancing quickly in the west. By using science and planning in state and federal plans, we can find areas for facilities that don't impact nature," said Powelson. "We can develop the clean, renewable energy that is essential to our future while protecting our iconic desert landscapes by directing development to areas that are more degraded."

October 23, 2012
First-ever study touts job-creating power of shale oil
It's an energy game-changer
By the Institute for 21st Century Energy
A comprehensive new study co-sponsored by the U.S. Chamber's Institute for 21st Century Energy demonstrates that shale energy will create millions of jobs and trillions in investments over the coming decades.

The Energy Institute partnered with other associations to sponsor a report produced by IHS CERA, a leading independent global energy research firm. The study, America's New Energy Future: The Unconventional Oil and Gas Revolution and the U.S. Economy, is the first-ever to examine the impact of shale energy development across the country and provide concrete numbers to help Americans understand how beneficial the impacts of shale could be.

"We've known for some time that shale energy is truly a game-changer for America—and now we can prove it," said Karen Harbert, president and CEO of the Energy Institute. "This new, comprehensive study demonstrates that shale energy is already contributing over $200 billion to our economy, with much more to come, if policymakers at all levels of government don't stand in the way."

The study shows that shale energy development has created 1.75 million jobs over the past few years alone. By 2015, shale and unconventional energy will be responsible for 2.5 million jobs; by 2020, 3 million, and by 2035, 3.5 million.
Read the rest of the story.
October 23, 2012
Western cities dominate latest cleantech analysis
They fill eight of the top 10 spots
Western cities claimed eight of the top 10 spots in the 2012 U.S. Metro Clean Tech Index, which looks at clean tech leadership across the nation..
"West Coast metro regions, which have been at the forefront of regional clean-tech efforts and have strong state support, dominate the inaugural U.S. Metro Clean Tech Index," says Ron Pernick, managing director for clean tech market authority Clean Edge.
The Metro Clean Tech Index is a set of 50 metro scores which evaluates each metro area based on involvement and leadership in clean tech. Each metro area's index score is based on a 100-point scale, and is constructed from performance in four equally-weighted categories of indicators: green buildings; advanced transportation; clean electricity & carbon management; and clean-tech investment, innovation, & workforce. Individual indicators, which are used to create the four category scores, track a broad range of activities including green building deployment, clean vehicles in use, advanced transportation infrastructure, public transportation ridership, regional electricity mix, GHG emissions, venture capital investment, clean energy patents, and clean economy jobs, among other things.
Here are some highlights from the report:
• 87 percent of all U.S. clean-tech venture capital dollars from 2009 through 2011 went to companies headquartered in the top 50 metro areas.
• These regions also account for 72 percent of LEED-certified square footage, more than 70 percent of U.S. company clean energy patents, and more than 95 percent of the country's registered HEVs.
• The Portland, OR and Seattle, WA metro areas rank first and second for the number of non-residential EV charging stations per capita, a clear sign that the Pacific Northwest is looking to lead in electrified transportation.
• California's low-carbon ambitions are apparent in its regional electricity mix – arguably the nation's cleanest – as well its minimal GHG emissions, with four of its five major metro areas ranking in the top ten for least emissions from large facilities.
• Clean energy patent leadership is evident in metro areas home to industry hubs (Detroit, MI), corporate technology developers (Hartford, CT), and academic research centers (Boston, MA). • Only four metro areas are home to a DOE lab, a Clean Energy Alliance member incubator, and a top-ranked Green MBA program – Chicago, Denver, New York, and San Jose.
Read the rest of the story.
October 17, 2012
When oil & gas & water share a well
Colorado's new regulation of produced water
By William Caile and Christopher Thorne
Oil and gas producers in Colorado have received a crash course in water rights law over the last several years, part of a rapid evolution in the regulatory landscape that has led to significant changes to the way water is managed by the industry.
In addition to hydrocarbons, oil and natural gas wells often produce water as a naturally-occurring byproduct of the mineral extraction process. This "produced water" varies widely in quality and quantity, but is often brackish, highly saline water brought up from geologic formations deep within the earth. It is water, however, and water rights have long been a source of conflict in the arid states of the Rocky Mountains, where it is often said that "whiskey is for drinking and water is for fighting." In Colorado, all ground water is legally presumed to be "tributary," or hydrologically connected to surface streams. This presumed connection has resulted in a series of legal battles over the potential impacts of produced water withdrawals on surface water supplies.
Like most Western states, Colorado water law is based the doctrine of prior appropriation, or "first in time, first in right." A person who diverts water from a stream or a well and applies it to a non-wasteful beneficial use can obtain a water right with a priority date. In times of shortage, the older, or more "senior" water rights may require junior rights to curtail their water use until the seniors are satisfied. Most of Colorado's major river basins are over-appropriated, meaning that water is almost always in short supply, and it is not uncommon for only water rights dating to the 1800s to be entitled to divert water.
The debate over produced water really came to the surface (pun intended) in 2009, when the Colorado Supreme Court ruled in Vance v. Wolfe that the State Engineer has a non-discretionary duty to administer tributary produced water from coal bed methane ("CBM") natural gas wells according to the priority system. Historically, the State Engineer had taken the position that produced water was strictly a waste product that was under the exclusive jurisdiction of the Colorado Oil and Gas Conservation Commission.
In the Vance case, however, the Court ruled that mere withdrawal of produced water to facilitate CBM production was itself a beneficial use of water giving rise to an appropriative water right and the requirement of regulation under Colorado water law. As a result, CBM wells in Colorado are now required to have water well permits. Additionally, all oil and gas wells that withdraw tributary produced water in over-appropriated basins must obtain Water Court-approved augmentation plans, or Substitute Water Supply Plans approved by the State Engineer, in order to replace out-of-priority depletions and prevent injury to senior water rights. This aggressive regulation of produced water withdrawals is unprecedented in the states of the Rocky Mountain West.
In response to the Vance case, the Colorado Legislature passed House Bill 09-1303, which was signed into law by Governor Owens in 2009. Under this law, and subsequent amendments, the State Engineer is authorized to conduct rulemaking and adjudicatory hearings to determine areas and formations of the state where produced water is "nontributary" (having little or no connection to surface streams) and therefore does not have to be administered within the priority system.
A large-scale rulemaking proceeding was conducted in late 2009 and early 2010, where proponents of such nontributary determinations presented extensive technical evidence regarding the hydrogeology of numerous oil and gas producing formations and the relative depletive effects of produced water withdrawals on surface streams. Similar, smaller-scale proceedings continue to be filed and prosecuted relating to geographic areas not addressed in the initial rulemaking.
In a sense, the state's regulation of produced water withdrawals is the "flip side" of the current debate over hydraulic fracturing. In hydraulic fracturing, pressurized water is injected into an oil gas well in order to fracture, or force open cracks in the target formation which then allows oil and gas to be produced in greater quantities. Critics of hydraulic fracturing assert that the fluid used in the process, which is typically made up mostly of water and sand but can also contain added chemical compounds, may migrate into potable ground water aquifers. Critics also question the relatively large volumes of water that can be required for this process, and eyebrows have been raised by the sale or lease of municipal and agricultural water supplies for oil and gas production, even as the state struggles under drought conditions.
In a potentially elegant solution, many oil and gas producers are now treating, recycling, and reusing produced water for subsequent drilling and hydraulic fracturing operations. In 2010, the Colorado Legislature passed Senate Bill 10-165, which provides that nontributary produced water may legally be used for such oil field purposes without triggering the need for a water well permit. Entrepreneurial companies have also entered this market by providing "cradle to grave" water supply, management, and disposal for hydraulic fracturing fluid and produced water. Oil and gas companies operating in Colorado should be vigilant and proactive to ensure compliance with the complex and unique requirements of state water rights laws.

About William Caile and Christopher Thorne
An attorney with Holland & Hart, William Caile assists all types of water users with the acquisition and protection of water supplies. He frequently represents mining companies, oil and gas producers, and other industrial water users in all phases of water supply development, compliance, and protection. He can be reached at 303-295-8403 or whcaile@hollandhart.com
With extensive experience in water law, Christopher Thorne effectively represents Holland & Hart clients in water court litigation and related administrative proceedings, including adjudication of water rights, changes of water rights, and complex plans for augmentation. He can be reached at 303-295-8488 or cthorne@hollandhart.com
October 15, 2012
Environmental challenges can be business opportunites
Universities need to train a generation of sustainable CEOs
By Hunter Lovins, Natural Capitalism Solutions
Business is probably the only institution on the planet that is nimble and well-managed enough to respond to the global sustainability crises facing humanity. Such challenges as the impacts of climate change, soaring resource prices, poverty and loss of biodiversity are threats, but are also opportunities. The businesses that successfully respond will be big winners in the marketplace.
Business sustainability leaders already outperform their less sustainable peers. Over 40 studies from all the major management consulting houses, as well as from academic journals such as Harvard Business Review and MIT Sloan Review, show that the companies that are sustainability leaders have higher and faster growing stock value, better financial results, lower risks and more engaged workforces than other companies.
Despite all this, we're losing. The international Convention on Biological Diversity report, Global Biodiversity Outlook 3, highlights a sobering loss of species and habitats among the world's ecosystems. Threats like the acidification of the oceans could, worst case, end life as we know it on earth. This has happened several times before on our planet with up to 90 percent of species going extinct. Meanwhile, both the International Energy Agency and the Organization for Economic Cooperation and Development warn that unless global leaders implement more sustainable practices immediately we will, perhaps as early as 2017, lock in an unsurvivable amount of global warming.
Read the rest of the story.
October 15, 2012
Report looks at energy best practices in the Mountain West
It would save energy and create jobs
By Martha Young
Boulder-based SWEEP (Southwest Energy Efficiency Project) has released an extensive report on energy efficiency best practice recommendations for utility companies in Wyoming, Nevada and the Four Corners region.
The report focuses on the utility industry, a complex market with three distinct tiers: investor-owned, municipality-owned and consumer/co-operative owned. The complexity is rooted in the fact that each type of utility follows a different set of Public Utility Commission rules and regulations. After scrutinizing utility companies across the country, SWEEP researchers identified 10 best practices for residential programs and eight for commercial and Industrial.
Many of the recommended residential program best practices are already in place in Colorado such as low-income weatherization, residential lighting and rebates for ENERGY STAR rated products. It is a similar story with the commercial and industrial best practices recommendations.
The report throws around some very large numbers such as:
"By investing $17.3 billion in Best Practice energy efficiency programs and measured during 2010-2020, we estimate that the southwest region could realize $37.1 billion in utility system and public health benefits."
"In total, the region could avoid or retire about 32 large (400) MW power plants if the High Efficiency scenario is pursued."
"The study also estimates that pursuing the High Efficiency scenario would result in a net increase of 10,120 jobs and an increase in wages and salaries of $317 million by 2015."
These numbers are based on the best case scenario – the adoption of all of the recommended best practices by all of the utility companies. What makes the report shine is its comparison of "Reference scenario," also known as status quo, to "High Efficiency scenario." There are gains to be made even if only some of the recommendations are implemented.
The $20 Billion Bonanza report also includes significant health benefits with associated dollar values with reduced greenhouse gas emissions (CO2, NOx and SO2) and reduced water consumption. The measures are based on metrics defined in the National Research Council, a part of the U.S. National Academy of Sciences (NRC 2009).
The bottom line: The likelihood of all of Colorado's utility companies implementing all of the best practices recommendations is extremely slim. The same likelihood applies to all of the utility companies throughout the region examined in the report. However, implementing any of the recommendations has measurable benefits to the community, state and region.
Get a free copy of the 269-page report, $20 Billion Bonanza.
About Martha Young
Martha Young is principal at NovaAmber, LLC, a business strategy company based in Golden. Young has held positions as industry analyst, director of market research, competitive intelligence analyst, and sales associate. She has written books, articles, and papers regarding the intersection of technology and business for over 15 years. She has co-authored four books on the topics of virtual business processes, virtual business implementations, and project management for IT. Young can be reached at myoung@novaamber.com or on Twitter @myoung_vbiz
October 15, 2012
Texas solar firm launches module rating system
Backs educational organization dedicated to the industry
By Joelle Caputa, Principal Solar
The Principal Solar Institute, an online reference center and resource guide for the commercial and utility scale solar market, has introduced the PSI PV Module Rating, the first-of-its kind approach that allows easy, unbiased, comprehensive analysis and comparison of photovoltaic (PV) modules. PSI Ratings are designed to allow solar consumers to make informed, intelligent comparisons and decisions when selecting PV modules.
The Principal Solar Institute Advisory Board consists of these academic and industry experts:
Govindasamy (Mani) TamizhMani, Ph.D., President, TUV Rheinland PTL (Photovoltaic Testing Laboratory), involved in R&D activities related to photovoltaics and fuel cells for over 25 years, and PV module testing and certification activities for over 13 years.
Robert Birkmire, Ph.D. (Physics), Director, Institute of Energy Conversion (IEC), University of Delaware, Professor, Department of Materials Science and Engineering and Department of Physics, University of Delaware, principal investigator on numerous government and industrial contracts on amorphous and polycrystalline thin film solar cells.
Robert P. H. Chang, Ph.D. (Astrophysics), Professor, Department of Materials Science and Engineering, Northwestern University, recognized innovator in materials research, interdisciplinary science education and international networking.
David Williams, Chief Executive Officer of solar developer dissigno, peer reviewer for the US Department of Energy's SunShot program and lead for National Renewable Energy Laboratory's Quality Assurance Communication task force.
"Until now, there was no accepted standard for comparing the critical characteristics of PV modules between different manufacturers, or even across a single product line," says Matthew A. Thompson, Ph.D., executive director of the Principal Solar Institute. "The PSI Ratings elevate the solar industry in a rigorous approach similar to the financial sector, which turns to Standard and Poor's Ratings for investments, and the air conditioning industry, which relies upon SEER Ratings. We are closing the gap in the solar power industry's urgent need for a method to uniformly evaluate PV modules in order to make technologically and financially optimal decisions."
PV modules produce electrical power under a wide range of environmental conditions, such as irradiance, nominal operating cell temperature and ambient conditions causing the electrical power output to differ between modules of the same nameplate wattage. The PSI PV Module Rating is a comparative number that can be used with pricing information, providing power plant designers and buyers with a consistent basis for choosing a particular PV module.
"Significantly, this method goes beyond simply tabulating results provided by the manufacturers in their specification sheets," Thompson says.
Principal Solar CEO Michael Gorton says no industry can be considered mature until it has adopted standards.
"As tireless, passionate promoters of solar as a near-term solution to so many energy-related issues, the Principal Solar Institute is committed to driving solar energy to the forefront of the national energy debate," he says. "These standards will help to build the solar industry's solid foundation of credibility in the minds of energy leaders, investors and industries around the world."
About Principal Solar
Principal Solar, Inc (PSI; OTC Pink: PSWW), is a publicly traded solar energy holding company executing a unique roll-up strategy to create the world's first distributed solar utility. PSI concentrates its resources on the acquisition, finance, development and management of solar power companies. The Principal Solar Institute, an educational organization created by Principal Solar, Inc., is dedicated to spreading solar knowledge to the critical stakeholders in the ongoing energy debate. Visit www.PrincipalSolar.com .
October 10, 2012
Wyoming wind seeks nation's largest venue
State board is reviewing 1,000-turbine project
By Jeremy Fugleberg, Casper Star-Tribune
Wyoming officials have approved a 1,000-turbine wind farm, which now goes to a state board for review.
Carbon County's three commissioners heard several hours of comments from members of the public on Tuesday before unanimously approving a conditional use permit for the Chokecherry and Sierra Madre wind energy project, which would be the largest wind farm in the country.
The 2,000-3,000-megawatt project's developer, Power Co. Of Wyoming, must now bring the massive wind farm before the Industrial Siting Council, a state board that reviews large industrial projects.
Power Co. of Wyoming expects to start construction on the project in 2013. The project already has all necessary federal permits in hand. The developer said Wednesday it will file a permit with the Industrial Siting Council in November.
Jerry Paxton, the Carbon County Commission's vice-chairman, said more than 50 people attended for the commission's discussion and vote on the project.
Leo Chapman, a fellow commissioner, noted the comments before the commission both supported and opposed the project, although more of those who spoke approved of it.
He noted opposition included concerns the project would harm wildlife and hinder the views across the county's vistas.
But Chapman credited the developer, a subsidiary of Denver-based Anschutz Corp., for its work to study birds in the project area and its willingness to answer any questions thrown its way. Chapman said such work and openness — things sometimes not shown by other wind project developers in the county — helped the commissioners to approve the project.
Read the rest of the story.
October 09, 2012
AZ's Glennon: Colorado River water…for China?
Fascinating -- and troubling
By Bart Taylor
Robert Glennon, author and professor of law and public policy at the University of Arizona, writes this week in the Wall Street Journal how Western farmers have tapped a huge new market for alfalfa in China, and in doing so, will ship 50 billion gallons of water used to raise this cash crop overseas.
Fifty billion gallons – enough for 500,000 households – embedded in an export crop. Fascinating – and troubling.
Much of the alfalfa is raised in southern California with Colorado River water managed and delivered by the Imperial Irrigation District (IID). Glennon provides context by noting that IID "…controls more than 20 percent of the total annual flow of the Colorado River. Remarkably, the district's water rights are 10 times higher than that of the entire state of Nevada."
As I've written before, California has annually over-used its Colorado River entitlement but has been proactive in managing backwards to its 4.4 million-acre feet limit. But as Glennon points out, the tactics the state is asking of its users to cut back to save water sometimes operate at cross purposes with how the resource is actually being used.
"The perversity of a situation in which California taxpayers must spend tens of billions to protect the water supplies of vital farms and cities—even as California farmers convert tens of thousands of irrigated acres to feed cows in China—reflects the growing incoherence of domestic water and agricultural policy."
Agriculture will be the single most coveted source of water for growing urban centers in the Southwest. As the industry pushes back to fend off acquisition, certainly much will be made of how ag's 80-85 percent share is being utilized.
Stay tuned.
About Bart Taylor
Bart Taylor is the publisher of Planet-Profit Report.
October 08, 2012
California petroleum industry doubles down on safety commitment
Putting an emotional issue in perspective
By Catherine Reheis-Boyd, Western States Petroleum Association
When an incident like the recent refinery fire in Richmond, Calif. occurs, it's only natural for questions to be raised about safety. And it's essential that thorough investigations be conducted to determine the answers as to why something like this happens, and how it can be avoided in the future.
One thing's certain. The answer is not, as some have suggested, to simply shut down this facility or any others that happen to be located near urban population centers.
To put an admittedly emotional issue into perspective, it's important to note that the petroleum industry has an excellent safety record. As a matter of fact, according to the US Bureau of Labor Statistics the petroleum and coal manufacturing industry in 2010 was tied with computer and electronic product manufacturing for the lowest nationwide rate of nonfatal occupational injuries and illnesses among all reported manufacturing sectors.
California's refiners are also subject to the strictest air quality regulations in the nation, which provides superior protection not only for the health of their workers but for the communities in which they are located.
Then there are the economic considerations. According to a June, 2011 study by Purvin & Gertz, the petroleum industry provides over 330,000 direct and indirect jobs in California, representing over $17 billion in annual wages paid. The study also found that the state received approximately $5.7 billion in tax and fee revenues from the industry in 2009, representing about 5.5 percent of the state's total revenue in that year.
Further, California's refineries are critical to the availability of affordable transportation fuels that keep our economy going and consumers moving to work, school, medical care and other essential destinations. And the fuel they produce is the cleanest-burning on the planet, thanks to California's automotive emissions standards. This presents a magnified supply challenge since very few regions outside the state produce California-compliant gasoline. Cutting production here would not only increase our reliance on imported gasoline, it would create a real threat of severe shortages due to lack of product availability from out-of-state sources.
Read the rest of the story.
October 08, 2012
It's a go for Oregon volcano power project
Feds green light Seattle firm
By Will Ferguson, NewScientist
Disturbing a dormant volcano might seem ill-advised, but that's what a company will do this month in a bid to exploit an untapped source of clean energy.
Engineers working for Seattle-based AltaRock Energy and the firm's partners have been given the green light by the US Bureau of Land Management (BLM) to start injecting water into a series of connected cracks 3 kilometres down at Oregon's Newberry volcano. Their goal is to heat the water, before returning it to the surface as steam to drive turbines and generate electricity.
Geothermal power projects usually tap into naturally convecting hot water below Earth's surface, but most geothermal energy is actually stored in impermeable hot rocks.
The $44-million Newberry project is one of a new wave of enhanced geothermal systems (EGS) that aims to exploit these rocks by fracturing them with pressurised water. This boosts permeability enough to support geothermal operations.
Read the rest of the story.
October 03, 2012
Global sustainability from corporate collaboration
Ways to make the most of your company's green experience
By George Tyler
The traditional business paradigm encouraged companies to secure their assets by remaining isolated from other corporations. While businesses still must protect their products and designs, there is a sentiment today that appreciates the benefits that the world gains when all business subscribe to collaboration to solve global issues.
The catalyst for this shift is the fact that business collaboration is required in a socially sustainable world. The advent of the virtual world and the social media storm that ensued has demonstrated the revolutionary power that exists when people work together.
Certainly, businesses must operate with a certain level of autonomy in order to stay competitive in the marketplace, but appropriate collaboration can strengthen both the companies that participate and the world as a whole. The world benefits from the collaboration of small or large corporations, or educational institutions or research centers. Some of the resulting forum are large consortiums of organizations, while others consist of a few motivated individuals.
To make the most of your company's collaborative experiences, consider these formats:
1. At MIT, there is a Sloan Social Impact Club to inspired individuals to collaborate with the power of businesses to create a socially sustainable impact on the world. From a select group of 20 students, fellowships and internships were pursed at different world organizations, such as the World Economic Forum, and Open Capital Advisors.
2.Collaboration across industry sectors combines great ideas from minds of divergent disciplines. Nike, Starbucks, Levi Strauss & Company, Sun Microsystems, and Timberland joined forces in 2008 to create the Business for Innovative Climate & Energy Policy (BICEP). Each of these corporations has its own perspective of its industry, but they share one common vision on a particular problem that faces the world. Consequently, the above companies have each agreed to reduce their greenhouse gases by using renewable energy. In addition, they work with local and national governments to stimulate new jobs to protect their planet's climate.
3.When competitors from the same industry collaborate, they can troubleshoot issues that are unique to their sector. The Sustainability Consortium is comprised of grocery chains such as Safeway, General Mills, Proctor and Gamble, and Pepsi Co. that are working together to fund scientific research that explores sustainable global food supply for the world. The challenge of this consortium covers consumers, supply chains, science and global regulations.
4.Companies are also seeking out dialogue with their suppliers and contractors. This type of collaboration tends to focus on sustainability, environmental responsibility, ethics, and compliance. For instance, Walmart has taken a bold step to educate its supply chain in regards to sustainable business practices that will protect the world's resources. As one of the world's largest corporations, they have issued a Walmart Green Student Challenge to build upon stronger ideas. The winning idea will change the way business is done, be financially justifiable and provide a significant sustainability benefit.
5.Whereas companies used to only collaborate with the government to offset the ills caused by some natural disaster, they are beginning to work alongside governmental agencies to battle a variety of the nation's toughest crises. 80 companies, including Campbell's Soup, Kraft Foods, Kellogg, General Mills, and PepsiCo, have worked alongside The Healthy Weight Commitment Foundation formed by Michelle Obama. Together they work to reduce the rates of American obesity, especially in children.
Corporations discover that through collaboration they can make major impact on the world. Greener technology evolve when economic, social and corporate innovations are combined to achieve innovative technology solutions.
No matter the forum, you choose for your company's collaboration, your business is sure to benefit from the experience as much as our world. Your customers, established and potential, are sure to appreciate the responsibility you accept to bring about positive changes in our world. Apply some of these strategies to strengthen your business in ways you had never imagined. Corporate sustainability is good business.
About George Tyler
George Tyler, a serial entrepreneur, has developed the only consulting practice that focuses exclusively on strategic alliances and the implementation of the powerful Alliance CompassTM to accelerate global revenue growth. Using his assessment tools and the Alliance Compass, companies form strategic alliances that increase their business. His experience in marketing, sales and management has lead to successful strategic alliances for hundreds of companies. Call today for help in growing your company. Contact information: George@3rdEagle.com, linkedIn.com/GeorgeTyler, Twitter@GeorgeTyler, 303.482.7583, http://www.3rdEagle.com
October 03, 2012
Western airports work to shrink carbon footprint
California leads the way
By Susan DeFreitas, Earth Techling
It's no secret that air travel itself comes with a fairly hefty ecological tab. (In fact, according to the carbon offset service TerraPass, one round-trip direct flight from San Francisco to New York City racks up over 2,000 pounds of greenhouse gases.) But increasingly, airports themselves are taking measures to decrease the carbon footprint of their day-to-day operations, if not the amount of fuel expended in the course of a cross-country flight.
This efforts, largely, have taken two forms: LEED certification and solar power (and, in some cases, both).
SFO Terminal 2
One the of the highest-profile cases of green building certification is San Francisco International Airport's new Terminal 2, which gained LEED Gold certification last spring, just in time for its first commercial flight. Built to house Virgin America's Bay Area operations, SFO's $383 million renovation of Terminal 2 was the first LEED-registered airport project, and one of the first airport terminals in the world to gain green building certification through the U.S. Green Building Council. Its green features include natural daylighting, improved ventilation, composting and recycling receptacles, low-flow water fixtures, and energy-efficient lighting and machinery. The building was constructed with sustainable building materials, including terrazzo flooring with recycled glass chips, recycled-content carpet and structural steel.
This is Virgin America we're talking about, though, so the gee-whiz doesn't end there: Terminal 2 also features a food court featuring local, organic vendors and producers — including restaurants by noted Bay Area chefs — more computer connections, a free "hydration station" for refilling bottles with tap water (post-security), and a kids' play area.
SFO's Terminal 2 LEED Gold certification came hot on the heels of Mineta San Jose International Airport (SJC)'s LEED Silver certification for its brand-new Terminal B, making the regional trend in California pretty clear.
Read the rest of the story.
October 03, 2012
Scientists predict major Pacific ecosystem shifts
Modeling could help manage impacts of marine habitat changes
By Karen Marvin, Stanford Woods Institute for the Environment
What if you woke up every day to find that the closest grocery store had moved several miles farther away? Over time, you would have to travel hundreds of extra miles to find essential food for yourself and your family. This potentially is a scenario faced by thousands of marine animals affected by climate change.
A new study in Nature Climate Change examines the distribution of various open ocean animals in the North Pacific and explores how that could change over the next 100 years as global ocean temperatures increase and productivity levels shift. The researchers conclude that some critical ocean habitats could undergo significant changes in location, moving more than 1,000 km (600 miles) from where they are now, while other habitats could remain relatively unchanged. Among large animals, loggerhead turtles, some sharks and blue whales may face the harshest impacts of climate change while some seabirds may actually benefit from the changes. Not only are species at risk, but also coastal communities and industries could feel the impact since top predator habitat shifts can result in the displacement of fisheries and ecotourism, such as whale watching.
"For species already stressed by overfishing or other human impacts, increased migration time and loss of habitat could be a heavy blow," observed Elliott Hazen, lead author of the study and a NOAA researcher affiliated with the Center for Ocean Solutions (COS) at Stanford. "But if we can build some plausible scenarios of how marine ecosystems may change, this may help efforts to prioritize and proactively manage them."
In order to carry out their study, the authors employed complex mathematical models with data from the decade-long "Tagging of Pacific Predators"1 (TOPP) project of the global Census of Marine Life in which 4,300 electronic tags placed on 23 species from 2000 to 2009 created unprecedented insight into migration patterns and hotspots of predator species in the northern Pacific. Satellite measurements of sea surface temperature and chlorophyll-a, used to estimate surface productivity, were combined with the tracking data to identify "key habitat areas" for a variety of different ocean predators. They then used climate models of ocean temperature and productivity to ascertain how those key habitat areas might change in the face of ocean warming.
One of these key habitat areas, known as the North Pacific Transition Zone, marks the interface between cold, nutrient-rich polar water to the north and warmer, nutrient-poor water to the south. This region is used by a variety of ocean predators including marine mammals, tunas and seabirds as a corridor across the Pacific Ocean basin. This study suggests that this critical region could shift by as much as 1,000 km (600 miles) including a 20 percent loss of species diversity in this region.
Read the rest of the story.